On Saturday, the inaugural No Fly Zone Skills Camp got underway at Regis Jesuit High School in Aurora, Colo. 125 area youngsters, ranging from grades 1-12, took to the field to receive instruction from the top secondary in the NFL.
Aqib Talib was approached to hold the two-day camp, partnering with The L.E.W.I.S. Agency and Brillionaire Academy, and was able to convince teammates Chris Harris Jr., T.J. Ward and Darian Stewart to participate as well.
On the field, the entire starting secondary stretched with the kids before breaking off, each taking a hands-on approach to instructing in various drills.
For Talib, both his young son Jabril and wife Gypsy were present as spectators (though his Jabril did try to participate from time to time).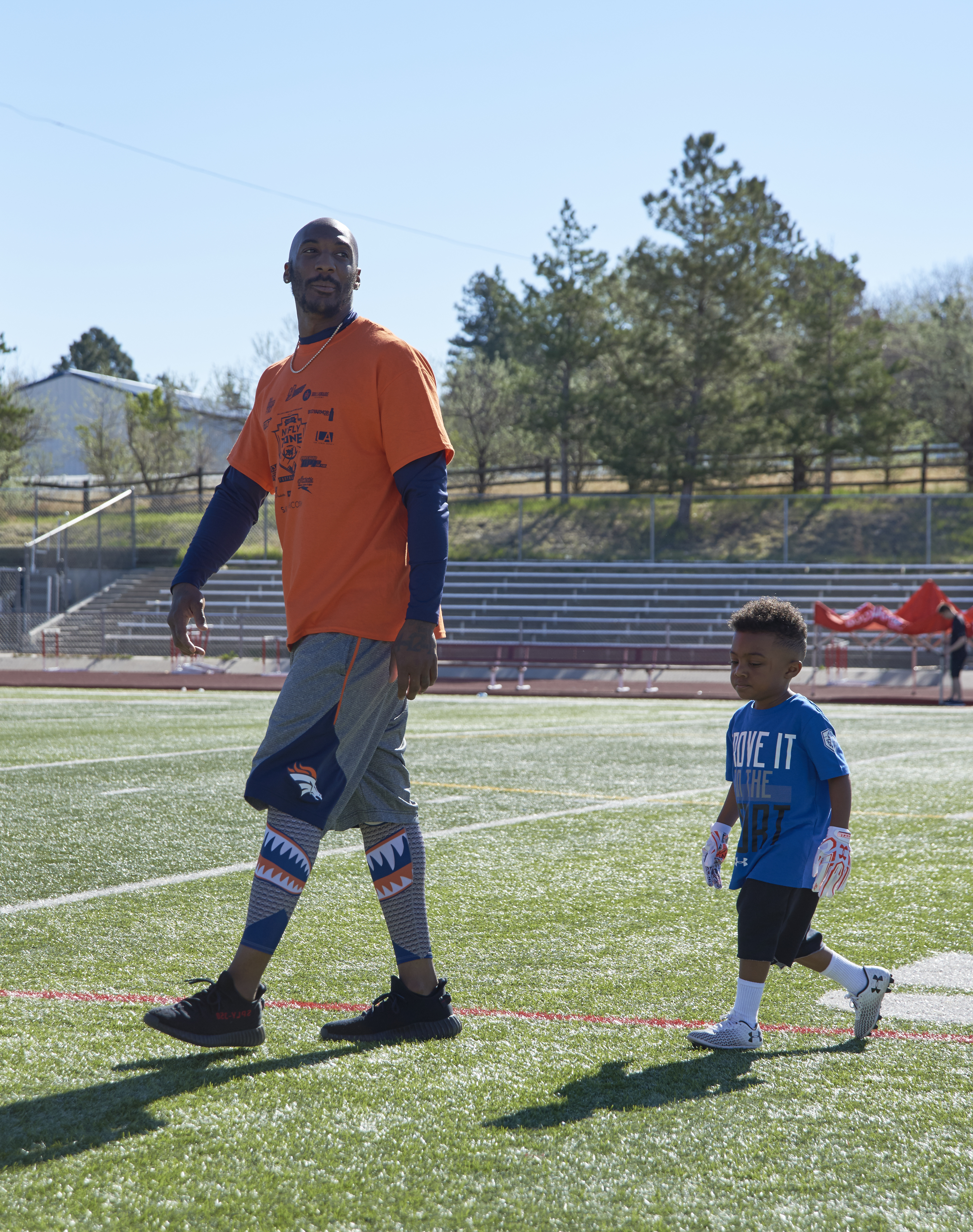 The 31-year-old artfully balanced being a dutiful father and instructor like he would a sideline for one of his many pick-6's. Like those in attendance, he was having fun, but also took his role very seriously.
Prior to getting underway, Talib took some time to talk to Mile High Sports. Here is what was said.
Drew Demo: How are you feeling entering the inaugural No Fly Zone Skills Camp?
Aqib Talib: I'm super excited. This is the first camp that we've all put on together. We're trying to get guys better, man. We're trying to have fun and get better at the same time. Spread this knowledge to these youngsters, that's what we're out here trying to do.
Q: What was the inspiration behind starting this camp?
A: The idea was brought to me. I got the rest of the guys together. It was just something that we could be a part of that we never really had the chance to do when we were kids. We may have done a Nike Camp here and there, but nothing really like this. It's just a chance for us to give back.
Q: Why was it important for you, Chris Harris Jr., T.J. Ward and Darian Stewart to do this camp together as the No Fly Zone?
A: Doing the No Fly Zone Camp, it was first brought to me. So, I said we can't do a No Fly Zone Camp unless we've got the whole No Fly Zone. So I worked my magic. I got the rest of the guys involved and we're out here now.
Q: What do you hope the kids attending take away from this?
A: I just hope they co
me have fun, and the next time they go play football, they remember something that we taught them and they'll be a better player for it.
Q: Who inspired you as a youth and helped you become the player you are today?
A: I'd say my brother. My brother used to always get me and say 'come on, let's go outside and throw the ball.' I was three years younger than him, so I didn't really have a choice. He made me play quarterback, throw it to him. Then, he would practice playing quarterback, and he would make me play running back and receiver. It really polished my game.
Q: Why is it important for you to be a leader, not only on the field, but in the community?
A: It's what I asked for. I used to be little, praying to God that I would go to the NFL and be one of the best corners in the NFL. When you ask for that, there's a lot of stuff that comes with it. It's the leadership role that comes with that. It's the financial whatever. Everybody's going to ask you for money. That kind of stuff comes with it. It's part of it. It's part of the package.
Q: We all have missteps. If a child asks you about yours, whether it's on or off the field, how would you respond?
A: I guarantee you I'd make them laugh.
Q: Tell me about Brillionaire and why you partnered with them?
A: It's a good company. They put on a lot of camps. They do a lot of these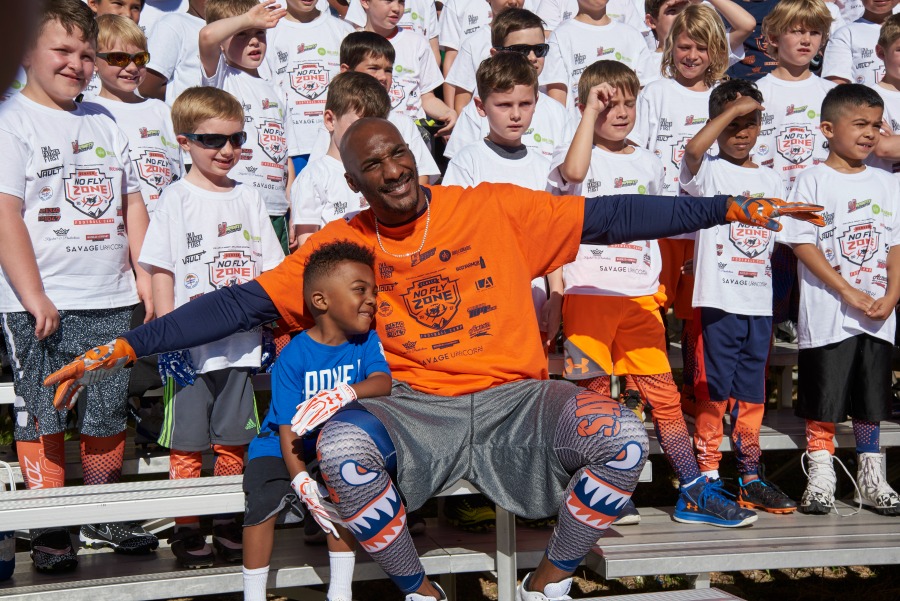 and they do them the right way. They're real organized in every aspect, as far as the sponsors, as far as the location, as far as the talent that they have. I just wanted to do it the right way, so we partnered with them.
Q: What's your style as an instructor?
A: Fun. Fun. Fun. Fun. Fun. Fun. Fun. Fun.
Q: What separates you from the rest of the instructors in the camp?
A: Nothing separates us. We're not battling. We're just out here to have fun and teach the kids.
Q: What are your goals for the camp, both this year and in the future?
A: Just to come out, see how it goes this year and hopefully we can keep it going in the future.
Q: The Broncos drafted a cornerback in Brendan Langley, can you give us some quick thoughts on him and the draft class in general?
A: Oh man. The draft class is A+ to me. We definitely filled holes that we need. We definitely got guys who can come in and play right now. B-Lang is one of those prototype NFL corners. He has size like myself. Those 6-foot-1, 205-pound corners, those are the kind of corners that the game is looking for right now. If he comes, and he puts that work in, he might get there.
Q: What can you do to help someone like Langley?
A: Everything. He's going to come in, he's going to have a ton of questions, about the speed of the game, the playbook, [et cetera]. That's why the older guys, that's we're there. We're preparing the young guys to play. Because, the year we won that Super Bowl, we relied on everybody; fr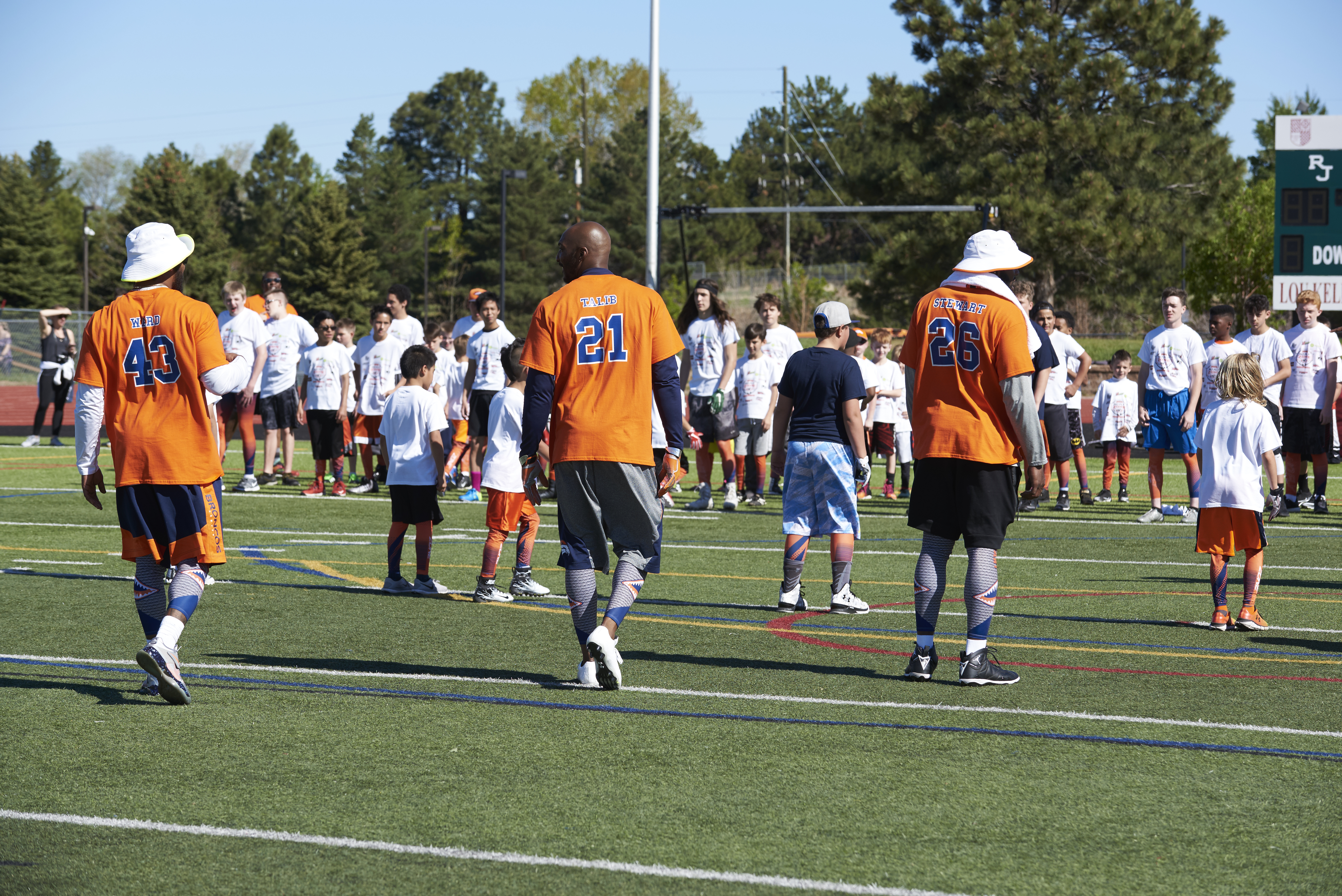 om the backup quarterback, to the backup running back, to the backup safeties and corners. Everyone has to play. it's up to the vets to make sure those young guys are ready to play. So, if they're called upon this year, we can be ready to make that 'ship run.
Q: Was there anyone that took you under their wing when you came in in Tampa Bay?
A: Definitely: Ronde Barber. Ronde Barber took me in, taught me the game, he told me what to expect; and everything that he said, it's coming to fruition now. He gave me the game, gave me the heads up about everything, helped me with the playbook. So, I definitely had a vet to lean on when I came into the NFL.
Q: What do you hope your legacy will be, both as a player and as a person?
A: I just want to be remembered as the best. This is the game I love. I want to be remembered as the best.
Photographs by Randy Parietti