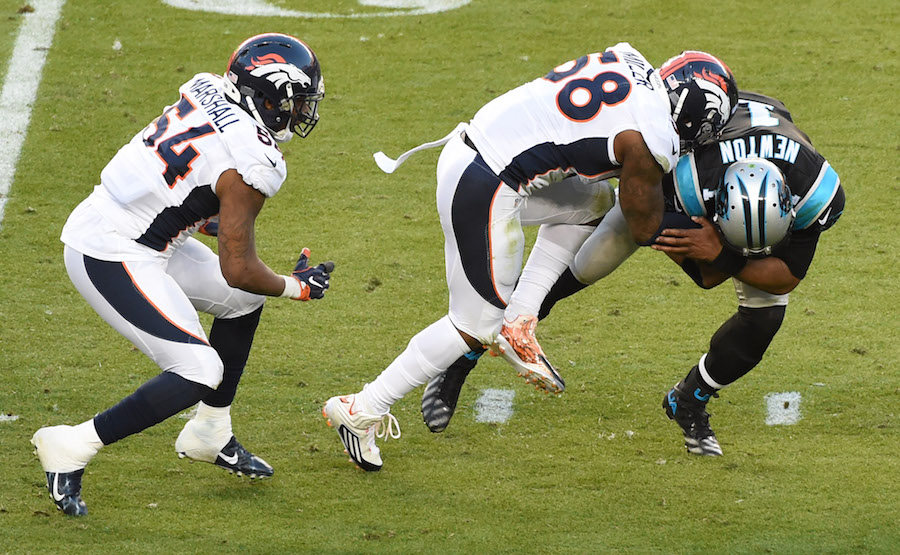 The Denver defense is doing exactly what it was asked to do. And it has the Broncos 30 minutes away from a Super Bowl win. Punt returner Jordan Norwood provided a spark as well, setting a Super Bowl record. At the half, Denver leads 13-7 thanks to four sacks, two turnovers and a defensive touchdown.
The Panthers won the coin toss and deferred until the second half. Andre Caldwell took the opening kickoff from the goal line out to the 20-yard line.
The Broncos came out firing, picking up a blitz and Peyton Manning hit Owen Daniels went for an 18-yard reception. Emmanuel Sanders got in on the action, as did Andre Caldwell who converted Denver's first third-down of the day. C.J. Anderson rumbled off two nice runs to get Denver inside the Carolina 15 before Ronnie Hillman had the first negative play of the day, a loss of X on a run. Manning had a pass nearly intercepted and a short pass on third down led to a field goal and an early 3-0 lead on a 34-yard field goal by Brandon McManus.
Carolina got the ball at their 20 as well on their opening drive after a return by Fozzy Whittaker. Jonathan Stewart got just two yards on Carolina's first play, a run. Cam Newton wildly overthrew Corey Brown who was open on the near sideline. Greg Olsen was held just short of the line to gain by Aqib Talib and Carolina went three-and-out on their first possession.
Sanders made a nice, seven-yard catch and run to open the next drive, but a run by Anderson and a pass to him could not get the three yards needed for the first. Britton Colquitt punted and Kayvon Webster picked up right where he left off in the AFC Championship game, pinning Ted Ginn Jr. for a one-yard loss at the Carolina 15.
The first challenge of the game came on a potential 24-yard catch to Jerricho Cotchery on the first play of Carolina's next drive. Referee Clete Blakeman couldn't find evidence enough to overturn the call on the field, a big break for Denver. Their next break was just two plays away. On third down, Von Miller got to Newton, forced a fumble and Malik Jackson recovered it in the end zone for a touchdown and a 10-0 lead.
Carolina picked up some yardage on their first play of the next drive, but tightened up again. Danny Trevathan forced a fumble, which the Panthers recovered, and then Newton again overthrew an open receiver. Then Wade Phillips dialed up a blitz and Darian Stewart got to Newton on a sack. But Denver's first big mistake of the game came from Aqib Talib, who was handed a 15-yard penalty for taunting after the play. His teammates bailed him out, though, and forced a punt three plays later.
On Denver's next drive the Carolina defense began to show its strength, forcing a three-and-out including a sack of Manning by Luke Kuechly. Denver was helped by a block in the back penalty on the punt, but Carolina still took over at their 30.
Carolina started to move the ball on their next possession, with Newton hitting Brown for a 20-yard pass as the first quarter ended. As the second quarter opened, Newton took off for an 11-yard gain. He scrambled again on the next play for a gain of 12 on first-and-15 after a false start. They kept moving the ball, converting a third down and then a catch inside the 10-yard line and a facemask penalty by Talib gave Carolina first and goal inside the 1-yard line. Stewart went up and over the line for Carolina's first score of the day.
Things continued to unravel for Denver on the next drive when Peyton Manning stumbled and was tagged down by Kony Ealy (after a successful challenge by Ron Rivera) for a 7-yard loss. The challenge, though, meant Carolina had no more for the game. It didn't matter on the next two plays, as Manning went incomplete on the next two plays.
Another penalty, an ineligible man down field, forced a second punt and negated a booming 52-yarder out of bounds by Colquitt. Carolina would take over at their 49. A three and out, though, would get the momentum going back in the Broncos direction.
Jordan Norwood gave it a huge tilt with a 61-yard punt return – the longest in Super Bowl history – to give Peyton Manning the ball at the Carolina 14. C.J. Anderson nearly converted a fourth-and-one inside the five-yard line, but a holding penalty on Louis Vasquez negated the play and McManus was called upon again, hitting this time from 33 yard.
The Broncos penalties continued on the next drive, when Malik Jackson was flagged for a personal foul. But their aggressive play paid off just one play later. Darian Stewart laid the thunder on Mike Tolbert who fumbled for the second time in the game, but this time couldn't recover it and Denver had its second turnover of the half on a Danny Trevathan recovery. The offense gave their thanks when C.J. Anderson ripped off a 34-yard run, breaking at least three tackles on his way into Carolina territory on the first play of the ensuing drive but the good times would not last. On third-and-eight Kony Ealy dropped into coverage and picked off Peyton Manning and the Panthers big man rumbled for a 19-yard return.
As they've done so often this year, however, the Denver defense forced a three-and-out after the interception and putting the ball back into Manning's hands with just over 3:00 to play, but the offense, as they've done so often this year, also went three-and-out and had to punt into the two-minute warning.
Denver had Carolina looking at a third-and-12 on the next possession, but Newton found Devin Funchess for a 24-yard gain and a crucial first down inside of a minute.
As always, the MHS team was all over the action via social media, offering their commentary on the action. Here's how it unfolded, along with input from some of our favorite follows on social media.
Carolina was aggressive on the opening drive, blitzing early…
#Panthers blitzed on both plays.. Ball was out quickly

— Troy Renck (@TroyRenck) February 7, 2016
Fears of the Broncos bad habits started to surface.
#SB50: Great start for #Broncos. Kubiak always jumps out nicely but haven't finished with TDs. Can't do that today.

— Sam Cowhick (@SamCowhick) February 7, 2016
Denver wasted a golden opportunity, with Carolina's defense playing on its heels.
3-0, @Broncos, but that drive was a letdown. Hillman getting stuffed on first down in the red zone stalled the engine.

— Andrew Mason (@MaseDenver) February 7, 2016
The Denver defense got the exact start it wanted, a three-and-out and clutch play…
Massive three and out… What a tackle by Aqib

— Will Petersen (@PetersenWill) February 7, 2016
A subsequent Broncos three-and-out had a halfway positive end…
Great punt by Colquitt, great tackle by Webster. Colquitt's really come through in the playoffs after an up-and-down season. #broncos

— Les Shapiro (@LesShapiro) February 7, 2016
Former referee Mike Carey's record reviewing challenges stayed terrible…
Ruling stands — incomplete. Mike Carey missed again.

— Andrew Mason (@MaseDenver) February 8, 2016
The first TD just make Vegas a whole lot of money…
You had Malik Jackson for "first to score a TD" in your Vegas prop bet, right? #Broncos

— Robin Carlin (@carlinrobin) February 8, 2016
Aqib Talib committed a cardinal sin, giving Carolina a first down instead of punting…
Wow. That's a ridiculous flag man. Virtual turnover.

— Darren McKee (@dmac1043) February 8, 2016
But his teammates picked him up…
Credit the #Broncos D bigtime there. They got a terrible call, but just took care of business anyway.

— Robin Carlin (@carlinrobin) February 8, 2016
Denver held the lead at the end of one quarter, but with an auspicious note…
Teams with leads after 1Q of 10+ in the Super Bowl have won 7 of 9 times … but the 2 exceptions were by @Broncos (XXII) & Manning (XLIV).

— Andrew Mason (@MaseDenver) February 8, 2016
After a second penalty, then a third on Carolina's scoring drive, calls to contain Aqib Talib were getting loud…
DeMarcus Ware needs to have a talk with Aqib Talib

— Michael Jaycox (@MilkyMike) February 8, 2016
However, there were other, larger concerns…
Not as concerned about the Talib penalties as I am our inability to stop Cam from running. #Broncos

— cover32 Broncos (@cover32_DEN) February 8, 2016
Carolina won their second challenge, but at what cost?
Rivera will win this challenge, but not sure if it's worth losing the ability to challenge for the rest of the game.

— Cameron Wolfe (@CameronWolfe) February 8, 2016
After another three-and out by the offense, things were looking a little scary for Denver…
Momentum has completely shifted to the panthers. Broncos don't know what's going on at the moment #SB50

— Press Box Insider (@PBIOnAir) February 8, 2016
But Jordan Norwood made the play of the second half to spark Denver…
#Broncos Jordan Norwood goes 61-yards for the longest punt return in #SuperBowl history! WOW..

— Jahmai Webster (@WebsterOnTV) February 8, 2016
Thankfully, McManus didn't have to work to hard to earn this team record…
With 2 FG today, Broncos K @thekidmcmanus ties for the most in a Super Bowl by a Bronco in club history w/Elam (vs ATL) & Karlis (vs. NYG).

— Patrick Smyth (@psmyth12) February 8, 2016
After forcing a second turnover, it was clear the Broncos D had come to play…
This keeps up you'll have to put the Denver D among greatest of all time. That's 2 turnovers .. and counting. #9sports #9news

— Rod Mackey (@Rod9sports) February 8, 2016
Denver makes its first big mistake…
Peyton completely sleeping throws a terrible pick another waisted opportunity by the Broncos #SB50

— Press Box Insider (@PBIOnAir) February 8, 2016
It wasn't just that play, the offense was cold throughout the second quarter…
#Broncos Offense has 46 yds in the 2nd Qtr, 0-4 on 3rd Down….

— Arran Andersen (@arranandersen) February 8, 2016
Cam Newton converted a key third down late…
That's what I warned about before the game. Can't let Cam buy that time and throw or run to convert 3rd downs. Sucks the life outta the D

— Les Shapiro (@LesShapiro) February 8, 2016
But DeMarcus Ware ended the half with an exclamation mark…
DeMarcus Ware knocks the #Panthers out of the first half! SACK.#Broncos take 13-7 lead into halftime.

— MileHighReport (@MileHighReport) February 8, 2016