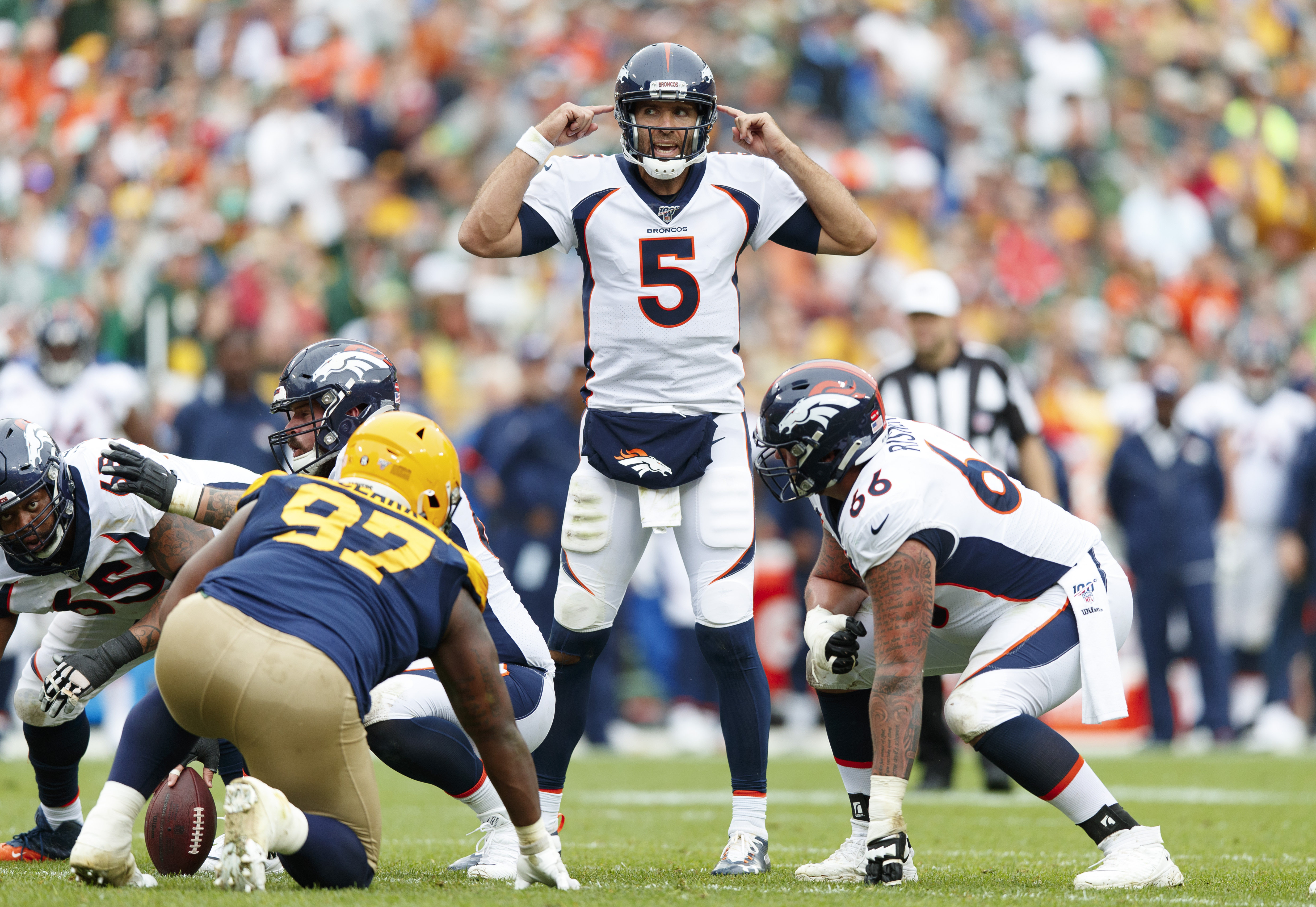 The biggest complaint in Broncos Country last season was the quarterback play. After scrambling to find a consistent quarterback following Peyton Manning's retirement, the Broncos decided to pull the trigger on a trade to bring former Super Bowl MVP Joe Flacco to Denver to lead their offense.
Although the Broncos are 0-3 this season, Flacco has been solid in the pocket, compiling 773 passing yards, a 69.1% completion percentage and a quarterback rating of 87.4.
Denver will welcome the 1-2 Jacksonville Jaguars to town this Sunday. Jacksonville is fresh off a victory versus the Tennessee Titans and have a defense that features some of the best players in the league.
Jacksonville has developed the nickname "Sacksonville" for their ability to put pressure on the quarterback and record sacks.
Flacco is aware of what the opponent brings to the table and is game-planning accordingly.
"Listen, they have been pressuring the quarterback a little bit more in terms of bringing pressure and stuff like that, but they usually rely on their front four guys getting a lot of pressure and doing their thing," Flacco said. "They've got some pretty good guys up there and guys that can get after it on their own."
Calais Campbell is the anchor of the Jaguars defense and is one of the best pass rushers in the sport. Campbell recorded three sacks in the Jaguars latest victory and is off to a strong start this season.
"He's just such a big guy," Flacco said. "The ability that he has to be able to do things like he can is pretty impressive. To be that size and be able to move the way he does and have that versatility is obviously a huge weapon."
The Broncos have scored just 46 points this season and are averaging 15.3 points per game, the third-lowest mark in the league.
While the Broncos have struggled to generate points, they have done a better job of moving the ball downfield. Denver has recorded 1,026 passing yards through three games which is in the middle of the pack around the league.
"You're putting a lot of pressure on your whole team and you're putting a lot of pressure on yourself when you have to run a 20-play drive to score a touchdown because you know they're not going to come very often," Flacco said. "You have to have some big plays and things like that, so I think we've just got to tighten things up a little bit."
While not scoring points is frustrating, Flacco realizes the Broncos have been able to move the ball effectively and is hopeful the team will be able to break out soon on offense.
"Yeah, for sure and you're right," Flacco said. "When you look at our film, it's tough not to be disappointed just because what our record is and all that, but man, guys are fighting. We've got a lot of guys that are playing so hard, and you just love to see their effort. We've just got to make some things happen. We've got to play probably assignment football a little bit better so we can create a couple of breaks for ourselves and kind of get over this hurdle. Right now, we are just stuck in that point range that we are and it's going to be tough to win football games like that for sure."
Given the Broncos sluggish start this season, there is pressure on the team to turn things around versus Jacksonville Sunday.
Flacco and the rest of the team feel the pressure and have noticed an increased sense of urgency entering Sunday.
"Yeah, exactly, I think there's been that sense of urgency about us having to win," he explained. "Historically, I don't know that there's any team or obviously too many teams starting off at 0-3 and are able to rebound and get themselves back in a playoffs spot. Obviously, there's that sense of urgency for us to kind of get one in the win column and hopefully, that'll get us rolling from there. I think we're confident that we're going to do that. It's going to be exciting to back in front of the home crowd. We've played some really tough games, and we haven't come out with the wins, but we really feel like we're getting there. We've just got to make it happen.
"Yes, there's definitely a sense of urgency of it has to happen now."