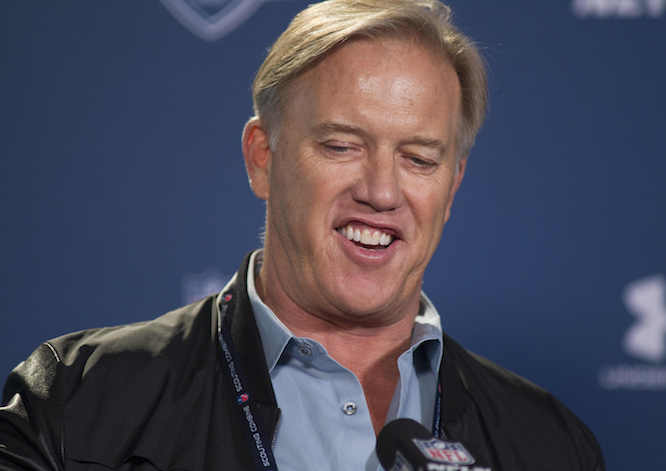 Denver Broncos general manager John Elway made an appearance on Tuesday night's Hard Knocks, the popular HBO series filming at Houston's training camp this year.
Texans GM Rick Smith was driving in his car and cameras caught him talking with Elway on speaker phone. The whole sequence was a little confusing, but the two were essentially executing the trade that sent Chris Clark to Houston a couple days ago.
But there was also some discussion about inside linebackers. Was it the Broncos or Texans ILBs Elway and Smith were talking about?
The folks at the Denver Post have the transcript: 
SMITH: "I looked at that deal last night. I want to do it, I just have a hard time giving up a pick — even though it's out there — I have a hard time giving up a pick for a guy that's going into the last year of his deal. You're good inside linebacker — you like what you got?"
ELWAY: "Yeah, I'd do the player for player, but you know what, we're in good shape. … But I'm actually trying to move one or two there, too. I'm in a battle for the 52 right now, you know? Who's going to make that 53?
SMITH: "I think it makes sense if we're going to do it to do it. The quicker I can get him into our building and in the program, the better off we're going to be.
ELWAY: "We can make it happen fast."
Hmm. Elway says the Broncos are 'good' at ILB (which they are) but that he's also trying to make another trade? Again, the whole thing is tough to follow, but I'm sure Elway and Smith liked it that way. They only want HBO to show so much.
We'll see what other trades go down in the coming days, but I've got a feeling No. 7 isn't done just yet.