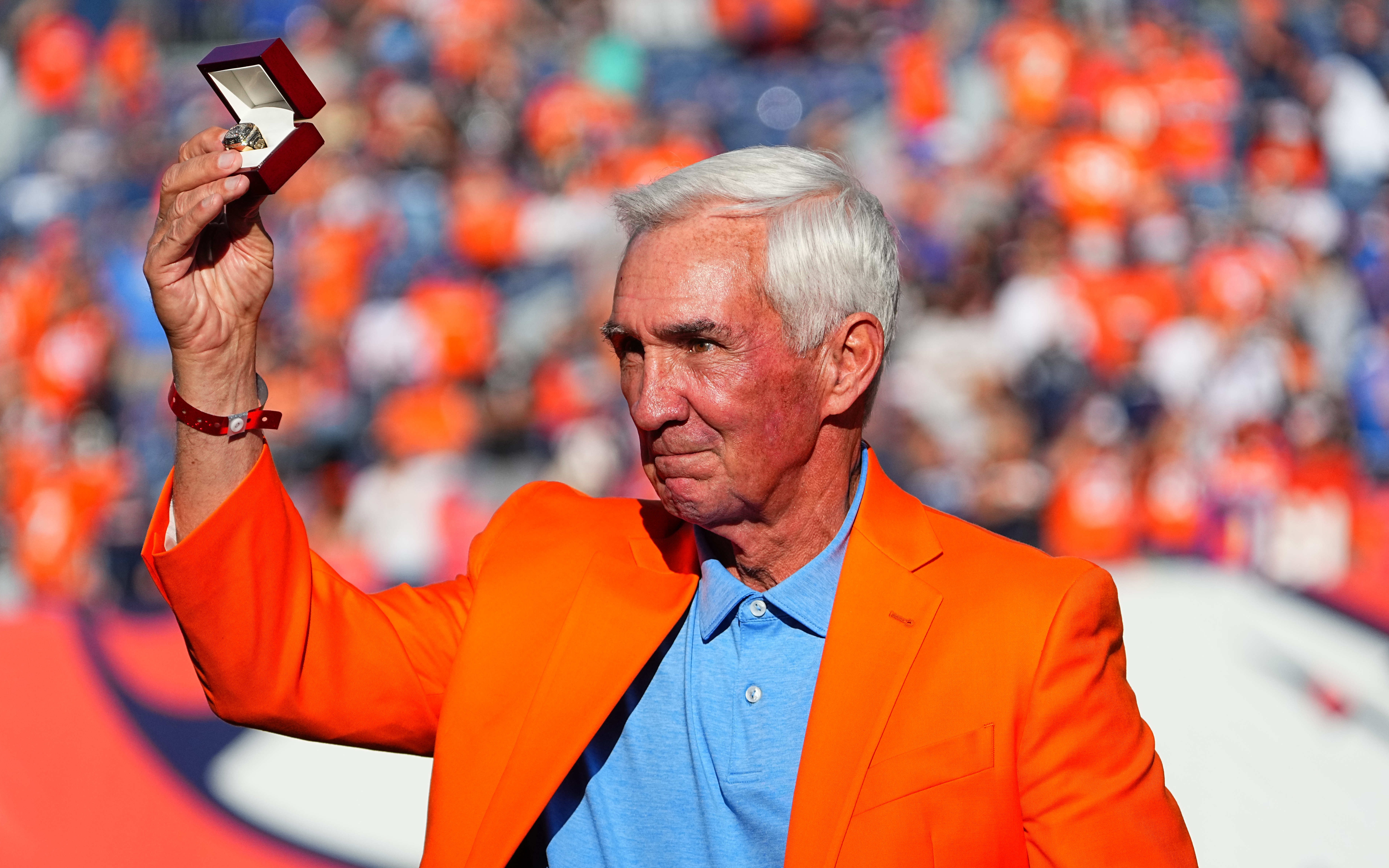 Less than 20 years ago, the Denver Broncos had zero Hall of Fame players.
Zero. Zip. Nada. Bupkis.
No, not Dick Butkis, he was in the Hall. I saw his bust in Canton in 2004 when John Elway was inducted alongside Barry Sanders, Bob Brown and Carl Eller.
Elway — the greatest Broncos player of all-time — remarked during his speech that more Denver players deserved to be in those hallowed halls.
Since then, the dam has broken for Broncos players getting into the Hall of Fame.
Garry Zimmerman entered in 2008, followed by Floyd Little (2010), Shannon Sharpe (2011), Terrell Davis (2017), Champ Bailey and Pat Bowlen (2019) and Steve Atwater (2020).
Now, that's a respectable list! Of course, it's still a little short compared to say, the Raiders who have 28 and were founded the same year as the Broncos.
Denver now has a chance to see those Hall of Famers grow as Randy Gradishar was named a finalist as a senior candidate, while Dan Reeves and Mike Shanahan were both named finalists to the coach/contributor list.
The Seniors Committee has reduced its list of Finalists for the Class of 2023 to 12.

Ken Anderson
Maxie Baughan
Randy Gradishar
Chuck Howley
Cecil Isbell
Joe Klecko
Bob Kuechenberg
Eddie Meador
Tommy Nobis
Ken Riley
Sterling Sharpe
Everson Walls

More ➡️ https://t.co/a4rWvVoKWH pic.twitter.com/H15l6QY9i3

— Pro Football Hall of Fame (@ProFootballHOF) July 27, 2022
Gradishar has been the long-forgotten great Broncos player, at least when it comes to the Hall of Fame voters.
During the 1970s and into the 80s, Gradishar was a key member of the Orange Crush defense. He was named to the Pro Bowl seven times during his 10-year career, earned AP All-Pro twice and was the AP Defensive Player of the Year in 1978. He was the leader of that dynamic Denver defense which went to the franchise's first-ever Super Bowl in 1977.
Back in his day, they didn't keep track of tackle statistics, which longtime Broncos backers argue would have put him in the Hall a long time ago. But he was a fantastic interceptor of passes, racking up 20 as an inside linebacker.
Reeves was Gradishar's head coach for the tail-end of the linebacker's time in the league. But when the head coach shined the most was later in the and early 90s, when Reeves led the Broncos to five playoff appearances and three AFC Championships.
When he left the team, he amassed a fantastic 60.1 winning percentage (110-73) but he wasn't done there; Reeves coached the Giants for four years and was with the Falcons for another seven seasons. That's where he helped lead Atlanta to their first-ever Super Bowl appearance, a loss to none other than John Elway and the Broncos in Super Bowl XXXIII.
Mike Shanahan was the coach that beat Reeves on that day.
Mike "The Mastermind" Shanahan was well-known for his mastery of offense in the 90s. He was the offensive coordinator with the San Francisco 49ers during their Super Bowl XXIX victory in 1994.
The next year, he was hired to coach the Broncos and Denver saw one of their most dominant stretches from 1996-1998, going 39-9 in the regular season and 7-1 in the playoffs during that span. They also won back-to-back Super Bowls, with his beautifully crafted offense leaning away from the older Elway and on the backs of his offensive line and the aforementioned Davis.
TD ran for 1,750 yards and then 2,008 yards in those two Super Bowl seasons all thanks to Shanahan's — and Alex Gibbs' — zone-blocking scheme which was quickly adopted by the entire league not long into the 2000s.