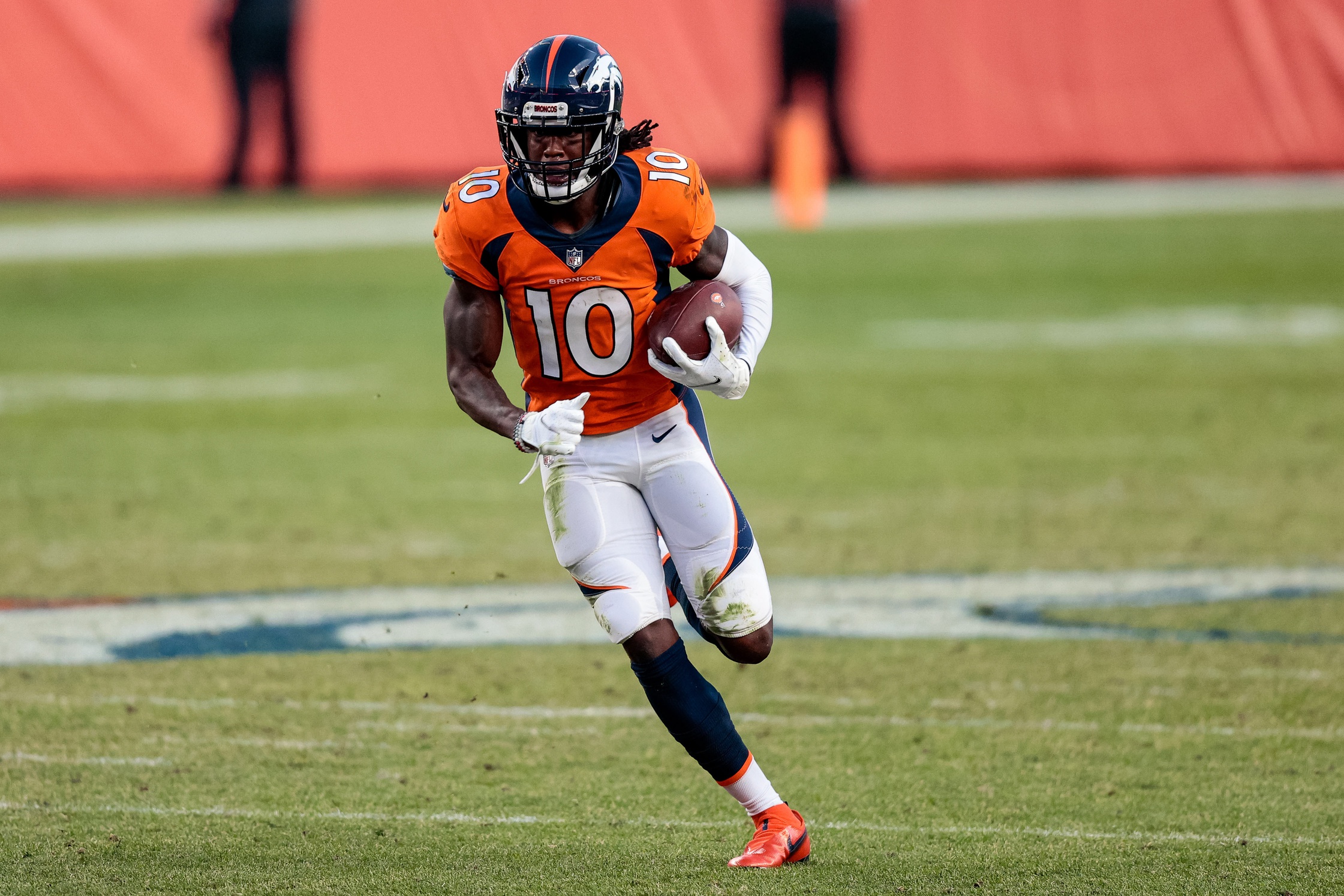 The Broncos head into Sunday's matchup against the Miami Dolphins as losers of three of their last four games.
In Miami, young quarterback Tua Tagovailoa has led the resurgent Dolphins to three straight victories. And while his success, especially after an injury-filled college career, may come as a surprise to many. For his former teammate at Alabama, Jerry Jeudy, the success is just the beginning of what's to come for the quarterback once projected to go No. 1 overall in the 2020 draft.
"I'm not surprised at all," Jeudy said.
Jeudy and Tagovailoa were teammates for three years with the Crimson Tide — both forgoing their senior seasons to enter the NFL draft. Tagovailoa was selected fifth overall by Miami and Jeudy was taken ten picks later by the Broncos.
And even though they start their NFL careers with teams that have struggled in recent memory, the pair got to enjoy their fair share of success with Alabama during their college careers. And it started with a college football National Championship in 2017 where Tagovailoa was named offensive MVP in the final game.
"I've practiced with him; I've played with him," Jeudy said. "I know what he's capable of. Seeing him do it at the highest level, I'm not really surprised."
Tagovailoa has yet to lose in the NFL. He's thrown for 5 touchdowns in his three starts. The young quarterback has provided Miami with stability at the game's most crucial position. Tagovailoa has yet to throw an interception in his young career.
For Jeudy, the road to success in the NFL has not been as linear. The Broncos are struggling to find consistency with their offensive game. Denver has not scored a touchdown in the first half in four weeks. Other than a come-from-behind victory in the fourth quarter against the LA Chargers, the Broncos have endured a month of dull and lackadaisical football.
Jeudy enjoyed his best performance with Denver in Week 9 against the Atlanta Falcons. The Broncos' attempt at a second straight come-from-behind victory was halted on the last drive of the game in a 34-27 loss. But Jeudy recorded his first 100-yard game, scored his first touchdown and was Denver's most lethal offensive weapon. 125 of his 266 yards in the NFL came against the Falcons two weeks ago.
The best is yet to come from the wide receiver with the potential to be one of the NFL's best. Even though it's taking him longer to find success in the NFL, he still had great things to say about Tagovailoa's game.
"The accuracy, his leadership, just the way he knows how to communicate with people," Jeudy says about how Tagovailoa has managed to take the NFL by storm. "Just how smart he is as a quarterback and his playmaking ability."