It's finally mock draft season again, which makes it the perfect time to round up what experts from around the country are predicting the Broncos to do come April.
To spice things up this time around we also took two of our favorite mock drafts submitted to @Zach_Segars on Twitter to also take a look at.
Make sure you're following to have a chance at being included in a future roundup.
New York Post (Steve Serby): Caleb Farley, CB, Virginia Tech
This pick just makes too much sense. Denver has a gaping need at cornerback and Caleb Farley is a freak athlete and a takeaway machine who would fit flawlessly in Vic Fangio's scheme.
New York Post writer Steve Serby emphasized the importance of the cornerback position in a division with as much quarterback talent as the AFC West has.
"Coach Vic Fangio could use the young Champ Bailey in a division with Patrick Mahomes and Justin Herbert (and Derek Carr, if Jon Gruden doesn't trade him), but a big stud corner following the release of disappointment A.J.Bouye will suffice," Serby wrote.
ESPN (Todd McShay): Patrick Surtain II, CB, Alabama
The need at cornerback is certainly a consistent theme among the different mock drafts, though ESPN's Todd McShay decides to target the draft's other top corner.
Patrick Surtain II is the best pure man-coverage cornerback in the draft and a terrific prospect in his own right. The one hiccup with Surtain would be that he's a much better fit for a man-heavy scheme than Fangio's quarters-heavy one.
A Surtain selection is possible, but it's unlikely that Denver would select him over every other defender in the draft (including Farley) considering the awkward fit, which is what McShay has happening here.
"We will have to see if new GM George Paton decides to run it back with Drew Lock as the team's clear starting QB, but with four signal-callers off the board and the Broncos' pick of any defender in the class, they would likely address another need at No. 9 regardless," McShay wrote. "Cornerback happens to be one of those needs. Bryce Callahan is primed to hit the open market, and Denver hauled in only 10 interceptions this season. Surtain didn't have his best season, but he's a true shutdown corner with the instincts to read and reroute receivers."
NFL.com (Lance Zierlein): Caleb Farley, CB, Viriginia Tech
It's early but it appears like Caleb Farley to the Broncos will be one of the most popular mock draft pairings we'll see across all 32 teams.
Much like Serby, Lance Zierlein focused on the pass-happy nature of the AFC West when making his selection for the Broncos.
"My guess is that we may see the Broncos address linebacker and maybe pass rush in free agency, which would give them the opening to add a big, talented CB like Farley to contend with the division's explosive, young QBs," Zierlein wrote.
Twitter Mock Draft No. 1 (Joey Richards, @JRDrafts)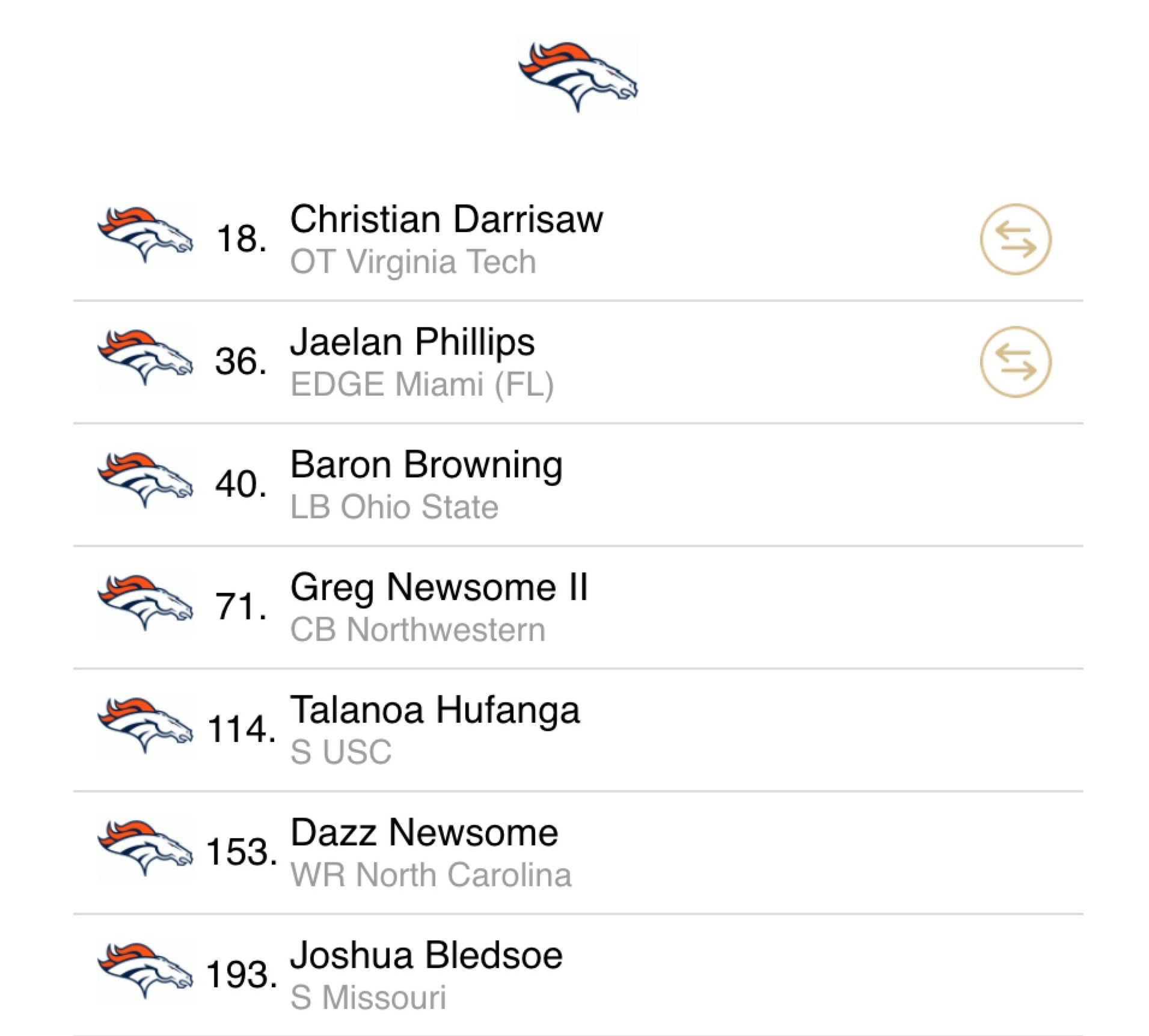 First up is J.R., an up-and-comer in the Broncos media landscape and draft guru. With his mock draft, he has Denver trading back to acquire more draft capital before drafting Christian Darrisaw. Darrisaw might just be the second-best pure tackle in this draft class and he's a terrific pass protector already. Selecting him would give Denver a top 10 offensive tackle pairing for the next half-decade.
J.R. then selected Jaelen Phillips — potentially the class's best edge on the field, though there are questions off the field and in regard to injuries as he nearly medically retired from football while in college — and Baron Browning — one of, if not the best linebacker showings at the Senior Bowl.
J.R. waited until the third round to help the secondary but Newsome and Hufanga are great fits and values who could have an immediate impact on the defense. Wide receiver isn't a pressing need, but Newsome is a great pick at 153.
Seventh-round selections Olaijah Griffin, John Bates and Brendan Jaimes not pictured.
Twitter Mock Draft No. 2 (Tim Wenz, @LwyrUp406)
For our second mock draft we go to Tim Wenz who gave us a look at what a post-Deshaun Watson trade mock draft might look like for the 2021 season.
After trading the first and second-round picks for the star quarterback, Wenz swings for the  fences with defensive selections of Hamsah Nasirildeen, Quincy Roche, and Marvin Wilson. All of whom have sky-high ceilings but also quite a bit of bust potential. If it works though, it would rejuvenate the defense much like what we've seen the last few drafts do for. the offense. Mukuamu is also a swing for the fences that serves as terrific value that late in the draft.