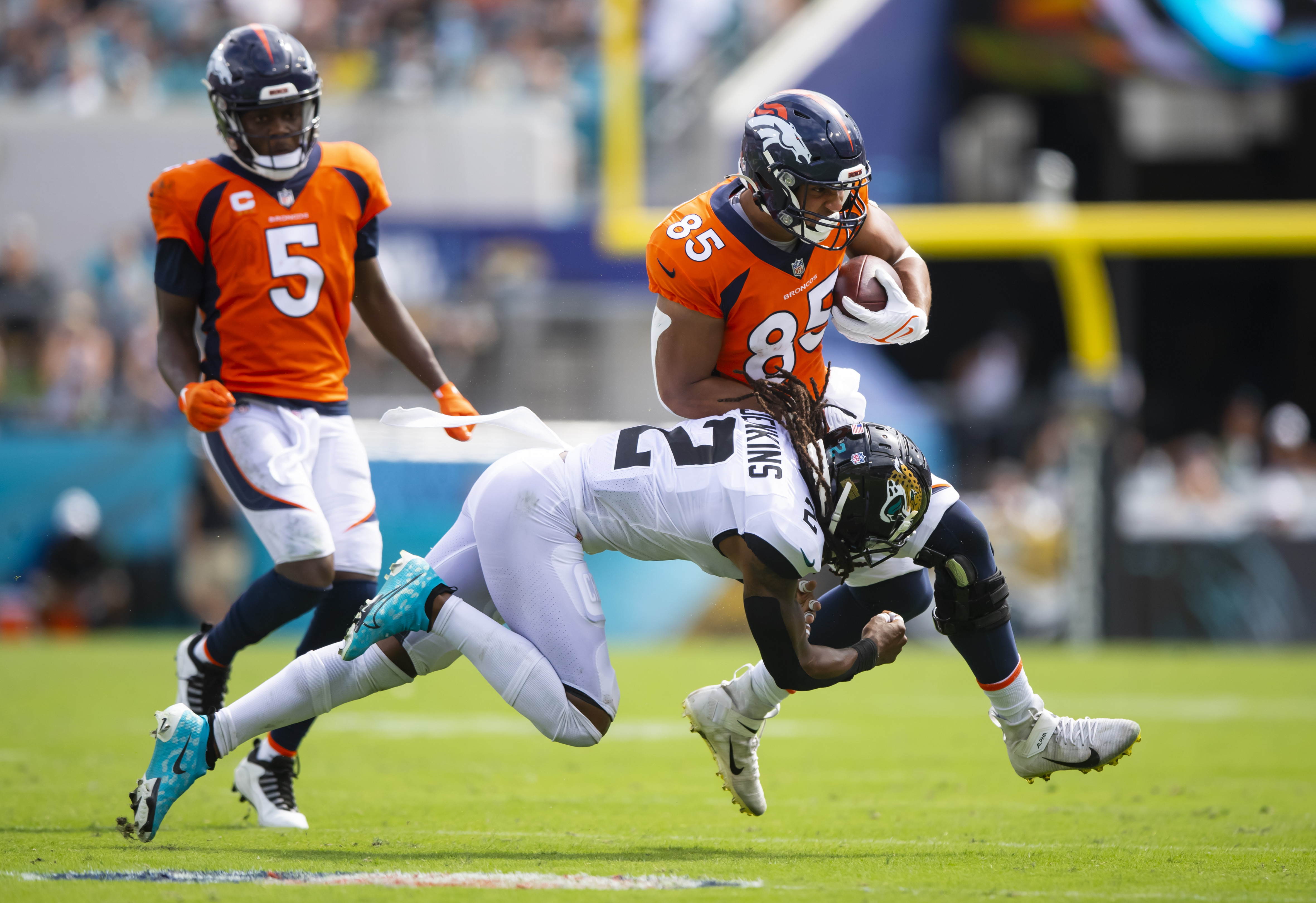 Noah Fant was entrenched as the Denver Broncos' top tight end, but the Russell Wilson trade excised him from the roster and left the franchise grasping for answers.
As of now, it appears Albert Okwuegbunam has the inside track to be the solution for the Broncos at tight end, thanks to taking massive strides this offseason, under the tutelage of the new offensive staff.
"Albert [Okwuegbunam] has really stepped up mentally," offensive coordinator Justin Outten said on Tuesday. "This playbook is not easy and then with the position that he plays, you know he took a gigantic step during that second week of OTAs. I thought that he did a really good job of owning his job and not trying to do too much. I thought he did a really good job in the run game protection and the pass game, opening up and rolling. He's a very talented player and a very explosive player and just honing in on the details that allow him to come through with all of his talent instead of just limiting himself to one aspect or the other."
It was comforting to hear Outten continuously note the improvements Okwuegbunam has made as a blocker, considering that was the weakest aspect of his game through his first two years in the league.
"That's the challenging part—putting your face on somebody, an edge guy like [Bradley] Chubb, and running your feet. The willingness is definitely there, and it keeps going up each and every day. That's exciting to see."
Willingness is an important first step, but Okwuegbunam's will also have to make sizable technical strides in order to be a good enough blocker for Nathaniel Hackett's scheme, which is likely to expect a lot out of the tight end in the run game.
The Broncos will need Okwuegbunam to continue his upward trajectory, both as a blocker and player, in order for their offense to live up to expectations in 2022.