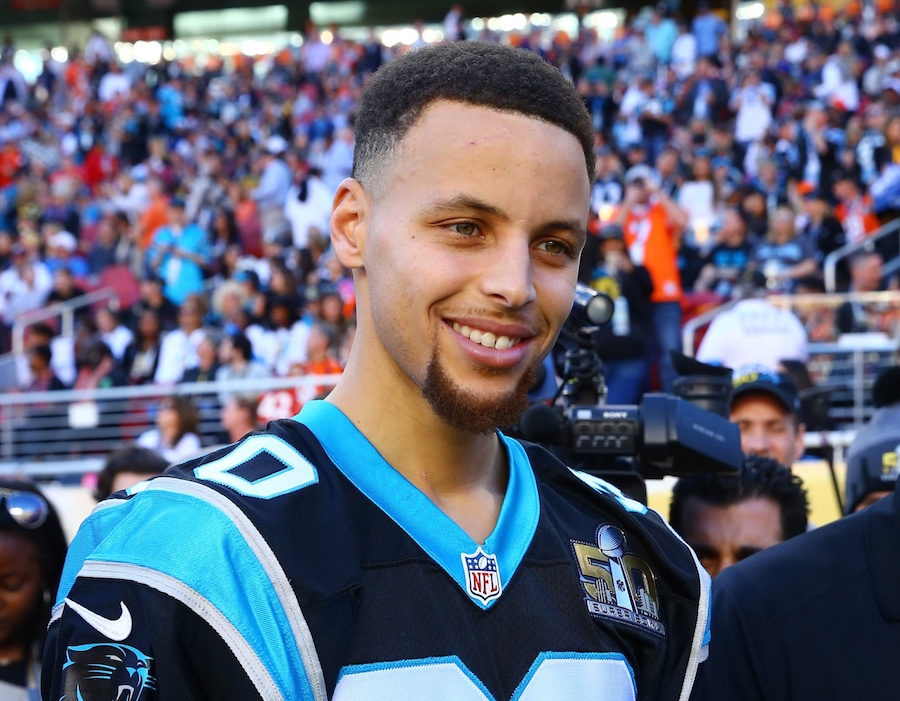 Not everyone in Denver is enamored with this year's NBA Finals (we're looking at you Doug Ottewill), but it's hard to deny the draw of a third-straight championship between the Warriors and Cavaliers. It's a pair of juggernauts going toe-to-toe in a tie-breaking series "for all the marbles" as some might say to decide the ultimate champion.
As Game 1 played out on Thursday night, it was quite clear on social media that a group of local champions (and some of their new teammates) are pulling for one side much more than the other. The Denver Broncos, it seems, are very much in the Warriors' camp.
It seems they've put aside any hard feelings about Steph Curry pulling for his hometown Panthers in Super Bowl 50.
Broncos safety T.J. Ward (a Bay Area native) was Tweeting loud and proud for Golden State all night.
Warrioooors!

— T.J. Ward (@BossWard43) June 2, 2017
I see you Klay!!!

— T.J. Ward (@BossWard43) June 2, 2017
Mark Jackson so salty! Lol. ?

— T.J. Ward (@BossWard43) June 2, 2017
If lebron not on the court it's bad!

— T.J. Ward (@BossWard43) June 2, 2017
KD killin Bron!

— T.J. Ward (@BossWard43) June 2, 2017
Outside linebacker Shaquil Barrett isn't from the Bay Area (he's from Baltimore), and he played his college football at Colorado State, but he picked Golden State to dominate the series.
GSW in 4-5

— Shaquil Barrett (@MOOCHIE048) June 2, 2017
The Warriors certainly made him look smart in Game 1, cruising to a 113-91 victory.
They better start stopping the ball haha.

— Shaquil Barrett (@MOOCHIE048) June 2, 2017
Running back C.J. Anderson, who attended college at Cal-Berkeley, wasn't outspoken about who he's rooting for. But he was making it clear that he thinks Warriors guard and two-time MBA MVP Steph Curry is overrated – comparing him to Allen Iverson.
I can't believe people thinks Steph better than AI that's funny to me

— Cj Anderson (@cjandersonb22) June 2, 2017
One of the newest Broncos, 2017 second-round draft pick DeMarcus Walker, was pulling for the Warriors, and one player in particular.
Team KD!

— DeMarcus Walker (@livinglegend_44) June 2, 2017
Durant had a monster game for the Warriors, scoring 38 points and dishing out eight assists. Cavaliers star and three-time Finals MVP, LeBron James, called Durant the difference from last year's finals, which Cleveland won.
Justin Simmons, a key difference-maker in the Broncos' win at New Orleans last year, had praise for Durant as well.
You can't hate on Durant…dude is playing his heart out. Granted, it is game 1

— Justin Simmons (@jsimms1119) June 2, 2017
Surprisingly, very few Broncos were tweeting in favor of the Cavaliers and LeBron James. Only Jake Butt, a Broncos 2017 fifth-round pick and native of Ohio, was in support of the Cavs. And even that was mostly of the frustrated variety.
KD with his 8th uncontested dunk of the game smh

— jbooty (@JakeButtTE) June 2, 2017
The Warriors and Cavaliers resume their series on Sunday night. Expect T.J. Ward and many of the Broncos to be tuned in and tweeting.