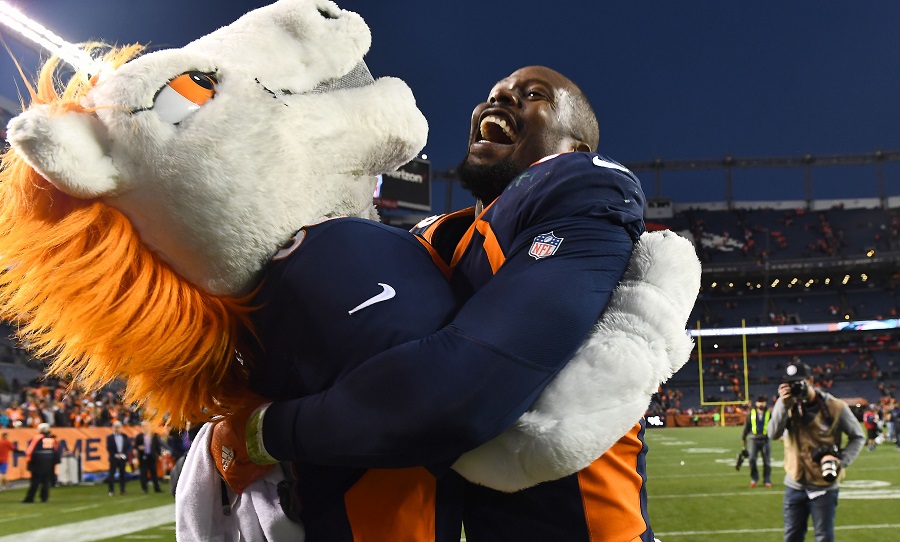 DENVER — They were 3-9. They were on an eight game losing streak, among the longest in the history of the franchise. They had been called "checked out" and "sloppy." Their own general manager called them "a little soft." Yet, with seemingly nothing left to play for, the Denver Broncos found a way to win a football game in shutout fashion for the first time since 2005, beating the New York Jets 23-0 in a contest that turned out to be as charming as it was meaningless.
Two teams, Denver and New York, both headed for top 10 picks in next April's draft. A stadium with more than it's share of empty seats at the start of the game. A crowd that seemed mostly disinterested from the start.
Yet, after the whistle sounded on the Broncos' first win since Oct. 1, they didn't seem like a 4-9 team rounding out one of the most disappointing seasons in the recent history of the franchise. They didn't have the look of a team that had been officially eliminated from the postseason earlier in the day. They weren't sullen or disappointed. They were elated.
After two long months of losing, the black cloud was finally lifted off the Broncos' locker room. Players shared bear hugs with Miles the Mascot as they jaunted off the field—some skipping on their way to the locker room, and more than a few taking a moment to share the win with fans. They stood along the wall on the sidelines and passed out gloves, hats, and wristbands to the orange and blue faithful who, despite all the challenges this season has brought, still officially came out over 70,000 strong and had risen to their feet by the time the blowout was finished.
"The fans have been great through this eight game losing streak," head coach Vance Joseph said. "They never left us. It's been frustrating for all of us involved here; players and fans alike. But, the fans came out today. They were loud. They made a difference today."
Moments worth celebrating have been so few and far between this season. So, when one presented itself, players took full advantage of it.
NFL players are prideful people. These Broncos know that they haven't been a good football team. Yet, they continue to put in work. They continue to grind. They continue to let their love of the game push them into the facility every single day. Today, for these Broncos, that hard work finally played off.
"I know what it's like not to have football," defensive lineman Shelby Harris said. "Yeah, we lost eight games straight, but just to be able to be out there and be able to play—if you don't enjoy this you're in the wrong sport. Regardless of the outcome, we're always going to love being out there."
Organizationally, it probably would have been better for the Broncos to have lost today. It would have put them in a multi-team tie for the No. 3 overall pick in the draft. Instead, they're now in a tie for the fifth slot.
Rightfully, draft position was was the furthest thing from the minds of the players in that locker room following this game, though. They are still professionals, still playing the game they love and celebrating the first opportunity they've had in months to share the fruits of victory with their teammates.
"Wins, that's what this league is about," linebacker Von Miller said. "That's what the Broncos organization is about and that's what my teammates are about. Getting back in the winning column is an amazing feeling. We just want to hold on to this emotion and remember how it feels to win and just carry it on through the rest of the season."
That's the bad news about Sunday's win. Playing a game like this early in the season can propel a team into playoff contention Of course, it's too late for the Broncos.
"I just wish it was week five," receiver Emmanuel Sanders said.
Still, each of these players loves the game. They each want a chance to contribute to wins. They each still want to have fun playing football.
"That's my mindset: go out, have fun, and enjoy football," Sanders said. "My whole life I played this game for fun and because of the love of it. I'm going to keep that love and that passion for it."
Even with their playoffs hopes dashed, this win means the Broncos still have an opportunity to salvage at least some respectability. They have a quick turnaround before they head to Indianapolis to take on the Colts, one of the few teams in football that might actually be in worse shape than they are.
A win against Indy could put them on the path towards a 6-10 or 7-9 season. While that certainly isn't up to the expectations of the organization or its rabid fanbase, it puts them close to the 8.5 win projection number the sharks in Vegas set for them at the start of the year. Furthermore, another win would likely cement Vance Joseph's return to the organization for a second season next year.
"We can win two games in five days," Joseph said. "There have been teams that have won their last four after having a rough season that has carried over into the following season. That's what I'm hoping for. Our guys again have never stopped working. Everyone is believing."