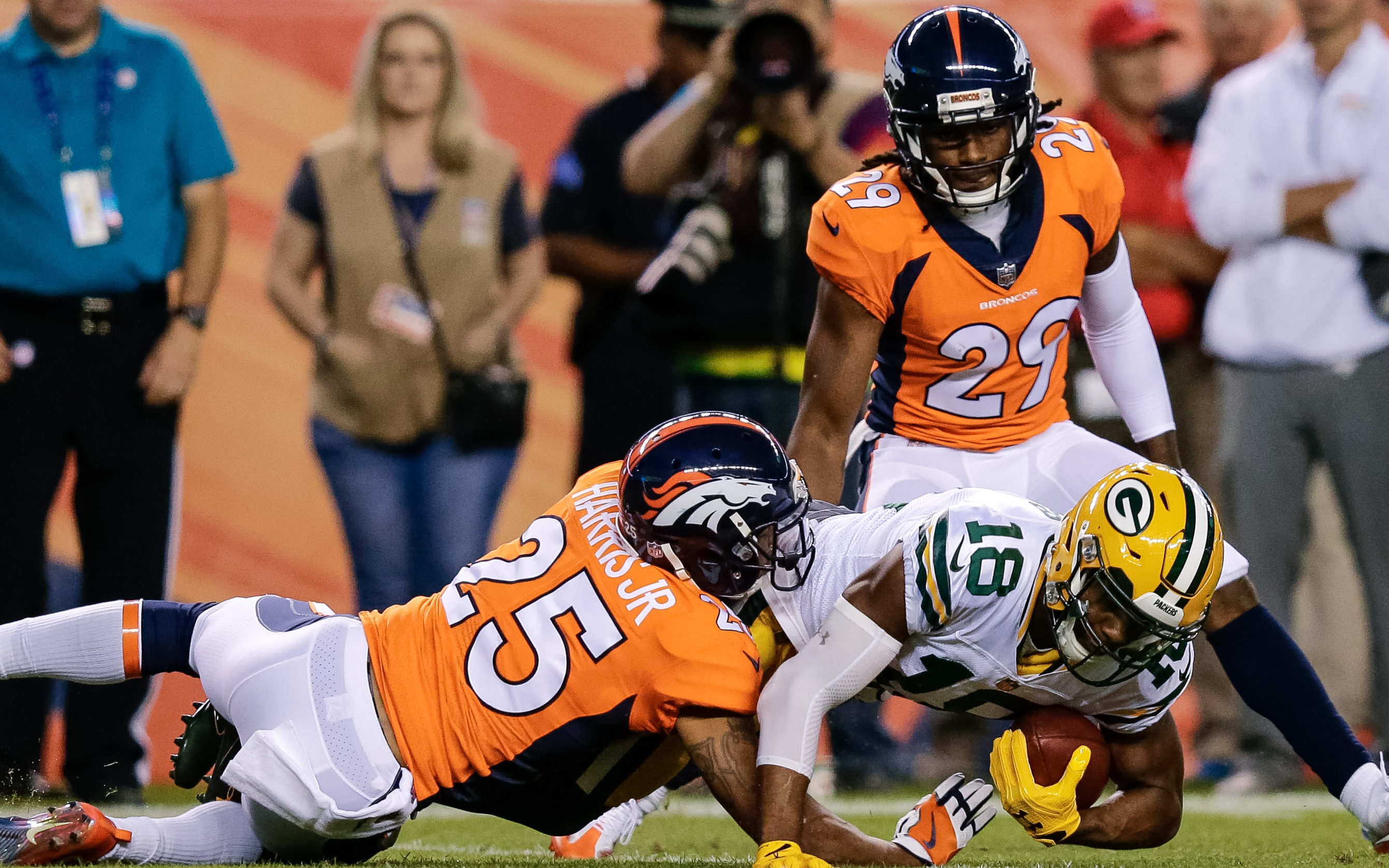 No Fly Zone? Baby No Fly Zone?
Whatever you want to call it, things have changed in the Mile High City.
Unquestioned No. 1 cornerback Aqib Talib is gone, which is simultaneously a good and a bad thing. It's detrimental to the defense because, simply, he's one of the best cornerbacks in the NFL today. Talib's physical play and superb instincts helped him consistently knock down and intercept passes. But, Talib was also a loose cannon, poking people in the eye, ripping off chains and even shooting himself in the leg.
And it's not like Denver's missing out on a lot of talent with Talib's former teammate from back in their college days at Kansas, Chris Harris Jr. taking over as the team's best corner. Harris was pushing Talib for that title the last few years, and CHJ's versatility, also playing the slot as well as he plays outside, makes Harris even more valuable than Talib.
Oh, and Harris is a great guy, too. He's always played with a chip on his shoulder after going undrafted in 2011, and the Broncos found a true, legitimate diamond in the rough when they picked up Harris.
Harris is everything and more the Broncos could've hoped when they signed him way back in 2011.
But, the question becomes; who starts opposite of Harris?
"I like the role that I have this year," Harris said during OTAs. "They changed up how I'm playing a little bit so I think we'll be on a good page this year. I like T-Brock (CB Tramaine Brock), bringing him in—another vet coming in. And B-Lang (CB Brendan Langley) is playing well, too."
The assumption coming into this season was that Bradley Roby, who's been groomed and growing while playing with both Harris and Talib, would step right into that role. But, not so fast.
"[Tramaine] Brock has played really well for us," head coach Vance Joseph said on June 4. "He's battling right now with Roby for the second corner. Obviously, whoever doesn't win that job, they'll be the third. I've been impressed with both guys. Both guys have played football at a high level, so it's good to add guys like that."
So, let's take a look at what the two bring to the table, as well as the other corners Denver has on the roster.
Bradley Roby:
Roby's incredibly athletic, and what it seemed he needed to work on during his first few years was getting into the film room. Now that we know Talib never used to study film until Harris got him to do so, it looks like Roby has been studying up, as well.
His instincts as a corner have always been there, as have been his speed and athleticism, but what we've seen improve lately is Roby being able to read and react to plays as they happen, in real-time.
Last year, Roby enjoyed his most well-rounded ever; with a career-high 17 passes defended, one interception, one sack, one forced fumble and a fumble recovery, too. According to Pro Football Focus, his 84.0 grade was 25th-best in the NFL, even ahead of PFF's darling, Harris (83.5).
Bradley Roby allowed a catch rate of just 17.4 percent on the contested passes sent into his coverage last year. #BroncosCountry pic.twitter.com/1e3ZKneJSh

— PFF DEN Broncos (@PFF_Broncos) June 19, 2018
Tramaine Brock:
Brock has come in and impressed the coaching staff through OTAs, and the veteran is proving he has what it takes to be the third cornerback on the field when the Broncos go in nickel, dime or other coverage-heavy sets.
Because, when Harris drops into the slot, and Roby is outside, Brock will be on the opposite side of the field. At least, that's how it's shaping up currently.
Brock's an eight-year veteran who's been though an up-and-down career, mostly with the San Francisco 49ers and last year, with the Minnesota Vikings. 2011, '13, '15 and '16 were his best, with some injuries mixed in. And last year, Brock was a depth cornerback for the Vikings.
This season, he's looking to re-emerge as a true starter, showing off ball skills in OTAs already. The better and more consistent Brock can play this year will only bode well for the Broncos in the long run. Because, for years, one of the pillars of their defense has been three outstanding safeties; can Brock be No. 3 this season?
Brendan Langley: 
While Brock is chasing that starting spot Roby has, Langley is hot on Brock's heels.
"That's why I brought him out there," Harris said of Langley when asked, before the draft. "He just has to continue to get smarter. I think this year, he understands the defense better. With [Defensive Backs] Coach [Greg] Williams, he's been a great defensive backs coach so far. That's what he needed last year, a guy like him that can really explain it to him, really show him, and I think he'll be a better this year."
Langley, currently, is behind Brock for that No. 3 cornerback position. But, you never know what could happen in training camp as positional battles ratchet up further.
Drafted in the third round in 2017, Langley experienced a rough rookie year. He did see action in 11 games, but exclusively in the return game; with one punt return and six kickoff returns.
Yiadom:
Speaking of draftees, the Broncos spend another third-round pick on a cornerback this year in Isaac Yiadom. Yiadom is a four-year player and two-year starter from Boston College, picking off three passes with a total of 22 passes defended during his college career.
Scouts like his toughness and willingness to tackle, as well as his special teams abilities. Which is where we'll likely see him making an impact at first, on special teams.
The other guys:
There are currently three other cornerbacks on the Broncos roster we haven't mentioned yet here. They are: C.J. Smith and Michael Hunter — each entering their third years — and Marcus Rios, who's going into his second season this fall. Rios enjoyed a five-tackle game in Week 17, putting some of his play on tape for the coaches.
Conclusion:
If we had to guess, it'll be Harris and Roby outside when the Broncos only use two cornerbacks. When they go to nickel, look for Harris to drop inside to play the slot receiver, with Brock and Roby outside. And Langley will get some snaps here and there, too, so keep an eye on that youngster this year, as Harris said he expects him to take a step forward as a player.