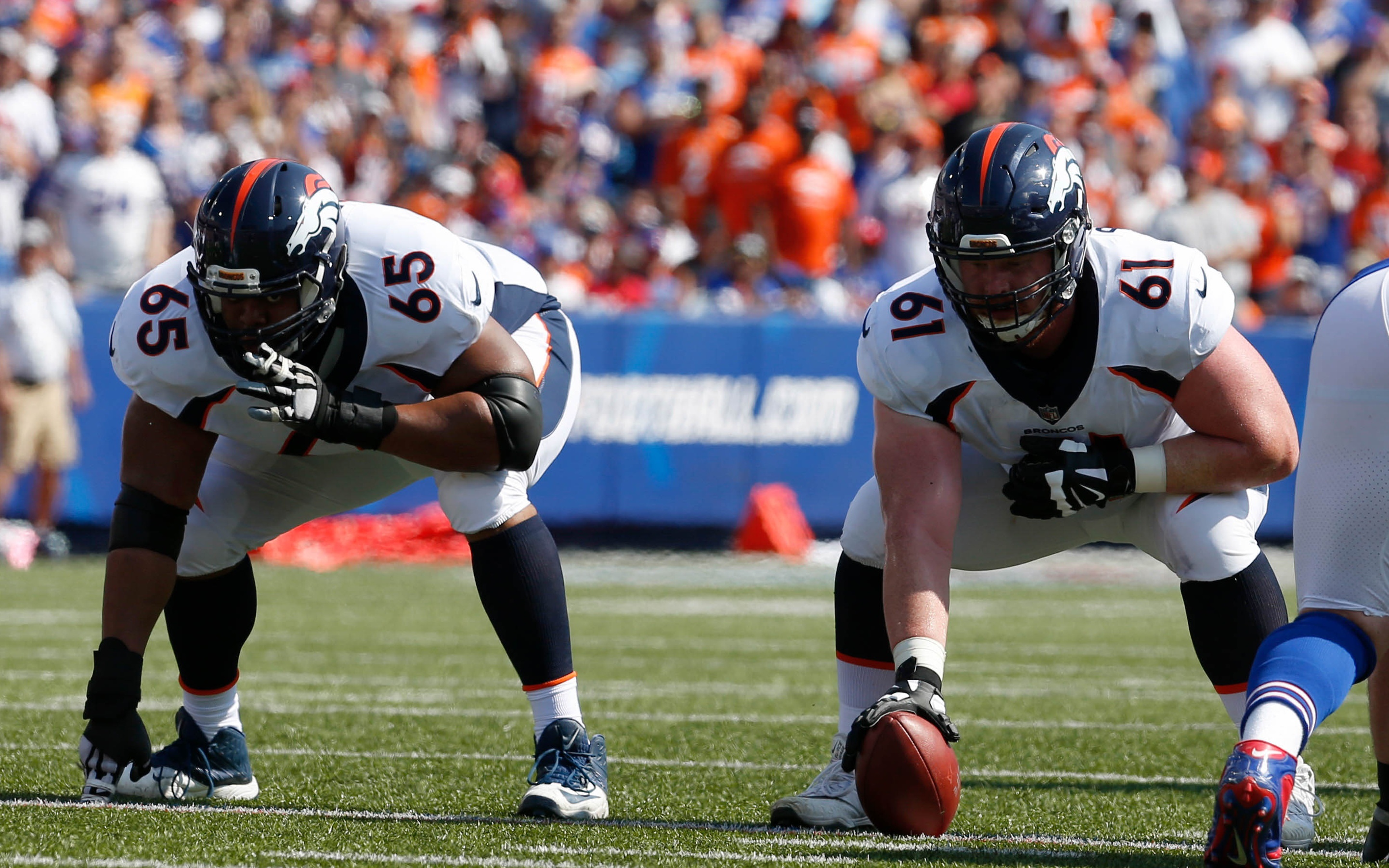 Usually, great teams possess great offensive lines. And if the Denver Broncos want to make it back to the playoffs for the first time in three years, they've got to at least find consistency in the trenches on offense.
Luckily for Broncos fans, it seems as though the unit is finally coming together, as they look for one more starter, namely, at right guard.
Training camp will be huge in determining not only that starting right guard, but right tackle, too, as well as where the rest of the many offensive linemen on the roster wind up in terms of the depth chart.
Let's take a look at Denver's offensive line, position by position, to see how they've improved over the last few years and where they can still grow.
LT, Garett Bolles
Bolles was a solid first round pick in 2017, even if Ryan Ramczyk had a better rookie season by far. Throughout his rookie season, we saw a rough, roller coaster ride of up-and-down performances by Bolles.
Overall, he graded out at 68.8 by Pro Football Focus, which was the 42nd-best tackle in the NFL last year, a below average grade. While his run blocking is strong (81.8), Bolles' lack of pass blocking ability (51.4) is a bit shocking. He gave up 8.5 sacks last season and was also called for 12 penalties; each of those numbers are simply too high to be a starting left tackle in this league.
Still, Bolles should continue to improve in his sophomore campaign this year. He's certainly one to keep an eye on.
LG, Ronald Leary
Leary was the highest-graded offensive lineman for the Broncos last year by far. Pro Football Focus graded him out at 81.2 overall, the ninth-best guard in the entire NFL.
He's a road-grater, able to flatten opposing defensive linemen in order to open up holes in the running game. Leary is well-suited to the power running game, and Bill Musgrave is a fan of the power; so the two are a match made in football heaven.
Leary played 11 games last season, being placed on the injured reserve in December due to his back. He'll be back and ready to go to help lead the offensive line as they look to gel this year.
C, Matt Paradis
Paradis was right behind Leary in terms of the best offensive linemen on the team in 2017, grading out at 75.2, the eighth-best center in the NFL by PFF.
And, really, even though Leary graded out higher, Paradis was the best o-lineman for the Broncos last season. He played in all 16 games, was called for a mere one penalty, and didn't allow a single sack.
Paradis, who just finished his third year in the NFL, is the best offensive lineman John Elway's ever drafted. And that's saying a lot considering Elway has picked 10 linemen in eight years.
RG, Max Garcia/Connor McGovern (Battleground Position)
Speaking of Elway draft picks, two former picks will continue to battle at right guard in Max Garcia and Connor McGovern in this year's training camp.
Garcia started all 16 games for Denver and played eight games with 60-plus snaps in 2017, but he also plummeted in terms of his player grade, down to a terrible 41.2. It was the worst of his three-year career. And that came after a promising 2016 season in which was was graded 70.4 overall by PFF.
At left guard, he was called for only one penalty, although he did allow four sacks on the season. He'll have to move back over to right guard now that Leary has been moved back to his natural left guard spot.
And when Leary went down with his back injury, there was McGovern to fill-in at right guard. McGovern started the last five games of the season for Denver, grading out at 40.2 overall. He was called for only two penalties and allowed one sack during that time.
Being former Elway draft picks has helped both Garcia and McGovern hang around the Mile High City this long. But if they don't start producing now, in a consistent way, time will likely run out in the near future.
RT, Jared Veldheer/Menelik Watson (Battleground Position)
Veldheer is who the Broncos hope can be their consistent starter at right tackle this year, which has been a revolving door of players for multiple seasons now. That carousel has featured Watson, as well, and we may see both of them in 2018.
For Veldheer, he struggled mightily with the Arizona Cardinals last year. While Bolles' 68.8 grade was 42nd, Veldheer came in at a 54.3, the 50th-best tackle in the NFL.
Veldheer started the first nine weeks of the season for the Cardinals at right tackle, then made the switch to left tackle for the final four games of his season before being placed on injured reserve due to an ankle. Injuries are a concern for Veldheer, an eight-year veteran, who also tore his triceps and was placed on the IR in 2016. While he was decent in the penalty department last year, with only four, Veldheer did allow five sacks.
Simply, Veldheer isn't guaranteed his starting spot, and he'll be battling with Menelik Watson for the starter at right tackle.
Watson, however, was, at times, was flat-out terrible for the Broncos last year.
In his first season with Denver, Watson was graded out at 38.9 last season by PFF, the 73rd-best tackle in the NFL, meaning he wasn't good enough to be considered a starter. Watson did start in seven games, allowing 7.5 sacks over that time, before he was placed on the IR in November with a foot issue.
Injury updates on Veldheer and Leary
Speaking of key injuries, to Veldheer and Leary, Vance Joseph said, "Those two guys will be ready for training camp," in June. So, that's good news for the Broncos.
"No, they have not," Joseph said on June 12 about the two players' recoveries and if they've had any delays. "Again, we're just being really, really smart. Especially with guys we know and that have experience playing in this league. Having three or four weeks for Veldheer, who has over 100 starts at tackle in this league, it makes more sense to get him totally healthy so he can play in the fall for us. Same with Leary."
Backups
LT, Chris Koundijo
Kouandijo, formerly of Alabama, got a shot to prove his worth at the end of last season, starting in Week 17 at right tackle. He played well, too, grading out at a 73.0 on the year. We'd put him at backup RT, but Watson will likely be that man.
LG, Sam Jones
It's possible the Broncos have McGovern play backup at both left and right guard. If not, maybe this year's draft pick, Sam Jones will get a shot to backup that spot.
C, Max Garcia
Paradis will look to start all 16 games again, and if he doesn't the Broncos could be in trouble. But, Garcia played center in college and would likely slide over to that position. J.J. Dielman is also currently on the roster.
RG, Connor McGovern
He'll give Garcia a run for his money at right guard, but McGovern will likely backup there.
RT, Menelik Watson
Veldheer likely wins the right tackle spot, pushing Watson to backup territory. There's also Andres Knappe who could be the backup at RT.
Conclusion
Denver's left side of their offensive line should be stellar, but the right side still presents multiple question marks. Will it be Garcia or McGovern at right guard? Will Veldheer be fully recovered from back-to-back seasons of limited action?
Simply, the Broncos line must gel this year, and Paradis will need to be the catalyst of that, if Denver wants to get back to the playoffs and "win from now on."