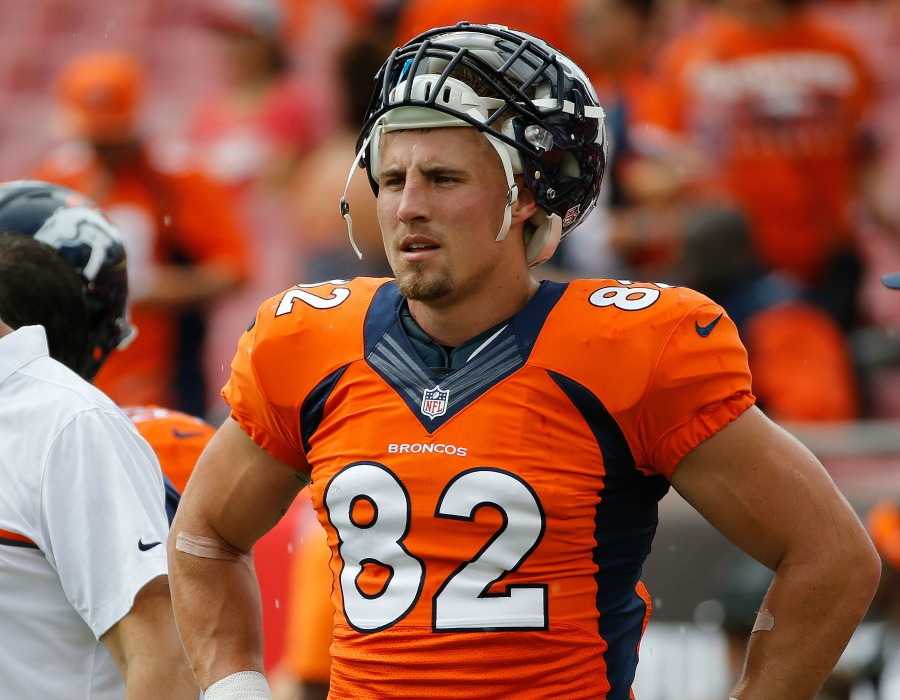 Who will be the starting tight end for the Denver Broncos when they open the season on Sept. 9 against the Seattle Seahawks? With a group of young, unproven players, the answer to the question is far from certain.
Since Julius Thomas' departure after 2014, the team has yet to find a consistent threat to accompany the wide receivers. Owen Daniels had a productive year in 2015, but never established himself as the red zone threat that Thomas was. In the last two seasons, Virgil Green – more of a blocking tight end – and A.J. Derby combined to produce lackluster numbers at the position.
In 2018, four young tight ends hailing from Big Ten territory will all compete to become the next reliable tight end on the roster. Here's a look at how the position breaks down entering 2018.
Jeff Heuerman:
Despite being the veteran of the group, Jeff Heuerman is only entering his fourth season as a professional and just his third year of playing after missing his rookie campaign with a torn ACL. The former third-round pick out of Ohio State has yet to produce at a level that warrants his mid-round selection.
In both healthy seasons, Heuerman has caught nine passes for 141 and 142 yards. Last season he also notched two touchdown receptions. His most promising moment came on a 54-yard catch and run against the Indianapolis Colts that resulted in his second touchdown of the season.
The 6-foot-5, 255-pound Heuerman has the physical makeup to be a productive option at tight end. Though he showed improvement in terms of pass-catching and blocking as the season wore on last year, Heuerman is almost certainly entering a make-or-break camp in Denver. If he impresses early, the position could be his for the near future. If not, his days as a Bronco may be numbered.
Jake Butt: 
On paper, Jake Butt and Heuerman have quite a bit in common. Both played four years of college football in the Big Ten – Heuerman at Ohio State and Butt at Michigan; both players missed their rookie seasons while recovering from ACL injuries and they are nearly identical in stature.
Beyond those happenings, though, the players' levels of production are very different. During his senior year at Michigan, Butt received for 546 yards and four touchdowns en route to receiving the John Mackey Award as college football's best tight end. This came after a junior season that saw Butt record 654 receiving yards and three touchdowns, finishing as a semi-finalist for the award.
He was a projected second-round pick prior to suffering his second ACL tear in his right knee during the 2016 Orange Bowl. That injury caused Butt to slip into the waiting arms of John Elway and company in the fifth round of the 2017 draft.
After being handled with caution, Butt says he feels 100 percent and was able to soak up the offense during his redshirt year. Throughout college, Butt proved his versatility playing on the line as both a blocker and receiver, and lining up in the slot as a receiver.
If he can recover that form he showed as the nation's top tight end, Butt's chances of developing into the Broncos' top tight end are high.
Troy Fumagalli:
Number three of the Broncos' four Big Ten tight ends, Troy Fumagalli was a fifth-round selection in April's draft. Like Butt, Fumagalli has an established record of success in college. As a Mackey Award finalist in 2017, Fumagalli led the Wisconsin Badgers with 46 receptions and 547 yards while scoring four touchdowns.
Fumagalli says he already feels comfortable with the transition to Denver because of his preparation as a blocker and pass-catcher at Wisconsin. Despite having a slimmer frame, Fumagalli's hands and experience being asked to run-block at Wisconsin are invaluable. With Virgil Green out, Fumagalli may immediately become the best blocking tight end on the roster, something that bodes well for his playing time early.
Austin Traylor: 
A former teammate of Fumagalli at Wisconsin, Austin Traylor got his first taste of the NFL late last season. He was activated from the practice squad for the team's Week 11 game against the Cincinnati Bengals and eventually caught eight passes for 100 yards on the season.
At 6 feet 3 inches, Traylor is a bit undersized compared to his teammates. Like Fumagalli, though, he also has experience as a run-blocker at Wisconsin. If he makes the roster out of camp, that could allow him to receive playing time.
Conclusion 
Jake Butt's college pedigree and pre-injury NFL projections make him the top candidate in an unproven group of tight ends. If he can put the ACL injuries behind him, Butt has the physical traits to become a threat in the passing game, freeing up opportunities for Demaryius Thomas and Emmanuel Sanders.
Heuerman's flashes of potential last season may be enough to earn more reps this year if he continues to mature in camp. Meanwhile, one of Fumagalli or Traylor figures to have an impact in the blocking game.