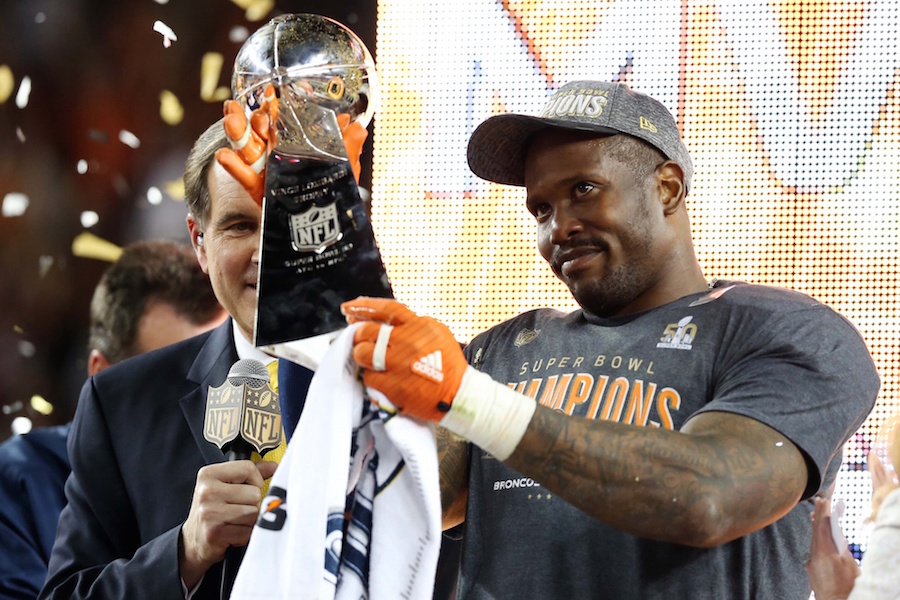 The NFL is back! Who better to highlight as our first featured Broncos player of the week than Von Miller?
Broncos Country was heartbroken when it was announced that Miller had suffered a devastating ankle injury in practice right before the 2020 season was set to start.  
Miller made his grand return in his first NFL game since 2019 against the New York Giants last week. It was his first game as a new dad. His son, Valor, was born on August 16th.
He finished the game with two sacks and three tackles, proving that he hadn't lost a beat, and fans couldn't get enough of his post-sack dance moves that they had missed so much.
How It Started
Miller attended Texas A&M, where he majored in poultry farming. He continues to raise chicken farms to this day.
Going into the 2011 draft, he was regarded as one of the best outside linebackers available by NFL draft scouts and experts. He was projected to be a top-five draft pick.
The Denver Broncos drafted Miller with the second overall pick that year, making him the highest-selected linebacker since 2000. 
His impact on the team was immediate. He finished the season with 11.5 sacks, 64 combined tackles, and two forced fumbles. He was also selected to his first Pro Bowl and was named the NFL Defensive Rookie of the Year.
2012 was an even more impressive season for Miller. He finished that season with a franchise-record 18.5 sacks, 68 combined tackles, six forced fumbles, and another Pro Bowl selection. His peers also named him as the ninth-best NFL Player in 2012, on NFL Network's Top 100 show.
High Highs, Low Lows
Before the 2013 season started, Miller was arrested on a failure to appear warrant for driving-related charges, was cited for speeding and driving with a suspended license, and was suspended for six games for violating the league's substance-abuse policy. What was initially supposed to only be a four-game suspension was then extended to six when the NFL discovered Miller had tried to cheat a drug test.
Miller's 2013 season was cut short when he suffered an ACL tear in week 16 against the Houston Texans. Because of the injury, he was unable to play in Super Bowl 48.
Following the blowout Super Bowl loss, the Broncos signed free agent Demarcus Ware to the team in March 2014. He immediately became a mentor for Miller during a crucial time in his career.  When describing the effect Ware had on him, Miller said, "If you know about Denver and the Denver Broncos, you know exactly what type of impact he's had on my life, my career."
Ware recounted Miller as a player, "with all the talent in the world, who just needed somebody to help him work on the rest."
Ware's impact on Miller was undeniable. During their time as teammates, the Broncos went on to win Super Bowl 50, with Miller being named the game's MVP.  
After Ware retired following the 2016 season, Miller vowed to "just keep paying it forward."
He lived up to that vow when the Broncos selected Bradley Chubb with the fifth overall pick in the 2018 NFL Draft. Miller took Chubb under his wing, and Chubb was eventually voted into his first Pro Bowl in 2020.
Now Miller is also mentoring rookie Jonathon Cooper. Cooper was selected near the bottom of the seventh round but surprised everyone with a phenomenal performance in the preseason.  
What's Next?
The nine-time Pro Bowler is in the final year of his contract with the Broncos. After the Broncos picked up his $7 million option in July, Von Miller posted on Instagram to show his enthusiasm.
"I have totally bought into being a Coloradoan for life, let alone a Denver Bronco," the post read, using a quote he had previously said to the media. "I want to be here forever through the thick, the thin, the Super Bowl seasons, the losing seasons. I want to be here forever."
Miller is a Broncos Country fan favorite for both his on and off-the-field activities.  
In 2012, he created Von's Vision to provide the Denver-area youth with eye examinations and eyewear.  The foundation hosts Von's Vision Days throughout the year to provide children with free eye exams and glasses.
Miller is the longest-tenured Denver Bronco and is the only non-special teams player remaining from the Super Bowl 50 roster. His 108 sacks total ranks him 24th all-time in the NFL. He is the Denver Broncos franchise leader in sacks, passing Simon Fletcher on Dec. 15, 2018, when he took down Cleveland Browns quarterback Baker Mayfield.
After the Week 1 win against the New York Giants — a game in which he recorded two sacks and joined the top-25 sack artists in NFL history — Miller has made it clear that he is fully on board with Teddy Bridgewater taking charge this season, telling him,  "I haven't felt that in a while – since 18 (Peyton Manning) was here man."
The Broncos will pay a visit to the Jacksonville Jaguars on Sunday at 11:00 AM MT.  With how poorly the Jaguars offensive line played last weekend, it's almost a guarantee that there will be a lot more Miller dance moves to see.