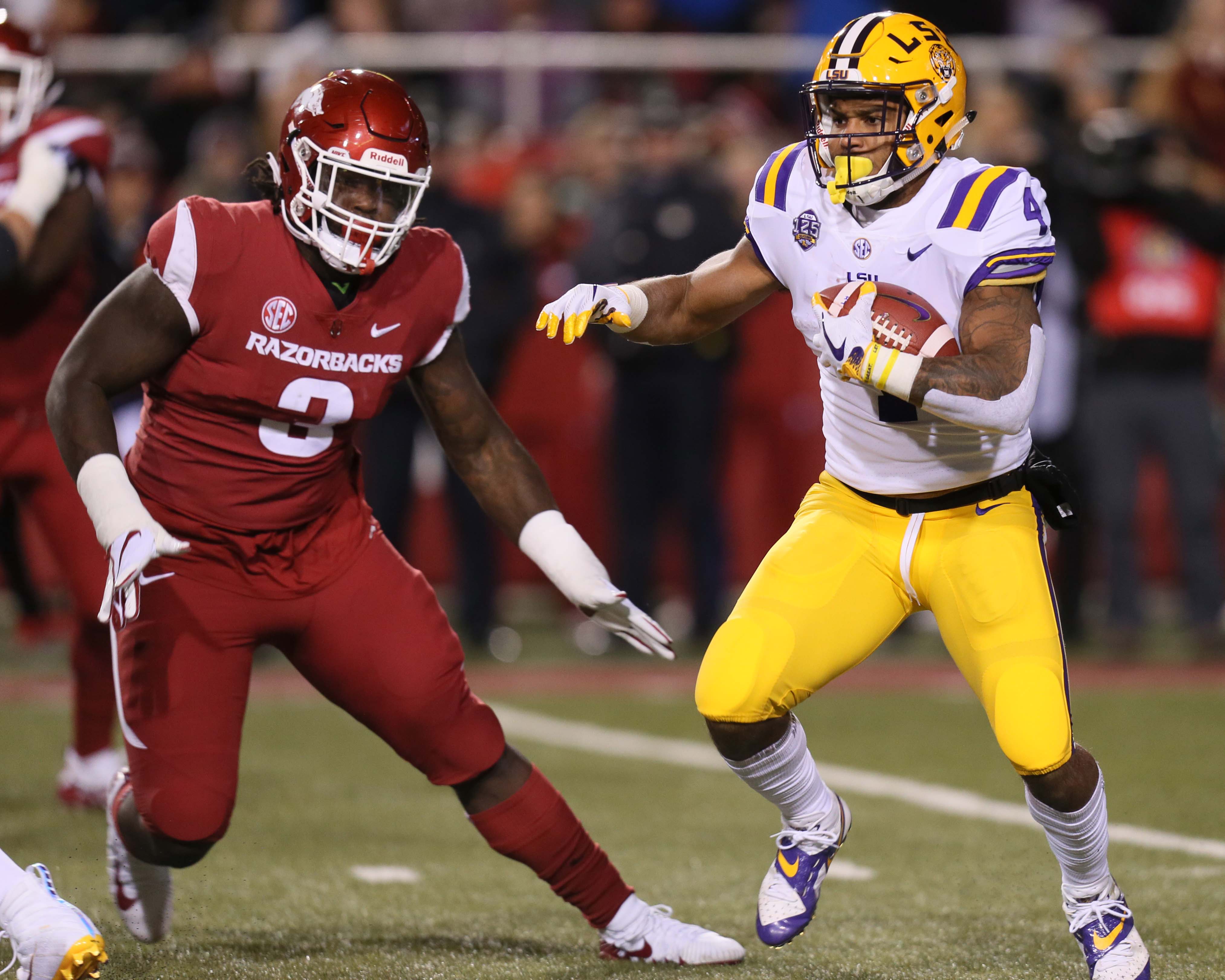 The Denver Broncos' defensive line quickly went from one of the shallowest position groups on the team to one of the deepest, thanks to some free-agent wizardry by John Elway and the selection of McTelvin Agim.
That puts 2017 second-round pick Demarcus Walker's roster spot in jeopardy. Walker finally started to catch on last year, but still struggled to get on the field (220 snaps in 2019).
If Agim does replace Walker on the roster, what should Broncos fans expect from him in year one and beyond?
Positives
Interior pressure is the hot new commodity on the defensive side of the ball, and McTelvin Agim's ability to provide it is what he does best as a player. He beats opposing linemen primarily with his quickness.
Agim is lightning-fast off the line for someone weighing over 300 pounds. He has some technical abilities, but he relies on that get off to shoot gaps between linemen to get back to the quarterback.
His understanding of leverage and how to utilize it is also an important element of his ability to penetrate the backfield. Agim's length also makes it so that he can quickly suffocate the play, once he's made it past the linemen.
A big bonus for Fangio, Agim is also very dynamic for an interior defensive lineman. He can play defensive end in most of Denver's packages but could shift to nose tackle in a pass-rush heavy package.
Negatives
At this point in his football career, Agim is a one-trick pony relying on his quickness and agility to win in the trenches. Now, that one-trick is a killer, but he needs to become more versatile and dynamic to reach his potential in the NFL.
His anchor and ability to fill holes in the run game suffers the most from his lack of play strength. At this point in his development, it would be hard to put him on the field in situations where the opponent is likely to hand the ball off.
His pass rush was also affected by his lack of power, though. He wins a lot with his first step and his speed, but if a lineman was able to counter that burst and get in good position, Agim often didn't have the strength or technique to get off the block.
The strength is a greater concern, as some of his technical problems have to do with a lack of experience rushing the passer, and should improve with seasoning and better coaching. The Razorbacks were SEC West bottom-feeders throughout Agim's college career, which meant most of their games were blowout losses that didn't offer many pass-rushing opportunities.
Verdict
Like a lot of the Broncos 2020 draft selections, McTelvin Agim is a traits-based pick. As a rookie, he should replace Demarcus Walker on Denver's roster and on the field as an interior rusher for obvious passing situations
If he's able to develop a more all-around game and become less reliant on his quickness and burst, he could be one of the league's better interior pass-rushers and maybe make a Pro Bowl or two. That being said, it's hard to see him ever becoming a high-end run-stuffer.
Draft pick grade: B
Player Comparison: Grady Jarrett