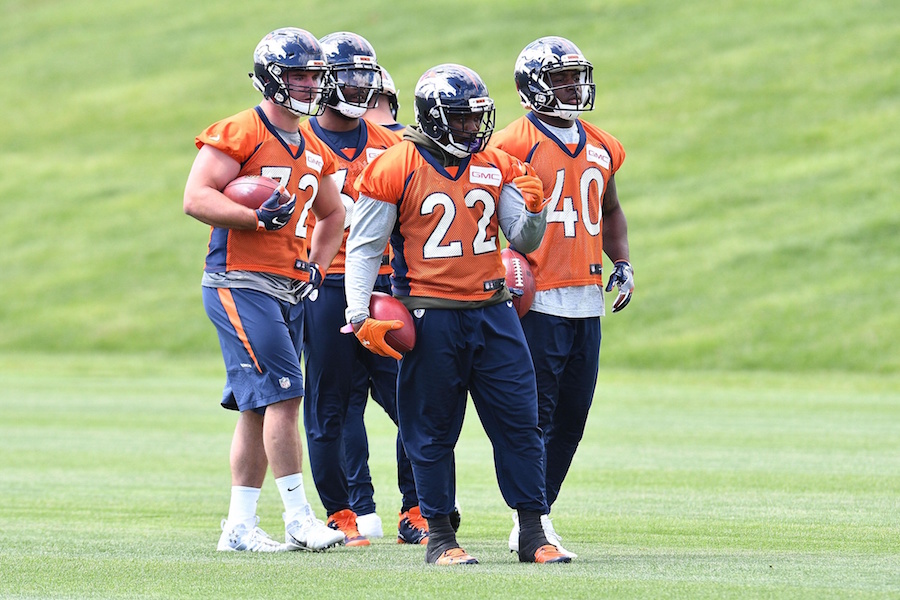 Even with Devontae Booker on the shelf through training camp, the Denver Broncos have a wealth of options coming out of the backfield this season. Last year's starter, C.J. Anderson, entered training camp at the top of the depth chart, but is battling for the top spot with two-time All-Pro Jamaal Charles. Anderson, who is coming off a knee injury last season, joined Eric Goodman and Les Shapiro on AM 1340 | FM 104.7 to talk about his outlook this season.
"I think that being hurt last year put a lot of perspective on what I want to be. Also being here in the training room, and in the offseason, and being active made it a different offseason than usual," Anderson explained. "I didn't have much time off to go crazy. I think that's something that I can keep in my brain and use throughout my career."
Anderson has been very positive going into this season. Knee injuries can linger in a player's mind, but the veteran running back seems comfortable with where he is physically.
"I do [feel quicker than normal]. I feel like I have my legs under me now. The first day in pads I was telling coaches that I don't feel like I really have it yet, that I didn't have my legs back yet, but I'm using some of that quickness. I still have that power in me though," Anderson told Goodman and Shapiro. "[Lining up out of the slot] is something that we did a lot in 2014, and I love running routes. It's part of my game and I love doing it. I'm excited to get back to it so I can hopefully keep this spot as long as [Devontae Booker] is sitting out right now."
Listen to the full interview with Anderson, including his thoughts on the new offensive line, in the podcast below.
Catch Afternoon Drive with Goodman and Shapiro every weekday from 4p-6p on Mile High Sports AM 1340 | FM 104.7 or stream live any time for the best local coverage of Colorado sports from Denver's biggest sports talk lineup.