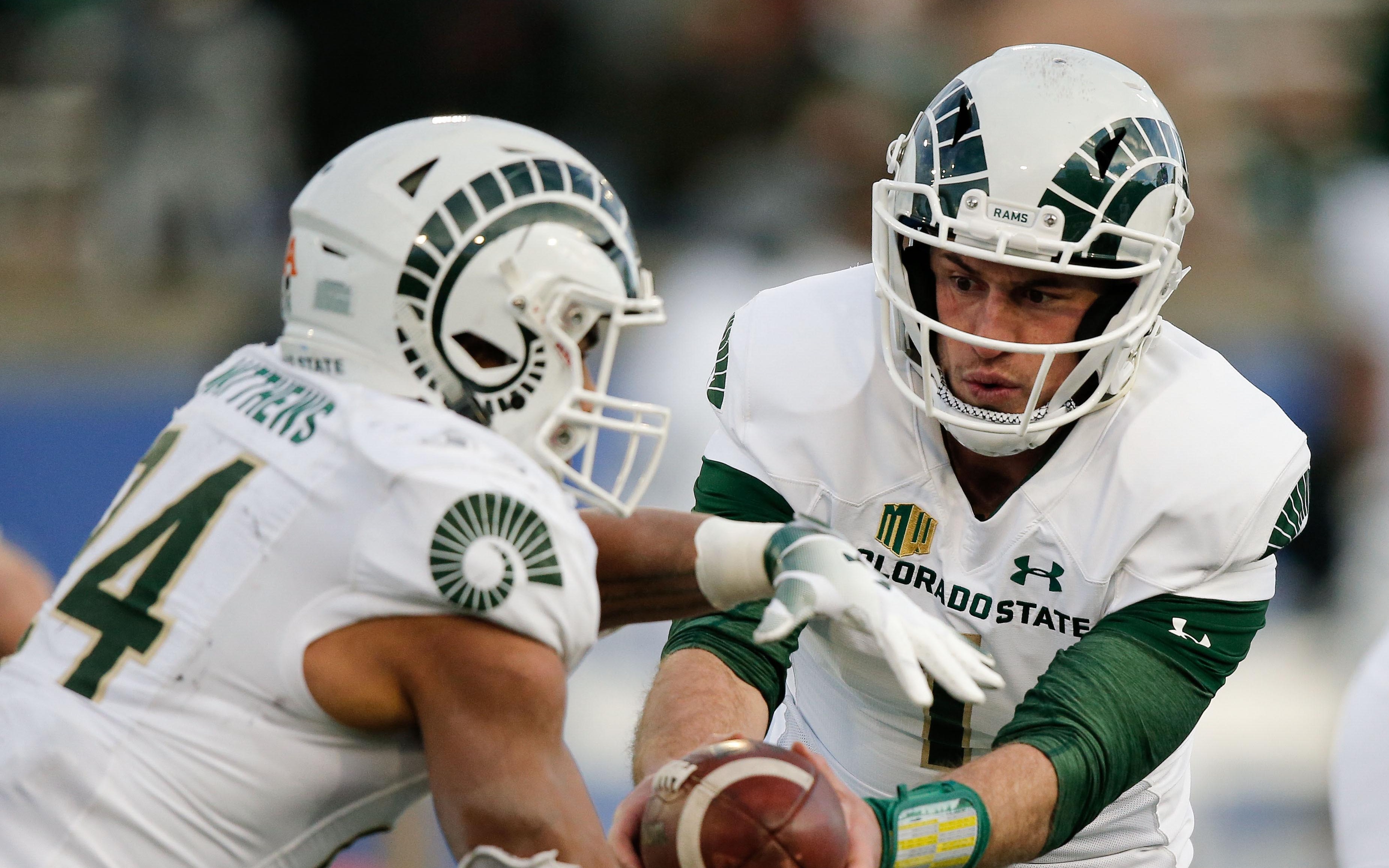 Ah, to play in the NFL. It's a lifelong dream for thousands of young men across the country, and for a local group of collegiate athletes, that dream continues today.
The Denver Broncos are hosting 30 local college players from Colorado State, the University of Colorado, Air Force, CSU-Pueblo, Northern Colorado and Wyoming today at Dove Valley — despite the weather — to show their skills to John Elway and the rest of the team's front office. They'll almost certainly be running drills inside.
Here's a look at the players by school:
Colorado State
Izzy Matthews, running back.
K.J. Carta-Samuels, quarterback.
T.J. Roundtree, tackle.
Wyatt Bryan, kicker.
Jordan Fogal, safety.
Tre Thomas, linebacker.
Josh Watson, linebacker.
Surprisingly, start wide receiver Preston Williams was not invited, and neither was Olabisi Johnson. Williams is expected to be drafted, likely in rounds 3-5, and while he put up huge numbers as a senior (96 receptions, 1,345 yards and 14 TDs), his suspension from the team in 2017 due to legal matters may have scared the Broncos away. Or, they may be focusing more on players they can take after the draft with this group. No offense to anyone else listed here, but Williams is likely the most talented of any player from Colorado or nearby.
Colorado
Kabion Ento, wide receiver.
Kyle Evans, running back.
Nick Fisher, safety.
Rick Gamboa, linebacker
Drew Lewis, linebacker
Travon McMillian, running back.
Evan Worthington, safety.
Juwann Winfree, wide receiver.
UNC
Fisayo Awolaja, offensive tackle.
Wyoming
Marcus Epps, safety.
Nico Evans, running back.
Austin Fort, tight end.
Sidney Malauulu, nose tackle.
Tyree Mayfield, tight end.
Andrew Wingard, safety.
Air Force
Austin Cutting, long snapper.
CSU-Pueblo
Tanner Cuda, punter.
Bernard Mcdondle, running back.
Brandon Payer, linebacker.
Deyon Sizer, defensive end.
Michael Wristen, defensive end.
Others
Doyin Jibowu, Fort Hayes State, cornerback.
Brody Oliver, Colorado School of Mines, wide receiver.
Eystin Salum, Colorado Mesa, quarterback.
Will any of these players make the roster? It's unlikely, but, don't be surprised if some of them get a look by the Broncos after the draft and are picked up as undrafted free agents.
The Broncos have done incredibly well with finding diamonds in the rough with undrafted free agents over the years. Most recently, Phillip Lindsay broke out as a rookie, but there has also been Shaquil Barrett, C.J. Anderson, Wesley Woodyard and more.