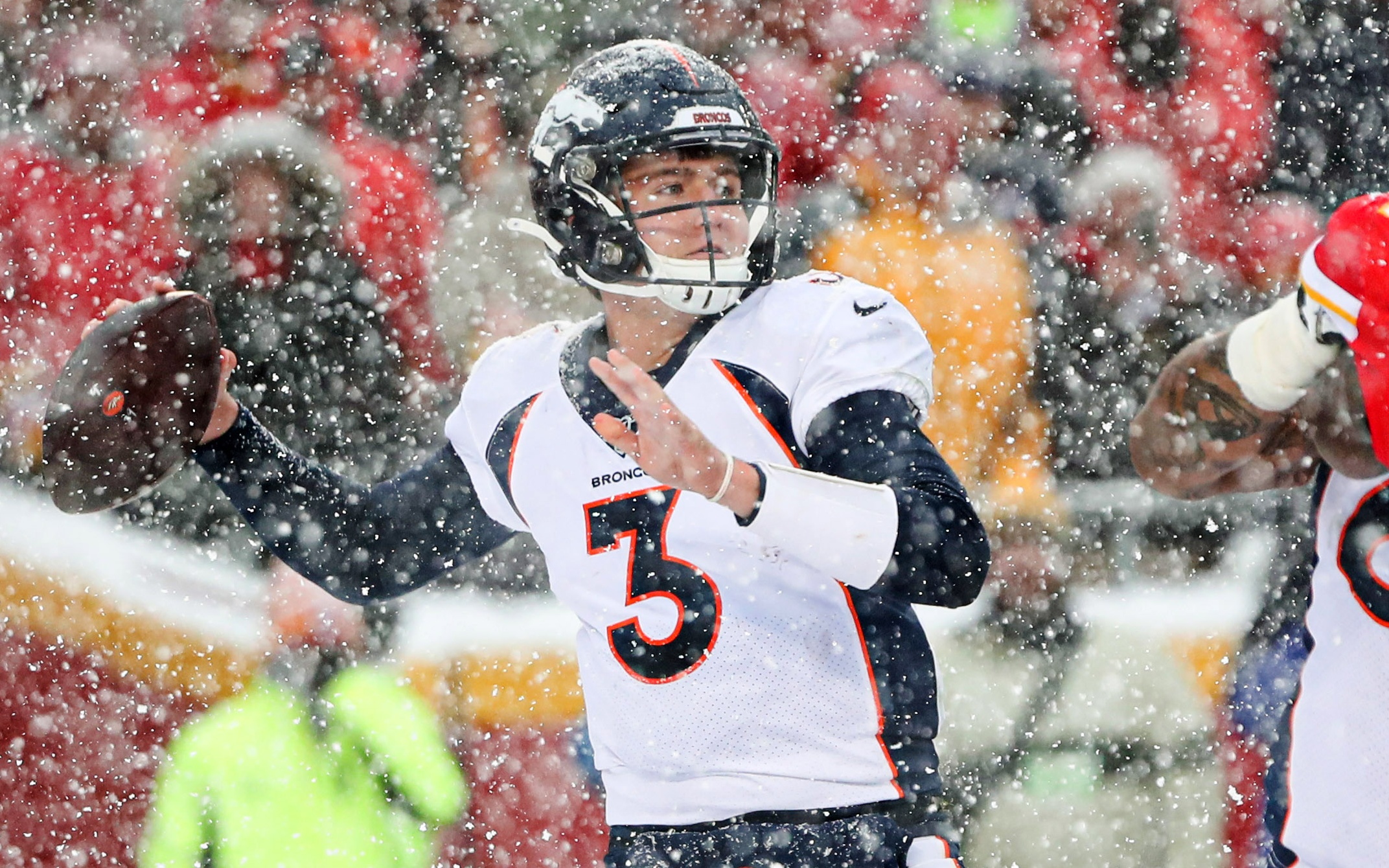 The Broncos will face the Chiefs for the first time this year in Week 8.
The Broncos are opening at +9.5 on the spread and +370 on the moneyline against the Chiefs. The Chiefs are a massive -480 moneyline favorite. The total is not set yet. 
Despite having a 17-day layoff in between games, the Broncos are winners of two in a row and have a little bit of momentum after shocking the New England Patriots in Week 6. Let's take a look at the line, spread, total, and odds on Colorado sportsbooks for this Week 7 matchup against the Chiefs as of November 26, 2020 11:24 PM.
Click here to get a $1,000 risk-free first bet at FanDuel Sportsbook CO.
Broncos vs. Chiefs Opening Line
Here are the current Broncos-Chiefs odds. These odds are from FanDuel Sportsbook and don't represent the odds at every sportsbook in Colorado. The Chiefs play on Monday night so the odds could shift depending on what happens in that game.
| Team | Spread | Moneyline | Total |
| --- | --- | --- | --- |
| Chiefs | -9.5 (-115) | -480 | N/A |
| Broncos | +9.5 (-105) | +370 | N/A |
Spread
The spread on the Broncos is opening at +9.5 on FanDuel Sportsbook.
For the second consecutive week, the Broncos are two-score underdogs. Last week, they didn't just cover the spread, they ended up beating the Patriots outright. However, the Chiefs are a much better team than the Patriots.
Denver was able to hold New England to three points through three quarters. It's highly unlikely that the Broncos repeat that performance against Patrick Mahomes and the high-flying Kansas City offense.
The Patriots were dealing with a COVID-19 outbreak that threw their practice schedule out of whack in the leadup to their game against the Broncos. Although the Chiefs are going to have a slightly shortened week, they will have time to prepare for Week 7, barring any unexpected COVID-19 outbreaks.
Moneyline
The Chiefs are heavy favorites on the moneyline entering their game with the Broncos in Week 7.
The Broncos rode defense and kicking en route to their win over the Patriots. That won't be the case against the Chiefs next weekend. Drew Lock and the offense will need to put up touchdowns to keep pace with Mahomes and the Chiefs. Having Brandon McManus is a luxury for Denver, but they can't afford to settle for field goals.
With all this said, there is significant value on the moneyline for Broncos bettors. A $100 bet on FanDuel Sportsbook would net a profit of $370 if they can pull off the upset.
Total
The total points mark is still not available at any Colorado sportsbooks. Check back here throughout the week for updates.
Where Is The Money Going?
It's too early in the week for accurate and enlightening betting splits, but we will keep you updated with the latest on where the public money is going.
Broncos vs. Chiefs Props For Week 7
Prop bets generally don't hit the board until later in the week. Game and team props can be found as early as Tuesday or Wednesday, but player props usually won't come out until Friday night. There will be no shortage of prop bets to choose from for Chiefs-Broncos Week 7 and some of our favorites are:
Total passing yards
Total rushing yards
Total receiving yards
Player vs. Player matchups
Player to score a touchdown (first/last/anytime)