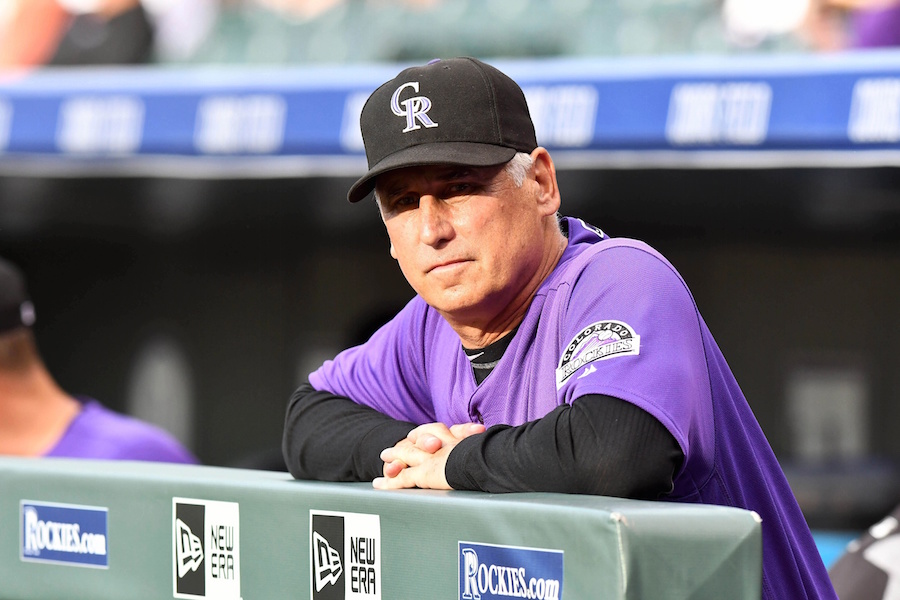 Options are never a bad thing in life.
Check that: Good options are never a bad thing in life, but you get the point.
All of the sudden, the Colorado Rockies have a lot of good options. Specifically, good options to pitch a one game Wild Card playoff with a trip to Los Angeles and the NLDS on the line.
Just close your eyes, imagine it's Rocktober 4, 2017 and Buddy Black's boys have secured a spot against either the Cardinals, Cubs or Diamondbacks in a win-or-go home showdown.
It's not a given, but for the sake of this piece, we're going to pretend like it is.
Who do you throw?
I don't envy Black having to make the decision. Pick the right guy, and everyone in town continues to laud him as a genius like they have since he arrived. While Black hasn't pushed every correct button, the praise heaped on him has been largely deserved.
But, pick the wrong guy, and 162 games could go up in flames.
Many think there are a couple of different factors to consider when it comes to picking a pitcher: The location and the opponent.
The reality is only one really matters.
The Cardinals, Cubs and Diamondbacks have scored between 550 and 585 runs each, so who the Rockies are playing doesn't figure to matter much. Those three can all mash, and all have a shutdown ace they can throw in a do-or-die baseball game.
And yes, while Busch, Wrigley and Chase are different ballparks, they have one thing in common – none is Coors Field.
Black shouldn't overanalyze the opponent, as much as he should location of the game (either Coors or not Coors) and the 'it' factor each of his four options bring.
Right now, one can make a compelling case for Chad Bettis, Kyle Freeland, Jon Gray or German Marquez to get the ball on that Rocktober night.
If Bettis can do what he did in his return from cancer on Monday night, he can handle the Wild Card Game.
If Freeland can do what he did in his Opening Day start in his native Denver against the Dodgers, he can handle the Wild Card Game.
And if Gray is truly the ace we all believe and Marquez can pitch like he has the last eight starts (three earned runs or fewer in all but one), then either guy is worthy to start the Wild Card Game.
Finding a "starting" point to simplify the argument isn't easy, but there is a logical one.
Gray shouldn't start if it's on the road, as his 6.34 ERA away from Coors Field suggests. The sample size is small, but in seven road starts this year, opponents are hitting .323 with five home runs.
After that, Bettis' ERA was north of five on the road last year (albeit there's time to see what he does this year), and Freeland has only won one game away from Coors Field since June 1.
The pick, if the game was tomorrow in St. Louis, Chicago or Arizona would be Marquez. He has the lowest starting ERA away from Denver (3.95) where opponents are hitting just .255 with 58 strikeouts against him.
At home, oddly enough, Marquez is the first guy out, because even though the ERA isn't bad (4.31) it's the worst amongst the group. His eight bombs surrendered are concerning as well.
After that Gray's 3-0 record and 3.00 ERA at 20th and Blake trump Freeland's numbers (6- 4, 3.31 ERA), but how can you not go with the hometown kid who won his first-ever start on Opening Day and nearly pitched a no-hitter a couple months later (going 8.1 innings without giving up a knock)? The head says Gray, but the heart says Freeland.
Once it gets to Freeland vs. Bettis at home, Black might as well flip a coin. Either guy could separate himself, but where we currently stand it's a brutally tough decision.
For now, the magical story of Bettis gets the nod, but that decision reserves the right to be changed.
So, let's do a quick recap…
If the Rox are on the road: 1) Marquez 2) Bettis 3) Freeland 4) Gray
If the Rox are at home: 1) Bettis 2) Freeland 3) Gray 4) Marquez
Is your head spinning yet? Imagine being Bud Black.
Good options are always nice to have, but that doesn't mean a decision will be easy.