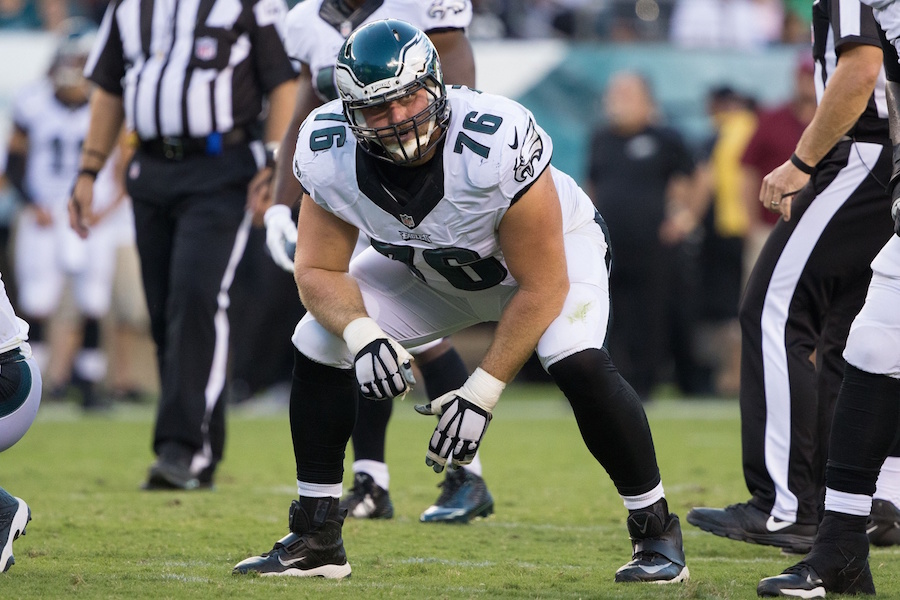 With the addition of one man, the Broncos put AFC West back on alert.
Allen Barbre, a player who will never touch the ball (nor do you want him to), has possibly turned around the 2017 season for the Denver Broncos, and all it cost was a conditional seventh-round pick.
On Wednesday, one day before the start of training camp, John Elway pulled a rabbit out of his hat. In this his first roster move since signing his new contract to become the highest-paid GM in the NFL, Elway absolutely proved why he is worth every penny. The Eagles, who announced they were going to release the veteran offensive guard, pulled back their release and made a deal with the Broncos. This deal guaranteed that Denver would acquire Barbre under his current contract of a non-guaranteed $1.75 million.
Barbre is a talented guard who can play multiple positions on the offensive line. He is a 10-year veteran who has proven himself formidable later in his career. The move is not flashy, but this move will make all the difference in 2017. With the addition of Barbre, the Broncos are now truly Super Bowl contenders.
Football is an artistic team game; a symphony in motion. Like no other sport, in football, each player and each unit relies on each other, each and every play. No one player can succeed without the help of the 10 other players sharing the field. Just one missing part, one missed assignment, can derail the most brilliant of plays, regardless of the play caller.
In baseball, pitchers can stand alone on a mound and take over a game with little help from the eight others on the diamond. A basketball player can dominate and take over the floor, with little or no assistance from other players, except from the occasional inbounds pass. In football, one player can make a spectacular catch, maybe break a tackle, but only after his teammates put him in place to make that play possible.
Dak Prescott, now the toast of the town in Dallas, is a great example of this. Dak came to Dallas by way of a fourth-round draft pick and took over a team with a strong run game and an amazing offensive line – possibly the best offensive line in the NFL. Dak Prescott looked great his rookie year, throwing for 3,667 yards, with 23 TDs and only four interceptions. Dak lead the Cowboys to the playoffs and was an instant success, but Dak had help.
Getting to Dak Prescott was an adventure for defenses. The time it took to get to Dak in the pocket could be measured with a calendar, and with Ezekiel Elliott always a threat to run the ball, teams were made to react to the run first and hope to stop Dak later. First-time Broncos starter Trevor Siemian was not so lucky.
Without argument, one could say last year's Denver Broncos offensive line was less than ideal. Russell Okung, Ty Sambrailo, Donald Stephenson, Max Garcia, Matt Paradis, Michael Schofield. The Broncos O-line was young, lacked depth, and caused the entire offense to struggle.
The Broncos on third down last season were 31st in the league when it came to conversion percentage. Only 34.2 percent of the time the Broncos were able to convert on third down in 2016, often times in positions of third and short. This is certainly a point of emphasis for the 2017 Denver Broncos, who have now added depth and talent to the O-line to make certain history doesn't repeat itself.
The offensive line in 2017 will has look. Like a car getting a fresh coat of paint and a new engine, everything will seem better than it was before. Better performance, better results.
The Broncos this offseason have added. Not flashy, and maybe not noticeable on paper, but Elway has gotten more than his money's worth.
Ronald Leary was acquired from that aforementioned Cowboys offensive line, and is a road grader with attitude.
Menelik Watson is a stout lineman with attitude as well, and if healthy will pay off to be a huge reward with little risk.
Garett Bolles is as tough as it gets when it comes to offensive tackles coming out of college, and the first-rounder has already shown the coaching staff he is worthy of first-team reps.
Bolles is now guaranteed to have proven veteran help at his side, regardless of who plays beside him. This is huge for any player on the offensive line, but more so for a first-year player protecting the QB's backside.
With these offensive line additions, the Broncos have turned what was a question mark in 2017 into a possible strength. With a stronger and deeper offensive line, the running game, which ranked 27th in yards in 2016 with 1,484, all of a sudden becomes a threat. This, in turn, helps the passing game, which also struggled in 2016, ranking 21st with 230 yards per game.
The Broncos, with their top-tier defense last season, just needed a little help from their offensive counterparts in order to make the playoffs. This season, the 2017 Broncos have a new look on offense, and the same dominating force on D.
On Wednesday the Broncos truly got better, and as camp opens on Thursday they are truly contenders.