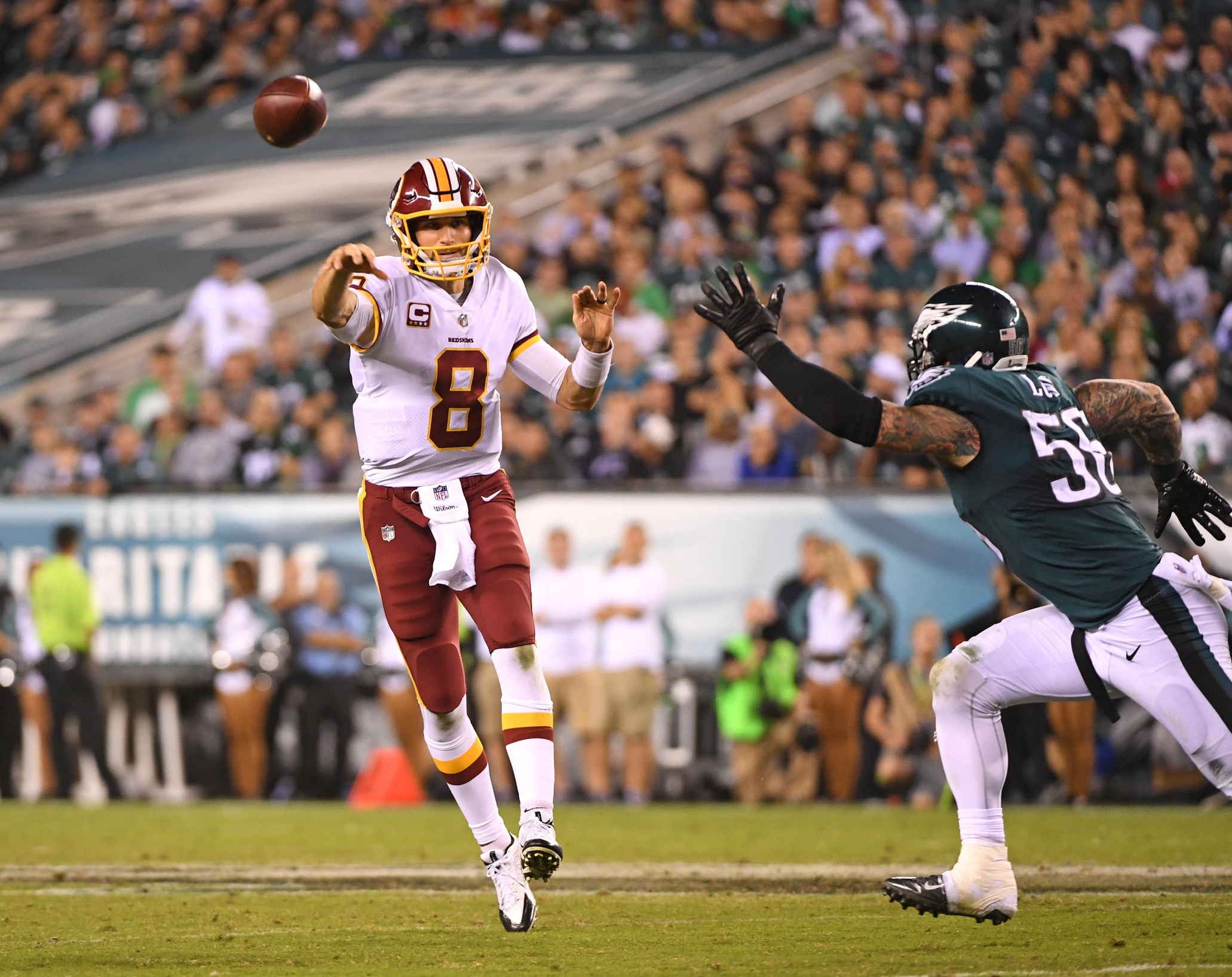 Quarterbacks like Kirk Cousins just don't land on the open market. At 29 years old and with no significant injury history, the Michigan State product is set to break the bank; one NFL team is all but certain to make him the highest-paid player in the history of the league… until next year's free agency hits, at least.
Since Cousins took over as the full-time starter in Washington for the 2015 season, here's some of his pertinent statistics, and where he ranks among his fellow starting quarterbacks during that span (minimum of 36; 12 per season)… and where the three Denver Broncos quarterbacks stand:
Games Started: 48 (T-1st)
Cousins hasn't missed a start in the last three seasons, something only five other quarterbacks can claim. The others? San Diego's Philip Rivers, Atlanta's Matt Ryan, Seattle's Russell Wilson, Detroit's Matt Stafford and Jacksonville's Blake Bortles.
Broncos: Trevor Siemian (24), Brock Osweiler (11), Paxton Lynch (2).
Passing Yards: 13,176 (4th)
Cousins trails only New Orleans' Drew Brees (14,412), Rivers (13,693) and Ryan (13,630) in this category, and among these three, he trails only Brees in an equally important stat that goes along with this one…
Broncos: Siemian (5,686), Osweiler (3,055), Lynch (792).
Completion Percentage: 67.02 (2nd)
20 quarterbacks have made 36 or more starts over the last three seasons, including Hall-of-Famers in waiting Tom Brady, Ben Roethlisberger, Aaron Rodgers and Manning. Cousins has been more accurate than all of them. The league-leading Brees, by the way, is the NFL's all-time leader in completion percentage at 66.9. Former Bronco (and future Hall of Famer) Peyton Manning is fifth at 65.3. Cousins? He's tied for third place — all-time — with (current Hall of Famer) Kurt Warner at 65.5.
Broncos: Lynch (61.7), Osweiler (59.51), Siemian (59.28). 
Touchdown Passes: 81 (8th)
Brady (96), Brees (92) and Rivers (90) have all averaged 30 or more touchdowns over the last three season, but Cousins' 81 still puts him ahead of Manning, Ryan, Roethlisberger and 2015 MVP Cam Newton.
Broncos: Siemian (30), Osweiler (15), Lynch (4).
Passing Yards per Attempt: 7.80 (T-4th)
A measure of efficiency, Cousins is tied with Roethlisberger and trails only Ryan (8.13), Brady (7.88) and Brees (7.85). He's miles ahead of other highly-paid quarterbacks like Oakland's Derek Carr (6.93/17th) and Rodgers (6.99/16th), and ahead of the man who will replace him in Washington, Alex Smith (7.53/10th), who's renowned for his savvy and low-risk football smarts.
Broncos: Osweiler (6.83), Siemian (6.81), Lynch (6.20).
Passer Rating: 97.5 (6th)
The five quarterbacks ahead of Cousins — Brady (105.0), Brees (102.1), Wilson (98.9), Ryan (98.7) and Rodgers (98.4) — are likely the consensus five best quarterbacks on the planet today. Cousins is in lofty company.
Broncos: Osweiler (81.1), Siemian (79.9), Lynch (76.7).
There's no question that Cousins is a Top-10 quarterback in the NFL — albeit nearer to the bottom of that list than the top — but he's an enormous upgrade over the entire Broncos' stable of underwhelming signal-callers. No wonder Von Miller's been his de facto agent since Cousins effortlessly carved them up on Christmas Eve.
You're absolutely right! If Kirk loves rainbows, I LOVE RAINBOWs! Lol https://t.co/yhNptowJg4

— Von Miller (@VonMiller) February 12, 2018
The hand-wringing in Denver isn't over Cousins' ability, of course — it's about money. Cousins may very well command a contract that has an average value of more than $30 million per season; silly money that fans and media members alike simply can't relate to. But the idea that the Broncos can somehow immediately compete on the cheap doesn't hold water.
According to Spotrac.com, Vikings backup Case Keenum, who became a starter due to injury, would be worth a $21 million per-year deal were he to hit the open market. Buffalo's Tyrod Taylor, who the Broncos once admired enough to offer him a contract? $19 million per. These numbers hold up; there are 19 quarterbacks under non-rookie contracts for the 2018 season — and each of them were expected to start when they signed. The cheapest one? Chicago's Mike Glennon, at $15 million per season. 15 quarterbacks are set to make more than $20 million next season, and the six highest-paid quarterbacks all signed their current contracts in the last 24 months — every single one.
The NFL's quarterback market doesn't go down. Rodgers and Ryan could negotiate new deals after the 2018 campaign; those would dwarf Jimmy Garoppolo's $27.5 million average with ease.
That's right; Garoppolo, who wasn't mentioned in the above stats, is the NFL's highest-paid player. The 26-year-old out of Eastern Illinois has made a career total of seven starts — seven.
Go back up to all those stats listed above and take a closer look. Were the Broncos to pay Cousins an average of $30 million per season — the number that everyone seems to be aghast at — they'd only be paying eight percent more for a quarterback only three years older and with infinitely more experience, and a solid track record of success.
Take the dollars out of it for just a moment: Will Kirk Cousins be eight percent better than Jimmy Garoppolo in 2018? In 2019? That's what Von Miller's thinking, and he's probably right.
Kirk Cousins is a bargain — one that general manager John Elway and the Broncos will have to make if they intend on revisiting the playoffs anytime soon. It's a good deal… it just ain't cheap.