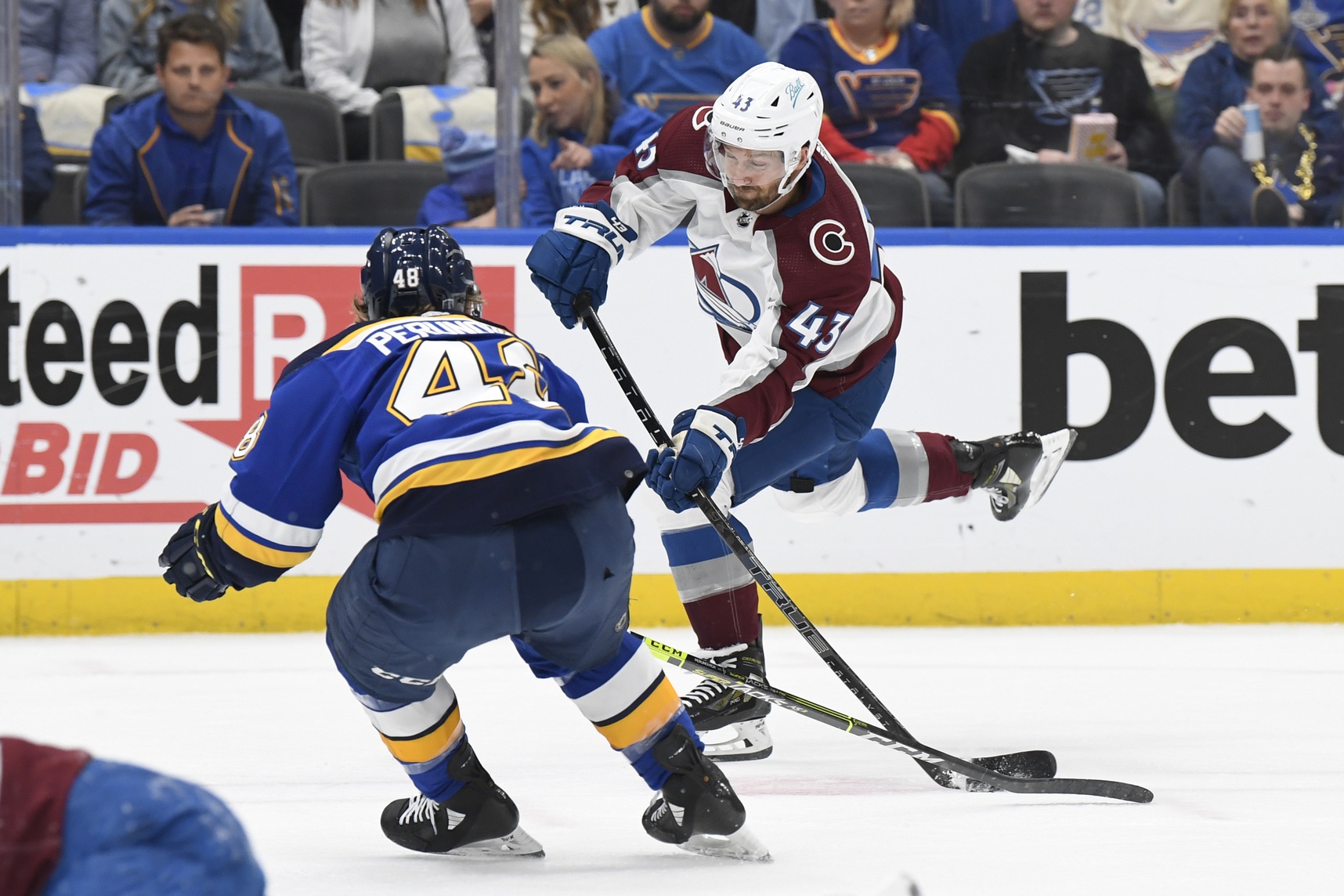 Through their first seven years of existence, the Avalanche participated in the Western Conference Final six times, appeared in two Stanley Cup Finals and won it all both times.
That stretch ended in 2002 with a 7-0 loss to the Detroit Red Wings in Game 7. And since then, it's been tough at times for the long-time powerhouse.
The Avs have finally washed away those demons following a 3-2 victory over the St. Louis Blues in Game 6 on Friday thanks to a game-winning goal from Darren Helm with 5.6 seconds remaining.
Listen to "Darren Helm, the Hero" on Spreaker.

They'll take on Connor McDavid and the Edmonton Oilers starting Tuesday — exactly 20 years to the day of that 7-0 loss — their last game in the third round.
Quite a bit has changed in 20 years.
By The Numbers
1 — Name change to the Avalanche's home rink. Formerly known as Pepsi Center, the Avalanche now play out of Ball Arena.
2 — lockouts since the last time Colorado made it out of the second round. The 2004-05 lockout knocked out the entire season before the 2012-13 season was shortened to just 48 games following a nearly five-month stalemate.
3 — captains since Joe Sakic — the captain in 2002. Sakic wore the 'C' in each of their first six Western Conference Final appearances and continued to lead the team until his retirement in 2009. Since then, Adam Foote, Milan Hejduk and current captain Gabriel Landeskog have worn the captains 'C' in Denver.
4 — first-round defeats. The Avs blew a 3-1 series lead in 2003, falling to the Minnesota Wild before failing to make it through Round 1 again in 2010 (Game 6 loss), 2014 (Game 7 loss) and 2018 (Game 6 loss). Each of those series ended at home.
5 — Top 5 draft picks. Colorado selected Matt Duchene third overall in 2009, Gabriel Landeskog second overall in 2011 and Nathan MacKinnon first overall in 2013. Four years later, Cale Makar was drafted fourth overall followed by Bowen Byram at the same spot two years later.
Byram was the only draft pick of the bunch selected with a pick that was acquired from another team. And coincidentally, that pick was acquired for one of the other top 5 picks (Duchene).
6 — second-round defeats before 2022. The Avs haven't made it out of the second round in each of the last three seasons (2019, 2020, 2021). They also secured a Round 1 victory before losing in Round 2 in 2004, 2006 and 2008.
7 — starting goalies since Patrick Roy was the starter in 2002. Following Roy's retirement a year later, the Avs turned to his backup David Aebischer for two seasons before he was traded for Jose Theodore. After his departure, Colorado tried his backup Peter Budaj as the starter for a season before signing Craig Anderson. He lasted less than two seasons before he was jettisoned to Ottawa. That summer, the Avs signed Semyon Varlamov, who was replaced by Philipp Grubauer, who walked in free agency and had his place taken over by current starter Darcy Kuemper.
And exhale.
This doesn't even include others that have come through like Andrew Raycroft, Brian Elliott, Jean-Sebastian Giguere Reto Berra and Tommy Salo.
7 — coaching changes since 2002. Bob Hartley remained at the helm for the first couple of months of the following season before being replaced by Tony Granato. The Avs then hired Joel Quenneville, replaced him with Granato for a second stint and then turned to Joe Sacco. They then hired Roy, who quit unexpectedly after three seasons. Jared Bednar was hired a few weeks later and has broken numerous team records since.
11 — playoff appearance since 2002. That includes this current run.
14 — different jerseys worn by the Avs since 2002. This includes the two diagnal "Colorado" wordmark jerseys, each of the two Stadium Series outdoor jerseys, the Reverse Retro and the current away jersey with blue numbers.
52 — Playoff victories since 2002.
7301 — days since Game 7 in 2002. That infamous night in Avalanche history took place on May 31, 2002 — exactly 20 years the day Colorado will open the third round this year.
It's truly been a long time.
__
Aarif Deen is our Colorado Avalanche beat reporter. He covers Avs games live from Ball Arena and attends practices, media availabilities and other events pertaining to the Avs on the daily beat. He is also a co-host of Hockey Mountain High: Your go-to Avalanche Podcast. Deen joined Mile High Sports upon completion of his bachelor's degree in journalism and master's in business administration from the University of Michigan – Dearborn. Before Mile High Sports, Deen worked for the Michigan Wolverines Athletics Department as the assistant sports information director.
Listen to "Darren Helm, the Hero" on Spreaker.