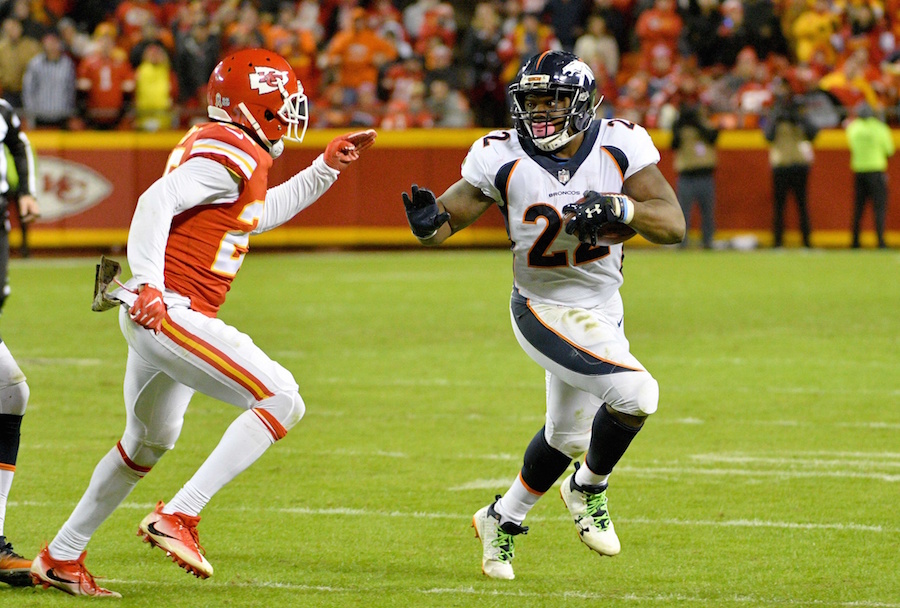 What happened to the running game?
The Denver Broncos 'rushing attack, which started the season as the backbone of the offense, has disappeared since the bye week. The team started off well, scoring a rushing touchdown in each of the first three games, but has only converted only one rushing score since the week four matchup against the Oakland Raiders.
Starting running back C.J. Anderson has fallen off of his early season pace. In the first four games of the season, he averaged 82.5 yards per game on an average of just of 18 carries per game. Since the bye week, Anderson has had a significant drop off, averaging 41.2 yards per game on 10.6 carries. Against the Patriots, Anderson hit his average, with 10 carries for 54 yards — but the stat line is deceiving thanks to a big chunk of those yards coming from a 21-yard gallop.
After the game, Anderson emphasized getting better, finishing his runs and finishing drives.
"We've got to finish drives," Anderson said. "I'm going to regret that long run; I didn't break the last three tackles to get in the end zone. I've got to step out of that. We played fine on 'O.' We played a lot better, but we didn't play at an elite level. Playing better is one thing, but we're not playing at an elite level."
Anderson's backup, Jamaal Charles, hasn't made a case for himself lately, either. After starting the first four weeks averaging 43.8 yards per carry, Charles has only been able to average 19.8 yards per game since the bye week. He's also fumbled once against Kansas City; a turnover that resulted in a touchdown.
Second-year back Devontae Booker returned to the lineup in week four, but has not contributed much to help the run game. Booker has averaged 17.8 yards per game on a little more than four carries per game. He has, however, scored the rushing attack's only touchdown since the bye week.
The performance downturns can probably be attributed to a lack of opportunities, though. In the Broncos' three wins, they have averaged a little under 36 running plays per game. In their six losses, they are only running the ball an average of 23 times, meaning the running backs are getting two-thirds of the rushing attempts they are given in wins, making it difficult to keep their averages up.
Now, with the team sitting at 3-6, Broncos running backs need to make the most of their opportunities and find a way to get into the end zone. It will be up to Anderson and company to relieve some pressure from their quarterback's arm.
"For us as an offense, we need to continue," Anderson said. "As leaders on this team, continue to push it and continue to lift the team up to let them know that this is possible."
Coming up next is the Cincinnati Bengals, who currently rank 25th in rushing defense. The Bengals are allowing 123.6 yards per game, while Broncos running backs are ranked 13th with 113 yards per game.