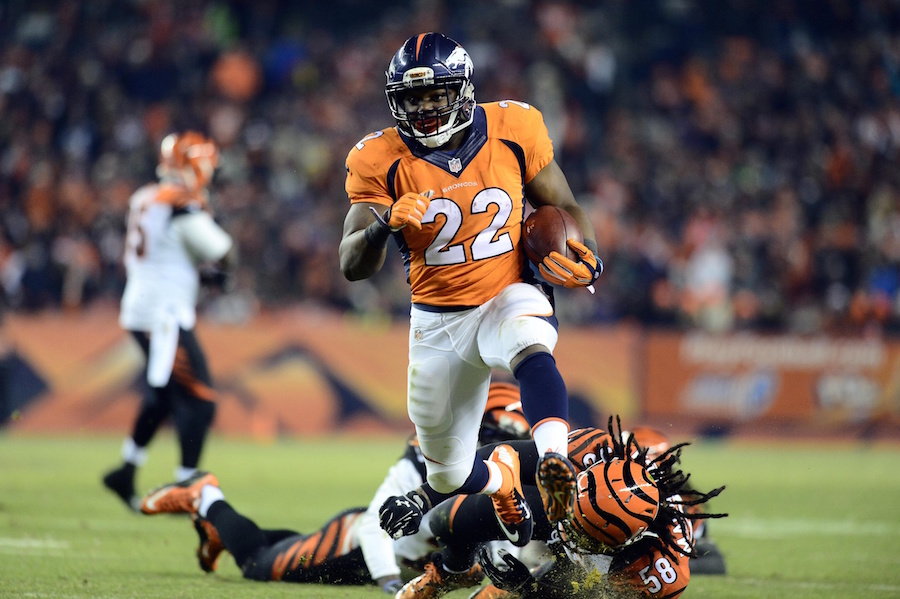 For C.J. Anderson, last week was a roller coaster of emotions. From the highs of scoring a three-yard touchdown — his first since week two — to the lows of fumbling in the fourth quarter of last week's 20-17 loss to the Cincinnati Bengals, Anderson looked like he had been through the wringer in the Broncos' locker room after the game.
Anderson tells Eric Goodman and Les Shapiro of Mile High Sports AM 1340 | FM 104.7 that inside the Broncos' locker room, his memory is short and one simply has to work on improving.
"It's a forget business," Anderson said. "You've got to forgot the mistakes you did; continually to grind and work to get better. Individually, I'm trying to do that."
Losing can be tough for professional athletes and Anderson talks about the difficulty of it, particularly for a team that isn't used to it. "Losing? You don't get used to it. You try to figure out why. You come to work everyday and you push all your chips in the middle of the table, and when you don't get the results on Sunday… it's like, 'what the hell'? It's been tough. It's tough now."
Click here to listen to the full interview with C.J. Anderson, including what he had to say about new starting quarterback Paxton Lynch, or listen to the podcast below.
Catch Afternoon Drive with Goodman and Shapiro every weekday from 4p-6p on Mile High Sports AM 1340 | FM 104.7 or stream live any time for the best local coverage of Colorado sports from Denver's biggest sports talk lineup. Download the all-new free Mile High Sports Radio mobile app for Apple or Android.