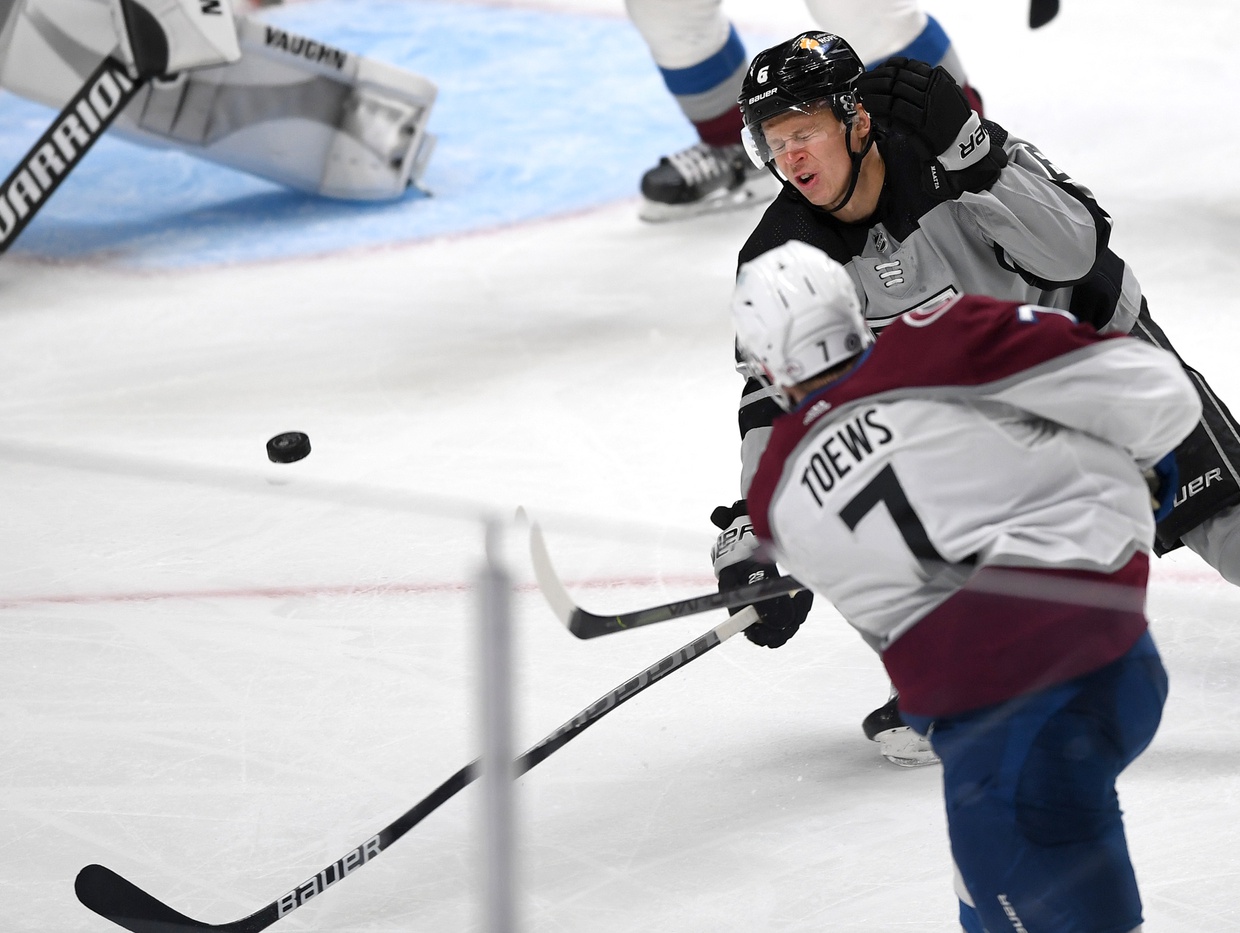 The offense came from the defense on Saturday in the second consecutive game without superstar center Nathan MacKinnon.
Top-pair defensemen Cale Makar and Devon Toews combined for all three goals, sending the Avalanche to a 3-2 victory over the Los Angeles Kings at Staples Center. It was the same score as the previous night and Makar was once again brilliant.
This time, so was Toews.
Toews scored two goals for the first time in his young NHL career, including the game-winner. Makar finished with two points and forward Andre Burakovsky had two assists.
"That's what we expect to do out there," Toews said of he and Makar's excellent two-way play. "We contribute offensively while playing against top lines defensively, limiting time and space in our own zone."
Colorado (36-13-4) plays at the Vegas Golden Knights on Wednesday in a game that has crucial playoff seeding implications. If Vegas wins, it clinches first place in the West Division. But if the Avs, who have a game in hand over the Knights, pull out a regulation victory, they control their own destiny — meaning they clinch the West by going 2-0 against the Kings at Ball Arena after Monday's matchup.
The Avs will also clinch the Presidents' Trophy if they go 3-0 and defeat Vegas in regulation.
MacKinnon could return to the lineup Monday.
"That'll be a decision that I'll make after talking with him and seeing how he's feeling," Bednar said of MacKinnon's status. "I won't make that decision until Monday morning at the earliest and game time at the latest. If it's something that he wants to do and he's feeling good and he could play, then he'll play."
With or without MacKinnon, the Avalanche's goal since the first meeting at training camp has been to win the division. And they're not going to throw in the towel if their superstar centerman cannot play.
"Our job doesn't change. It makes it more difficult without Nate in the lineup, obviously," Bednar said. "But we've been working all year to try and get first place. We're not going to give up on it with three games to go regardless of who's in the lineup."
Minnesota, which defeated Anaheim in overtime on Friday, can no longer win the division. But the Wild can still finish in second place ahead of the Avs. The West is the only division without a clinched top-seed.
The Avalanche gave goalie Philipp Grubauer the night off ahead of Monday's matchup against Vegas. Goaltender Jonas Johansson made 16 saves to improve to 4-1-1 with the Avs since being acquired in a trade from Buffalo six weeks ago.
"We didn't give up a lot again tonight and he gets the job done," Bednar said of Johansson's play. "He makes the saves he needed to make and he got us the win."
Soderberg rests
Forward Carl Soderberg did not play for the first time since being reacquired by the Avs at the trade deadline. Bednar said Soderberg was dealing with lower-back tightness and could've played if needed. He opted to instead dress Jayson Megna and give Soderberg a chance to rest.
Like MacKinnon, a decision on if Soderberg will play Monday at Vegas will be made that day.
Listen to "The Hockey Show Mashup" on Spreaker.