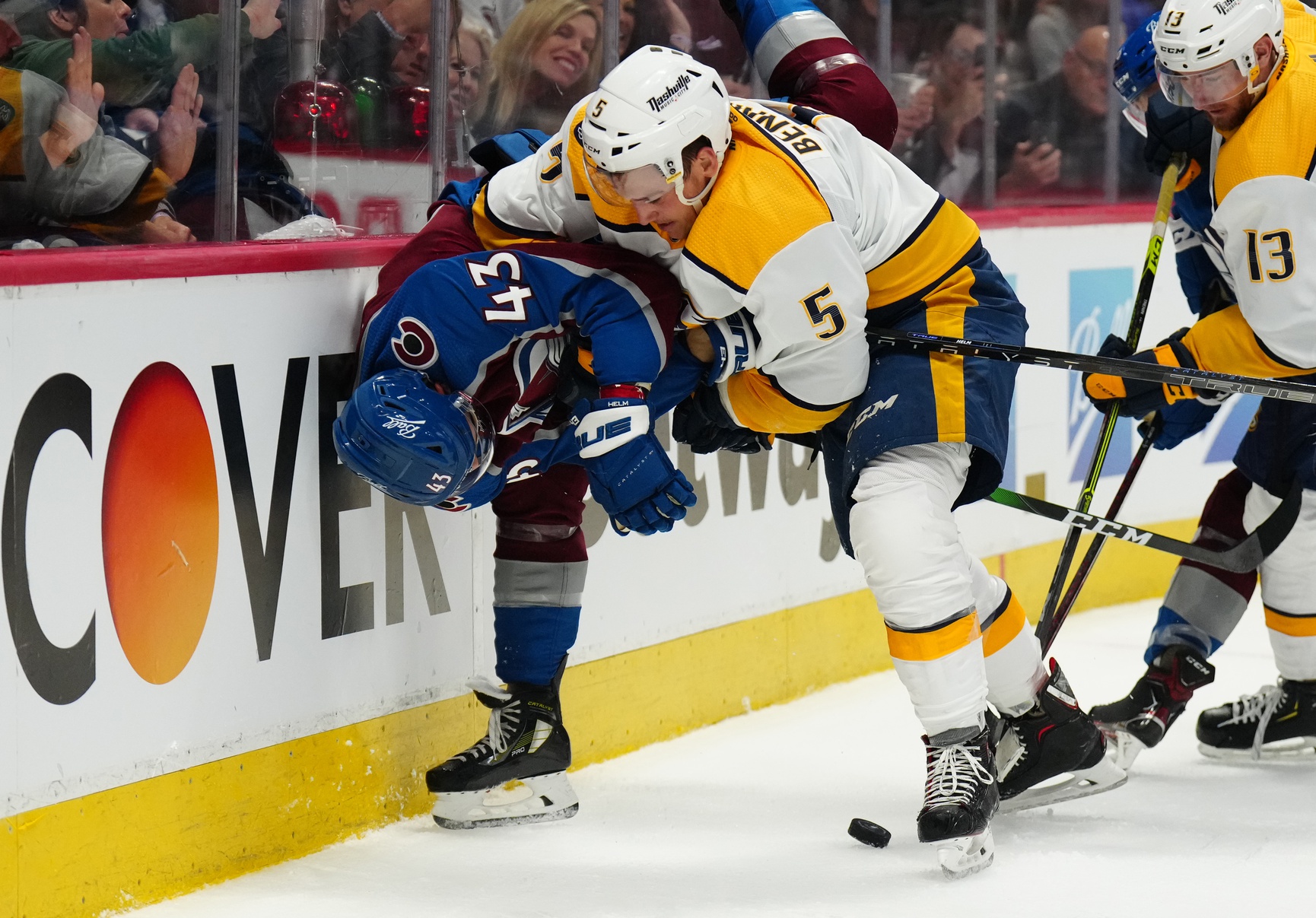 Star players often get their recognition — and superstar defenseman Cale Makar deserved his fair share of what was a spectacular performance in Game 2's victory over the Nashville Predators on Thursday
But the unsung heroes of Makar's overtime game-winning goal were the Avalanche's fourth line of Nico Sturm, Darren Helm and Logan O'Connor. Sturm was credited with the primary assist on Makar's tally.
Listen to "Cale Makar Wins It in Overtime" on Spreaker.

While neither Helm nor O'Connor recorded a point, they both were paramount in eliminating Nashville's defensemen from the play on the Avs' 51st and final shot of the evening.
Helm battled with Dante Fabbro in front of goalie Connor Ingram and overpowered the young defenseman, removing him from the play and screening Ingram in the process.
"We're just trying to keep things simple, be aggressive on the forecheck," Helm said of his line's success. "Spend as little time in our zone as possible. Things seem to be going pretty well for us right now."
Helm, who won a Stanley Cup in his rookie season with the Detroit Red Wings in 2008, is playing his first playoff hockey since 2016.
"Definitely missed it," Helm said. "It's exciting it's fun. The crowd has been great, it's been a while."
While Helm was successfully clearing Fabbro from the front of the net, O'Connor was in his own battle for positioning with Preds superstar defenseman Roman Josi. O'Connor was able to outmuscle Josi, knocking the stick out of his hand in the process. With Sturm getting a clear look at the net, Josi shifted his focus to blocking the shot.
Darren Helm just bulldozing Fabbro out front. pic.twitter.com/vJlCgKPPII

— Mr. Tenkrat (@PeterTenkrat) May 6, 2022
The rebound found its way to back Makar, who now had both Helm and O'Connor screening the goalie with neither Nashville defenseman in the play.
"I didn't pick it up until late," Ingram said following his 49-save performance. "I think that was the first one all night that I didn't get my eyes on before it got to me and that's what happens."
O'Connor also played a role in the game's opening goal from Nathan MacKinnon in the first period. He was scratched in Game 1 but returned to the lineup following an injury to Andrew Cogliano on Tuesday.
"I've liked the way O'Connor's played all year. A guy that works really hard and skates hard," Helm said of his linemate. "He reads the game really well. He had a big impact on both goals, getting the puck out to Nate and had a really good backcheck to start off the forecheck.
"He's been playing well. Obviously stepped in for a big game and contributed."
__
Aarif Deen is our Colorado Avalanche beat reporter. He covers Avs games live from Ball Arena and attends practices, media availabilities and other events pertaining to the Avs on the daily beat. He is also a co-host of Hockey Mountain High: Your go-to Avalanche Podcast. Deen joined Mile High Sports upon completion of his bachelor's degree in journalism and master's in business administration from the University of Michigan – Dearborn. Before Mile High Sports, Deen worked for the Michigan Wolverines Athletics Department as the assistant sports information director.
Listen to "Cale Makar Wins It in Overtime" on Spreaker.