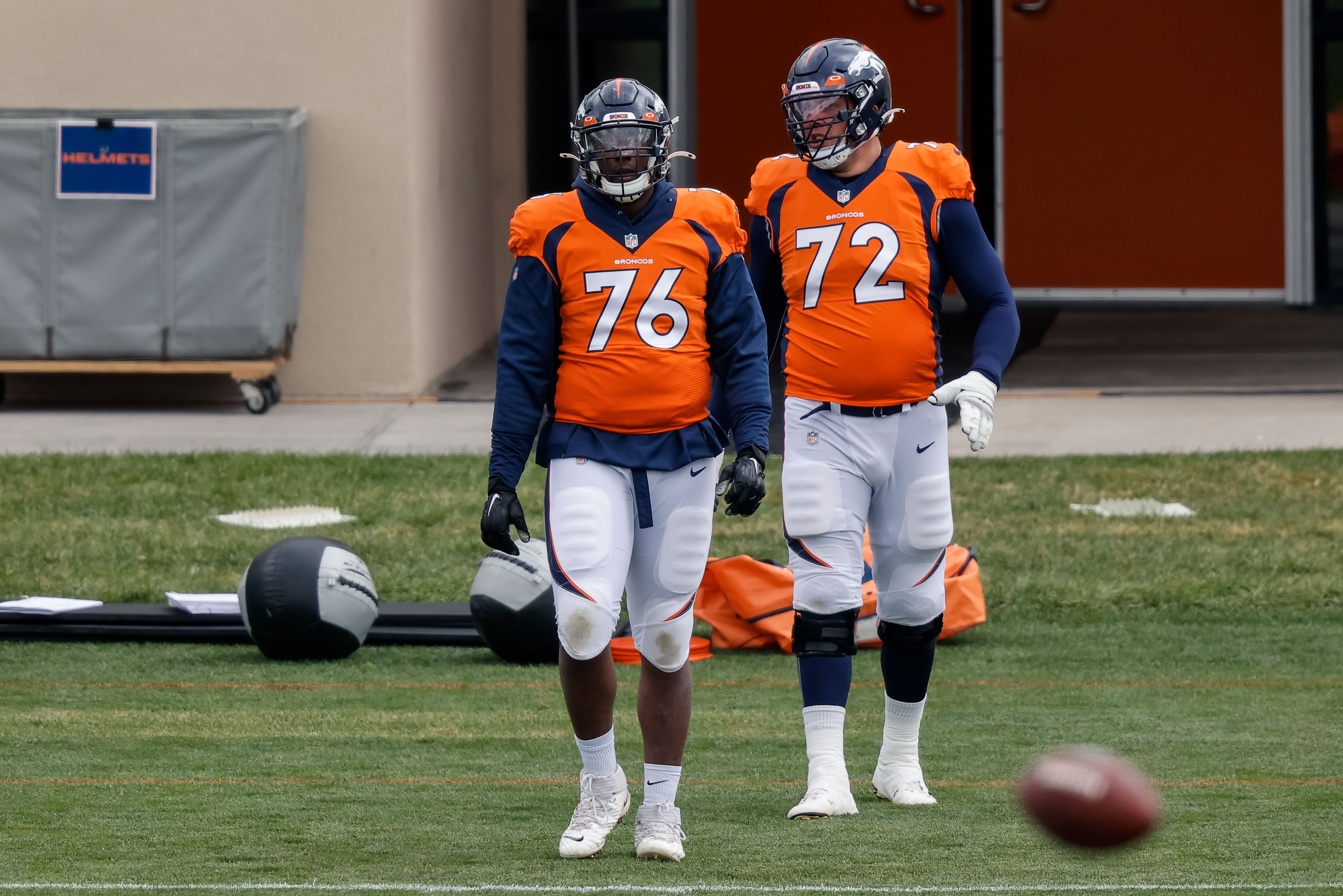 Third-year offensive tackle Calvin Anderson made quite the splash in the first week of this year's training camp.  
Anderson, who has played a left tackle for most of his career, surprised everybody by getting the start at right tackle for the first two days of camp, over veterans Bobby Massie and Cameron Fleming.  
Is Anderson getting the starting reps just part of training camp protocol, or can he surprise everyone and win the starting job?
What is the Broncos' current right tackle situation?
After the 2021 NFL draft, the Broncos signed two free-agent offensive tackles, Fleming and Massie.
Earlier this off-season, the Broncos lost Ja'Wuan James to a season-ending Achilles injury and released him soon after.  
As of right now, Massie is the projected starter. However, just like any position, the Broncos' tackles are set to compete for the starting right tackle position during training camp, and Anderson does have more familiarity with the team.
What's Anderson's history with the Broncos?
Anderson went undrafted in 2019 and was eventually signed off of the New York Jets practice squad on October 1, 2019, by the Broncos.
He stayed on the active roster for the remainder of the season but did not play in any games. 
In 2020, he was invited back to training camp to compete for a roster spot. He successfully made the roster again but was very low on the depth chart.
Anderson got a chance to start his first NFL game at left tackle in week 14 when the Broncos played the Carolina Panthers. He was notified early that Sunday morning when Garrett Bolles had to miss the game due to illness.
Despite having almost no notice or time to prepare, Anderson played pretty well. 
In order to win the starting job though, Anderson will need to make a leap in his development, and that will be up to Mike Munchak
How Can Mike Munchak Help?
Munchak is the Broncos' current offensive line coach.
He has been labeled by many as the best offensive line coach in the NFL. What's lesser-known is that he has a history of getting players who either weren't drafted or were selected on Day 3 of the NFL Draft, to become starters. 
From 2014-2018, Munchak was the offensive line coach for the Pittsburgh Steelers.
Under his reign, 52% of the offensive starts were by a mix of players who fell into that aforementioned category.
Not only is Munchak known for developing late-round players, but he's known for developing anyone given enough time. Garett Bolles was thought to be a lost cause until he took a massive leap during his second offseason with Mike Munchak.
Coincidentally, this year will be Munchak's second offseason working with Anderson. 
Can he really do it?
On Tuesday, Vic Fangio told the media that nobody should be sleeping on Anderson. On Wednesday, he reiterated that support.
"I think he's a viable candidate for that job," Fangio said. "I really do."
"I just like the way he plays," he later added.
Bolles gave him his endorsement as well. 
"He has it, and it's up to him," Bolles said. "So if he wants that job, he is going to go out and get it. I'm excited for him. He brings a whole strong side to that right side, so I'm really looking forward to seeing his improvements."
On May 17, Anderson signed his exclusive rights tender. It's clear that Anderson has support from the Broncos' coaching staff, his teammates, and the fans.  
Anderson is definitely one of the guys to keep an eye on. Before training camp, it was thought that the Broncos' right tackle starter was already decided on. Now, that couldn't be any further from the truth. Anderson has an opportunity to go from undrafted to an NFL starter and make a name for himself.