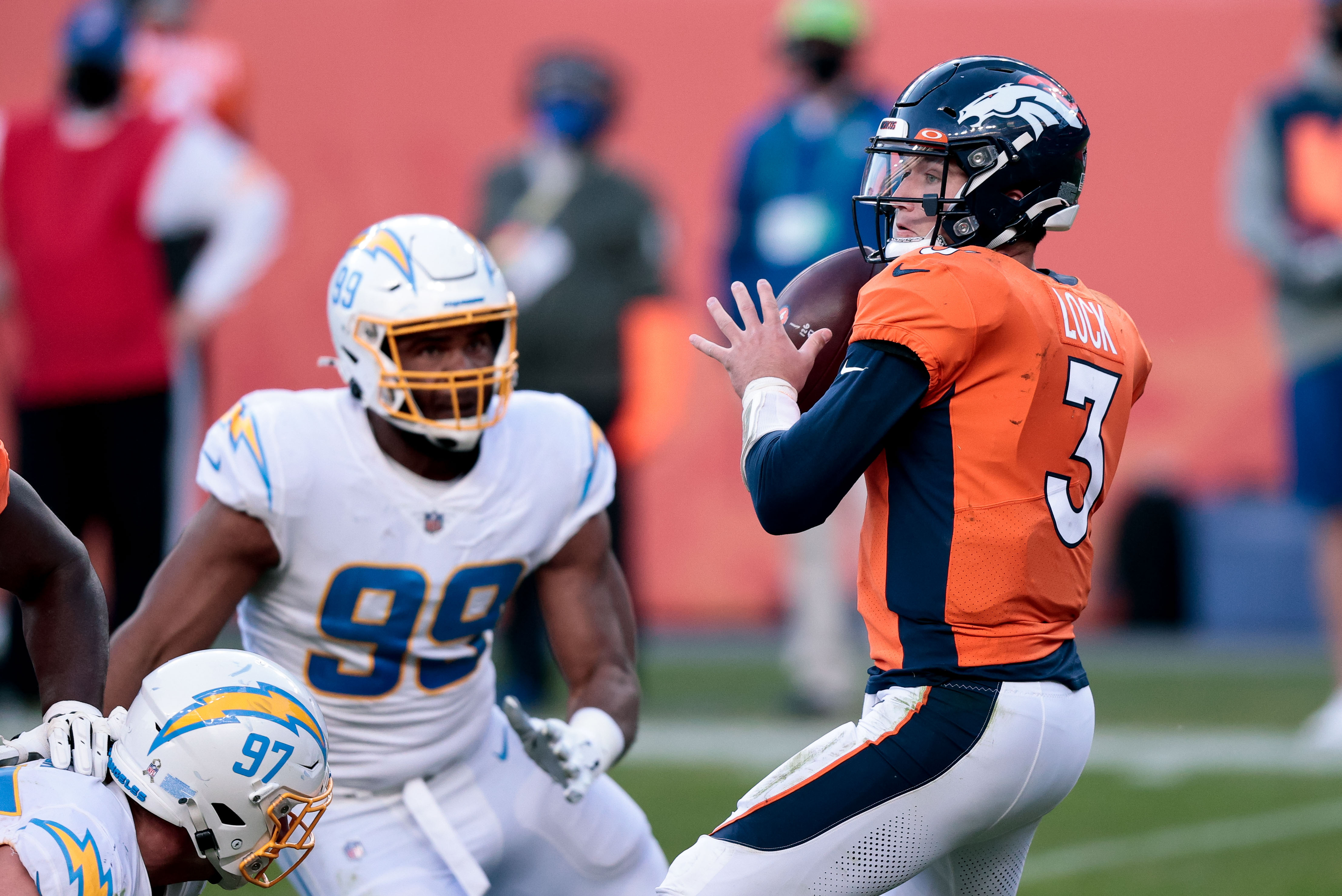 With the Broncos heading to Atlanta this week to face the Falcons, our experts break down the game and give their opinion on a potential Broncos playoff run.
What are your expectations for Drew Lock this week against a bad Falcons defense?
Doug Ottewill (@Dottewill): Keep the momentum. Whatever Lock found in the fourth quarter last weekend, he's got to find in the first on Sunday. This is a great chance for Lock to get into a groove that could carry him through the rest of the season.
Ronnie Kohrt (@RonnieKRadio): Just play like you belong for four quarters. I don't need dynamic, 300-400 yard games (though I will take them) I just need to see consistency and improvement from week-to-week showing me that there's value in seeing this potential out.
Zach Segars (@Zach_Segars): To be frank, I expect Lock to turn in another fine, milk-toast performance as he has for the majority of games in his career. With that said, I want to see him look better than his current status as the AFC West's worst quarterback. Patrick Mahomes is Patrick Mahomes, and both Justin Herbert and Derek Carr have thoroughly outplayed Lock this season, save for the fourth quarter of last week's game.
Do you think the Broncos can realistically contend for a playoff spot this season?
Doug Ottewill: They "can" but I'm not sure they will. They've got so many injuries, it would be an impressive accomplishment. And I think that should be the goal, without a doubt. I don't want to hear about improving draft position. They're not in the Trevor Lawrence sweepstakes, so I think success this year will outweigh whatever talent they might grab in the draft – let's face it, they'll be drafting yet another slot receiver somewhere too high, won't they?
Ronnie Kohrt: Realistically? No. The pace to get into the postseason and even force a tiebreaker sits at 10-6. Denver has to go 7-2 in the final games that include the Chiefs again, New Orleans, Carolina, a Chargers team where they needed a miraculous comeback to beat, and Buffalo. 8-8 isn't out of the picture, but the AFC is strong this year for the wildcard.
Zach Segars: I believe so. Much like last year, I think the Broncos will be better in the second half of the season, and a win this week would bring them to .500. With the new playoff format, if you're 8-7 or so entering Week 17, you're in the running.
What is the biggest key to a Broncos victory this week?
Doug Ottewill: The defense has to be the defense. The Falcons aren't good, but the only way they can win is if Matt Ryan chucks the ball around fo 400 yards. Denver's defense is good enough to not let that happen, and that's all it will take to win.
Ronnie Kohrt: Jump out to an early lead. Atlanta has scored better in the first half vs second in their last three games. Jumping out to a lead and avoiding a 'Falcons are going to blow this' conversation altogether by playing great defense is where Denver needs to be. They've done it this season, beat the teams you should be. Atlanta is not a good team.
Zach Segars: The interior protection has to hold up for Drew Lock. The Falcons are going to get their fair share of points, so the Broncos will have to respond through the air. That will be impossible if Lock is constantly facing interior pressure, which feels likely considering Grady Jarrett will be the toughest matchup of Lloyd Cushenberry's young career and Austin Schlottman is starting in place of Graham Glasgow.
Who will be Denver's player of the game?
Doug Ottewill: Drew Lock. It's his time to shine, mostly to shut Colin Cowherd up.
Ronnie Kohrt: The Broncos running game. Atlanta's won the time of possession in the last few games they've played. Atlanta's record is not good, but their passing attack can get the job done. Keeping the ball out of the hands of Matt Ryan, especially if Denver's offense struggles to nab yardage early like against the Chargers will be key and that leans on the running attack.
Zach Segars: Drew Lock. The game is in a dome, and the Falcons have one of the league's worst secondaries, and one of the league's least effective pass rushes. If Lock flounders for 75 percent of the game this week, it'd be a resounding disappointment.
What's your score prediction?
Doug Ottewill: Broncos win 31-27
Ronnie Kohrt: Broncos win 24-21
Zach Segars: Broncos win 27-24