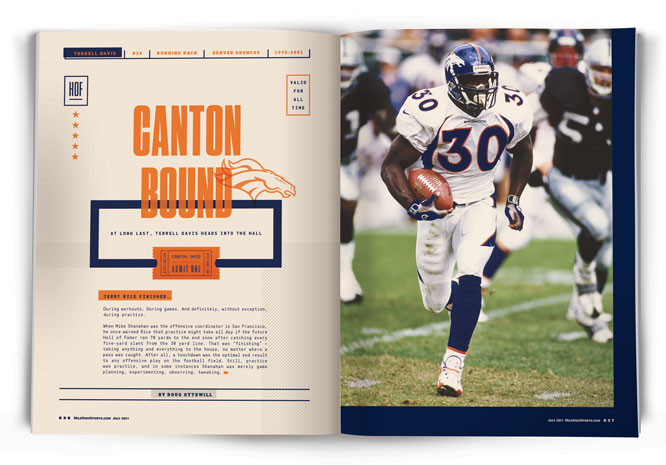 This story originally appeared in Mile High Sports Magazine. Read the full digital edition.
Jerry Rice finished.
During workouts. During games. And definitely, without exception, during practice.
When Mike Shanahan was the offensive coordinator in San Francisco, he once warned Rice that practice might take all day if the future Hall of Famer ran 70 yards to the end zone after catching every five-yard slant from the 30-yard line. That was "finishing" – taking anything and everything to the house, no matter where a pass was caught. After all, a touchdown was the optimal end result to any offensive play on the football field. Still, practice was practice, and in some instances Shanahan was merely game planning, experimenting, observing, tweaking.
"We're just going 20 or 30 here, Jerry," he told Rice.
Rice disagreed: "Coach, if you want me to run 20 or 30 yards after I catch it, then you better change the line of scrimmage."
Shanahan didn't argue, nor did he alter the field position.
For three whole seasons, Shanahan watched the greatest wide receiver to ever play finish – every catch, every practice, and three times in Super Bowl XXIX. Following that game, Mike Shanahan was hired to become the head coach of the Denver Broncos. Naturally, the practice of finishing traveled right along with him, from sea level to one mile above it.
In Denver, Shanahan's coaching staff embraced this concept like Rice himself. Especially running backs coach Bobby Turner, whose entire coaching career up until then had been spent at the high school and college levels. Before Denver, Turner was the running backs coach at Indiana State, Fresno State, Ohio State and Purdue. And even though he'd earned the titles of assistant head coach and offensive coordinator at Purdue, deep down, he loved to coach running backs.
At the age of 46, and in the thin air of Denver, Turner was not, however, supposed to be running alongside the young backs he coached. But in the summer of 1995, that's exactly what he was doing.
Coach Shanahan watched. John Elway watched. Veterans watched and laughed. Rookies watched and winced.
"Finish! Finish! Finish!" Turner yelled as he galloped down the hash marks.
"Finish, Terrell! Finish!"
The running back he was chasing and chastising was a rookie, a sixth-round draft choice out of Georgia. His name was Terrell Davis.
And Davis was not finishing.
***
There was something about Davis, though, something that Bobby Turner just knew. Davis, he thought, could be a special player.
A sixth-rounder? A player with no expectations, whose college career at storied Georgia was, and still is, merely a footnote? A guy who was more likely to get cut from the Broncos talented backfield than emerge from it? A kid who wore his shorts too low and, more often than not, was asleep whenever Turner called him on the telephone?
Why bother?
"Everyone was looking at me like, 'Man this guy needs to go back to college – this is the NFL,'" says Turner, who's been in the League ever since and is now the running backs coach in San Francisco under another Coach Shanahan – Mike's son, Kyle.
To some extent, Turner's neck, and perhaps reputation as an evaluator of talent, was on the line. It was Turner who "stood on the table" for Davis in the Broncos' war room on the night of April 23, 1995 – the second night of the draft. He wanted Denver to take a chance on this no-name kid from Georgia. It was Turner who convinced Shanahan and then-offensive coordinator Gary Kubiak to do some due diligence on Davis prior to the draft.
While at Purdue, Turner used to study offenses around the country. He'd watch other teams play and practice. He'd trade notes and film with other coaches. He meticulously watched plays and the players who ran them. For quite some time, he'd had his eye on a kid named Garrison Hearst, who had eluded Purdue's recruiting efforts, but was tearing up the Southeastern Conference as a Georgia Bulldog.
What was Hearst doing that allowed him to lead the nation in touchdowns? How exactly did Hearst win the 1992 SEC Player of the Year and finish third in the Heisman voting that season? Turner wanted to know.
In the process of finding out, on a video cassette filled with Hearst highlights that the coach still possesses to this very day, Turner noticed another Georgia back – Davis.
"When it comes down to it, like with your wife or girlfriend, when you see her, I mean it's like love," says Turner. "There's something about her that's striking."
That's how he felt about Davis.
Flash forward two years. The Denver Broncos busily prepared for the 1995 draft. And Turner, now holding title in the NFL, didn't forget about Davis.
He gathered more tape. He asked more questions. He wondered why Davis wasn't a star at Georgia, why he'd spent two of his final four games Between the Hedges playing fullback, not halfback. People told him, "Bobby, you can coach him. He's your type of guy."
And so, at Turner's recommendation and with the 196th pick, the Broncos took a flyer on this kid named Terrell Davis.
***
"Bobby was on me so damn hard as a rookie in training camp," Davis says. "That was one of the reasons I was about to leave."
Turner's nagging was constant. About Davis' shorts. About the "lackadaisical style" in which Davis walked around. About his backfield alignment. About the angle of his eyes.
"Terrell get your eyes up!" Turner would scream. "Don't be a chicken! A chicken has its eyes down!"
Turner would needle the poor kid some more: "Kentucky Fried! Popeye's!"
But then he'd switch it up: "Think of yourself as a proud bird, like an eagle. Nobody messes with an eagle!"
"This man does not like me," Davis thought.
But that wasn't true at all. In fact, Turner loved the potential he saw in Davis. And while the young back didn't understand the coach's strange ways of showing affection until years later, Davis was also a sponge, soaking up whatever Turner poured out. Before long, Davis was picking up the verbiage. Turner would later call him an "outstanding pupil."
Still, heading to Tokyo, Japan for a preseason matchup against the 49ers, Davis was anything but confident. It was hot and muggy there and Turner had been riding him just like he'd been back in Greeley. In the Broncos' first preseason game (also against San Francisco), Davis, who was buried deep on the depth chart, hadn't seen a snap.
That trend continued inside the Tokyo Dome. For an entire half, Davis didn't see the field. By halftime, he'd become disinterested to the point that he decided to snarf down a chili dog, French fries and some candy. Standing on the sidelines in the second half, he even felt sick. But when his name was finally called, he decided it was best to suck it up and take the field.
What happened next has become the stuff of legend.
Mike Shanahan says that Davis would have made the team regardless, but this particular play showed that his rookie was "hungry." In the coach's eyes, it moved Davis from the second or third team to a starting role.
Davis, who was so discouraged that he'd given serious consideration to leaving the team prior to the Tokyo trip, has a different recollection than Shanahan. Davis recalls being "sixth or seventh" on the depth chart. Would he have even made the first cut without this lone chance to show his worth?
"Probably not," he says.
Rod Smith, an undrafted wideout who was trying to make the leap from the Broncos 1994 practice squad to the 1995 gameday roster, puts it like this: "Right after that play, Terrell's ass never saw special teams again."
As Smith points out, it was indeed a special teams play that launched the career of one of the NFL's greatest running backs. In Tokyo, both Smith and Davis had pulled duty on the kickoff coverage team. Smith recalls flying down the field, anxious to make a play that might grab the attention of the coaching staff. He slipped past his block and had San Francisco's return man in his sights.
But before he arrived, an orange jersey donning No. 30 came out of nowhere. It was Davis, and he met the unsuspecting Niner like a freight train. The collision began on the 20-yard line and it ended with a thud on the 18.
"I don't think he gets a chance to play running back as soon as he did if he doesn't make that play," says Smith. "The rest of that day he kind of just commanded respect."
Davis was given a handful of carries in the fourth quarter and he made the most of them.
The rest, as they say, is history.
***
"Just sign it."
It was an odd request, one that Terrell Davis wasn't entirely comfortable with. The man standing in front of him was holding a white, souvenir football helmet. The logo on the helmet was not the old-school Denver D; it was not the horse head that Davis wore for all but his rookie season. This logo wasn't even orange and blue. Instead, it was black and red and turquoise. And it said "Pro Football Hall of Fame" with "Canton, Ohio" in smaller letters underneath.
"Nah, I'm not going to sign it," Davis told the man.
"Man, you're going in," the man pled. "I want to be the first one to have you sign it."
Davis paused. This was a dilemma. It wasn't that he didn't give autographs – "He always treated people with respect," Smith says – he signed things all the time. The problem was that the year was 2016, and Davis had not been admitted into football's most prestigious club. In fact, he'd been denied – not once, but twice – already.
But this was a fan, someone who simply wanted a signature from his favorite player. Did it really matter what Davis was signing?
He signed it. Just his name. No "HOF" to follow.
"Okay, man," he sighed. "This might be a jinx. You can't just sign the helmet."
Giddy, the man assured him that there would be no jinx, that – fear not – Davis would get into the Pro Football Hall of Fame. He had no doubt.
It still didn't sit right with Davis though. It wasn't that he thought enshrinement would elude him forever. No, he thought there was a chance he'd eventually get in. He knew it was a process.
Tim Brown, a friend and Raider who'd been inducted in 2015, told him, "Brother, be patient."
Andre Reed, a Bills receiver who went in the year before Brown, said, "'Man, you've got to manage your expectations when it comes to this process, because there's nothing you can do."
Davis had even grown used to answering the question: Do you belong in the Hall of Fame?
At first, he didn't like it. It wasn't natural to talk about himself, not when it came to a game that was the ultimate team game. Deflect. Give credit to teammates. He was used to being a star. There were stops along the way that prepared him for that. In Pop Warner, his coaches used to change his jersey number from week to week so that it would take opposing defenses a series or two to figure out where Terrell Davis was on the field. Before the age of 12, the local paper once referred to him as the best running back in San Diego, maybe even all of Southern California. At Georgia, there were times he felt like the big man on campus, but he didn't necessarily embrace it.
"I didn't like it," he says. "It affected me a little bit though on how I saw myself as a player. I would do things a little safe on the field … It wasn't effort, I would give you the effort, but I wasn't trying to be the – I don't know – I was being too careful, I guess. I wasn't taking any risks."
Ever since his father died, when Terrell was just a ninth grader, he'd become accustomed to keeping things "right in the middle." Never too high. Never too excited. Never too down. Can't get too invested in this. Can't get too invested in that.
"Because it can get taken away," he says now at the age of 44.
What he ultimately did on the field, and how he was viewed as a teammate – that stuff was important. Being a star – being the talk of the entire NFL, being mobbed in Denver when he was out with teammates, being featured on those "Got Milk?" ads or getting to do a cameo appearance Sesame Street – was all fine; he didn't need a bronze bust in Canton to validate his career. The Super Bowls. The MVP awards. The 2,000-yard season. He knew what he had accomplished, and that that was good enough.
Then again, he did believe he was worthy.
"If I sit there and say, 'I don't know' or 'No' or 'It's not up to me to say that,' I don't know if maybe they are like, 'Well, wait a minute, if he doesn't believe it, maybe we shouldn't believe it,'" Davis says. "If you're going to ask me the question I am going to give you my honest answer.
"And my answer is yes."
As a talent on NFL Network, Davis got good at talking. He also got more and more comfortable at answering the question that seemed to come up more and more often.
"First of all, you tell me what the criteria is," he'd say. "Tell me what it is you think a Hall of Famer is.
"Once they tell me, then I'd say, 'If you think it's longevity, then I am not a Hall of Famer. You take me right off; I am not one. But if it's impact, if it's playing in big games, playing well in big games, if you say it's championships, if you say it's being accountable, whatever it is.'
"If you give me the list, we can check the boxes."
***
"You quote me on this, because this has always ticked me off," Bobby Turner says, as his tone shifts from jovial to stern. "People say, 'Well, you can just plug any back into this system.'"
There's no question, Bobby Turner's system is effective. Clinton Portis. Mike Anderson. Olandis Gary. Reuben Droughns. Devonta Freeman. Tevin Coleman. All backs under the tutelage of Turner. All backs who have turned in successful NFL seasons.
"It's like hand in glove," Turner continues. "We have to be selective and have the right guy running that system.
"If it was just the system, then why wasn't everybody successful?"
It's a sore spot for Turner, who believes the productivity of those who followed Davis, those who played under Turner somewhere along the line, probably delayed what should have been a sure-fire trip to Canton for Davis. As good as those backs were, each of them special to Turner, Davis was different.
"In my opinion – I'm speaking for myself and I'm speaking frankly; I'm not even being politically correct on it – if we didn't have Terrell Davis, then we wouldn't have won the number of games, and I'm not even going to get into the Super Bowl wins."
None of the aforementioned players won a ring.
"The bottom line," says Turner, "is he was a complete football player."
There was a reason that Davis ascended from a special teamer in Tokyo to the focal point of Mike Shanahan's high-powered offense. He blocked. He studied. He caught passes out of the backfield.
"He was just as valuable without the football as he was with the ball in his hands," says Turner.
Whatever Shanahan and Turner asked him to do, he did.
"You get guys made up like Terrell Davis and you win championships," Shanahan says. "He played great during the regular season, but when he went to the playoffs, that's when he separated himself."
To this day, Shanahan can recite the numbers perfectly, as if he were reading the Monday morning box score in the Denver Post.
"Did you ever look at those stats?" he asks. "The Jaguar game, the first playoff game in '97, we had 49 rushes as a team. Against the Chiefs we had 32. Against the Steelers we had 30. Against the Packers, we had 39. We averaged 36 attempts a game and 187 rushing yards through those playoffs.
"What Terrell Davis meant to us in Denver was two Super Bowl rings."
In Super Bowl XXXIII, Shanahan says Atlanta did its best to take the running game away. Davis still had 25 carries for 102 yards. The Falcons dared John Elway to beat them, so he did. Elway tossed for 336 yards, going 18-for-29 and riding off into the sunset with his second Vince Lombardi Trophy and the game's MVP trophy to boot. That's how much teams feared Davis.
"The difference is always consistency," says Smith, who was the beneficiary of Elway's lone TD pass in Super Bowl XXXIII, an 80-yard strike on Denver's second possession. "It's just year in, year out, down in, down out. First quarter, fourth quarter, this guy is showing up to play and you know what you're going to get."
Above all, Davis wanted to win. It was a Broncos tradition that following a win, the team would not have to wear helmets during Friday's practice. Instead, they could wear a ball cap. They all called it "Hat Day."
Davis hated wearing his helmet in practice. So did Elway. So did Smith. When someone blew an assignment, whiffed on a block, dropped a pass, fumbled the ball, Davis could be heard chirping: "Hey! Guys! Don't mess up Hat Day."
From Dec. 21, 1997 to Dec. 13, 1998, an 18-game stretch that lasted nearly an entire calendar year, the Broncos never had to wear their helmets on Friday.
"If you look at the run that TD had from the time he started – pretty much right after that he got his time to shine – his game just elevated all the way until his knee was blown out.
"Up until that point, he dominated football."
***
That point.
That's the point that kept Terrell Davis out of the Pro Football Hall of Fame.
That's the point where the numbers – statistics that, if extrapolated over time, put the game's greatest running backs to shame – came to a screeching halt.
That's the point where Davis' knee exploded, on a freak play following an interception. Davis was, per the norm, being a football player, just making a tackle on the return.
That was always the point in question. The point that the voters debated. The point that made him more like Gale Sayers and less like Jim Brown.
That point became a moot point on Feb. 4, 2017. Sometime after 5 p.m.
Davis doesn't know the exact time. Maybe it was 5:30. Could have been before. Possibly after. He only knows for certain that it was after 5. Two times before that, when he was invited to the NFL Honors awards ceremony as a Hall of Fame finalist, he found out – at precisely 5 p.m. – that he would not be slipping on a gold jacket come August. Both years, Davis had a hotel room full of excited guests, friends and family who anxiously awaited good news. Both years, 5 o'clock delivered only disappointment.
Davis was okay with that. It was still a fun time, still an honor to be considered a finalist, still a good excuse to get together with those same friends and family. That's why most of that same group was back for a third straight invitation. But when 5 p.m. came and went in his hotel room near Houston's NRG Stadium, his hopes rose.
"You start to dream a little bit," he says.
The knock on the door finally came. It was Hall of Fame president David Baker. He brought with him the news that everyone wanted to hear. Davis was in.
"I was just so damn happy, man," Davis says.
He called his mother, who was unable to attend for the first time.
"Your son is a Hall of Famer," he told her. The mother of six screamed for joy.
The day after, the new class did an orientation. The six inductees were shown a table, and lining it were rows – 40 or 50 probably – of white, souvenir, Hall of Fame helmets. Although it was technically the second time he'd ever signed one of those, it felt "right" this time. Still, he had to catch himself before writing "Super Bowl XXXII MVP" – and not "HOF '17" – under his signature.
"When you have to sign Super Bowl MVP, that's a lot of characters," he says. "It's easier to write HOF."
***
In football's illustrious history, only 310 individuals can call themselves "Hall of Famers." Terrell Davis is one of them.
"That's nuts," he says. "I've played with 310 people."
The history is not lost on Davis; the wait, without question, was worth it. He walks a bit more upright. His chest sticks out just a bit more. His stride now has a slight swagger to it. People on the street say, "Hey, Hall of Famer!"
He admits: "It's better than I thought it would be."
It didn't come as quickly as he would have liked, or as most felt he deserved, but Terrell Davis finally finished the longest run of his life.