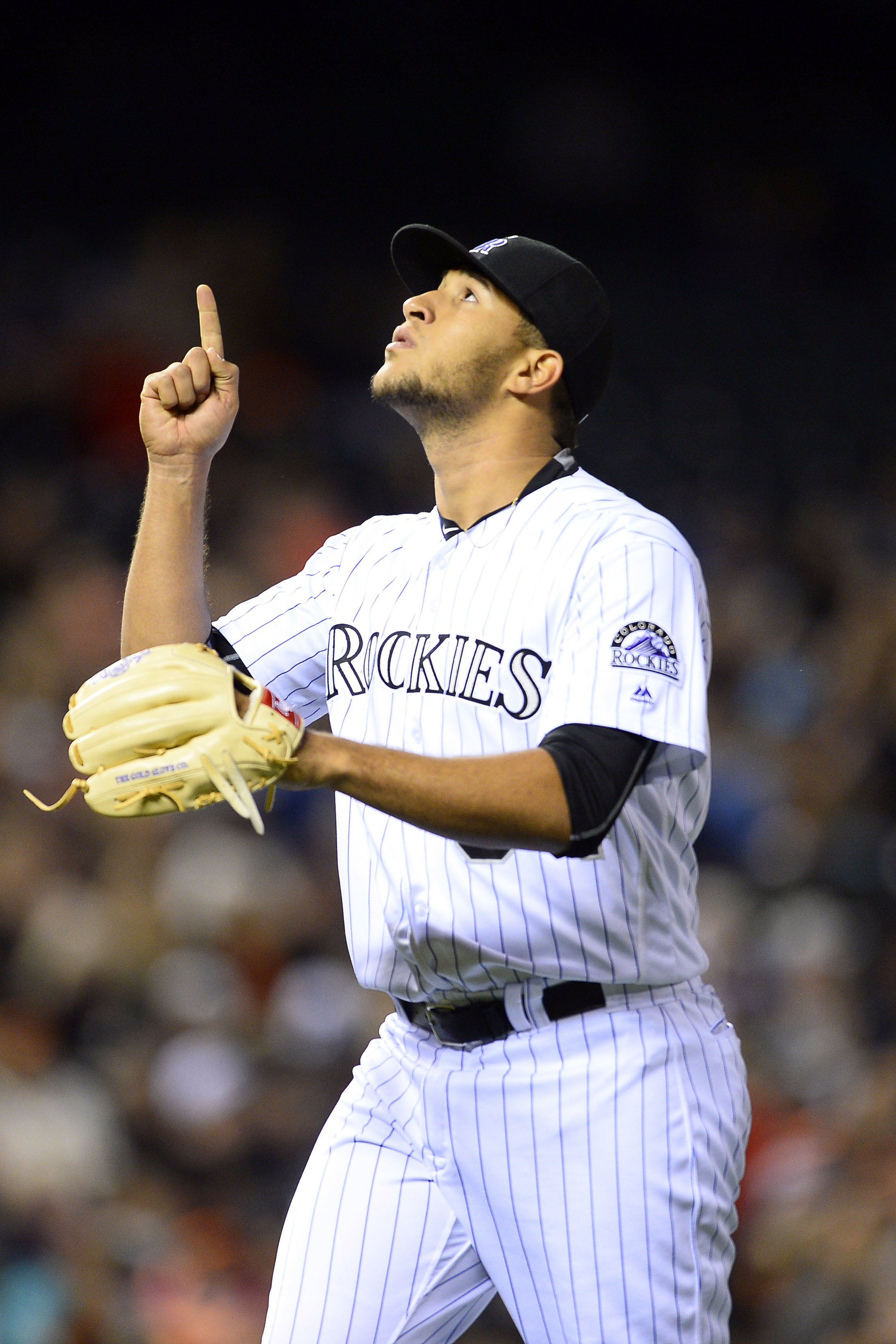 Calm and collected is the best way to describe the Rockies' Carlos Estevez on Saturday afternoon. His stuff was anything but wild as he picked up his first Major League save, helping the Rockies beat the Padres 5-3. Coincidently, the same score they could not hold the night before.
The save was more impressive given that Jason Motte gave up a lead-off double and hit a batter to start the ninth.
"Today I just felt like my debut," Estevez said after his last pitch hit 99 MPH. "I was a little bit nervous but after the first pitch, that's it. Let's go."
Walt Weiss named Estevez the closer after Jake McGee was put on the 15-day disabled list with knee inflammation. Estevez said his mentality has not changed with his new role.
"It's almost the same thing as the eighth inning," he said. "The game is close and I just have to keep getting outs. I'm always like a positive person. If I was given the opportunity I was going to go 100 percent. It's awesome how much progress I've got this far."
Weiss said that going into the ninth, the plan was to give Estevez a partial inning and he wanted to stay off him as he has had a heavy load recently.
It was Motte who entered the ninth, though, having the chance for the save. He pitched well against game-one hero Will Myers to get him to pop out in the eighth, but it didn't translate in the ninth. Motte said that he was told if his spot in the lineup didn't come up, he was going out in the ninth.
Motte agreed that he felt like it is was his game to close.
"I was going out there trying to do the same thing in the eighth to get guys out but it didn't happen," he said.
As for the game's starter Tyler Chatwood, he didn't have his best stuff, as he gave up two runs quickly, but it was more than enough to get a quality start and the win as he pitched into the seventh.
"I wouldn't say he was completely locked in, but he finds a way to battle when he doesn't have his 'A' stuff," Weiss said. "There were tough pitching conditions here today. We've seen that happen when it gets bone dry. But Chatty finds a way."
Chatwood's ERA rose only from 2.79 to 2.89. The team's ace was still critical of his performance.
"Today it was kind of a battle against myself," Chatwood said. "I normally throw a lot of fastballs which is always my game plan. Today I kind of went backwards. I threw a lot of cuts. Luckily I was able to throw them for strikes pretty often."
Coach Lou Brown's advice for Ricky "Wild Thing" Vaughn at the end of Major League couldn't sum up the success the Rockies had on Saturday any better.
"Give them the heater."
At least for Estevez and Chatwood, good things will follow.