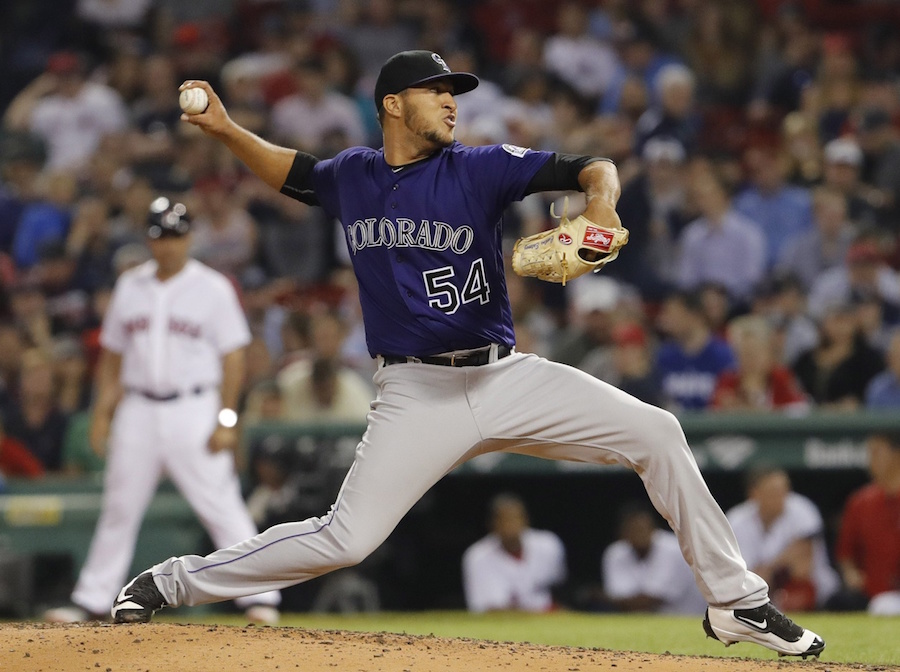 Carlos Estevez has taken the reins as the Colorado Rockies closer since Jake McGee went down with injury, and now it seems like he may be ready to take over permanently.
McGee was placed on the disabled list with inflammation in his left knee last week, forcing the Colorado Rockies to find a spot closer.
The team called upon Estevez, a 23 year old from the Dominican Republic, to take over as McGee is on the road to recovery. Since then, Estevez has done a remarkable job closing three games for the Rockies in that span, which is exactly what Walt Weiss was looking for.
"Very poised for a young kid," Weiss said. "We knew he was talented in spring training, to be honest we didn't know he would be this impactful, but it didn't take long for me to throw him into the heat … He's been really really good."
In his last seven games, Estevez has limited his opponents to a combined batting average of .150 to pair with his ERA of 1.50.
Estevez feels comfortable in the closing role, saying,"Since they gave me that confidence (when I got here) that's all I needed. My confidence is 100 percent."
He credits that confidence to the supporting cast of both youngsters and veterans the Rockies possess.
"They are always going to have my back," Estevez said in reference to the bullpen guys. "I've had a few bad outings and they go like 'Hey, don't worry, kid!' We are really close, and they help us (the young guys) a lot."
The journey has been a tough one for Estevez, who did not make the club out of spring training, but he says his struggles make the success all the more rewarding.
"The beginning of spring training I started really well, but then I got a few days off and I fell out of the track that I was going," Estevez said. "They sent me down to Triple-A and I got my stuff together again … That's all it was."
For Estevez, being able to take on the role of a closer is a special experience.
"Honestly, since I am a reliever, that's the best job that I've got," Estevez said. "I really like it."
Estevez has had success in crunch time because of his ability to offset his fastball with the assortment of junk pitches he possesses.
The fastball is the table setter for the bag of tricks Estevez has up is sleeve to put away hitters.
No indication has been made as to whether or not Estevez will remain in the closer role when McGee returns; however, he sure will make the decision tough for the Rox.