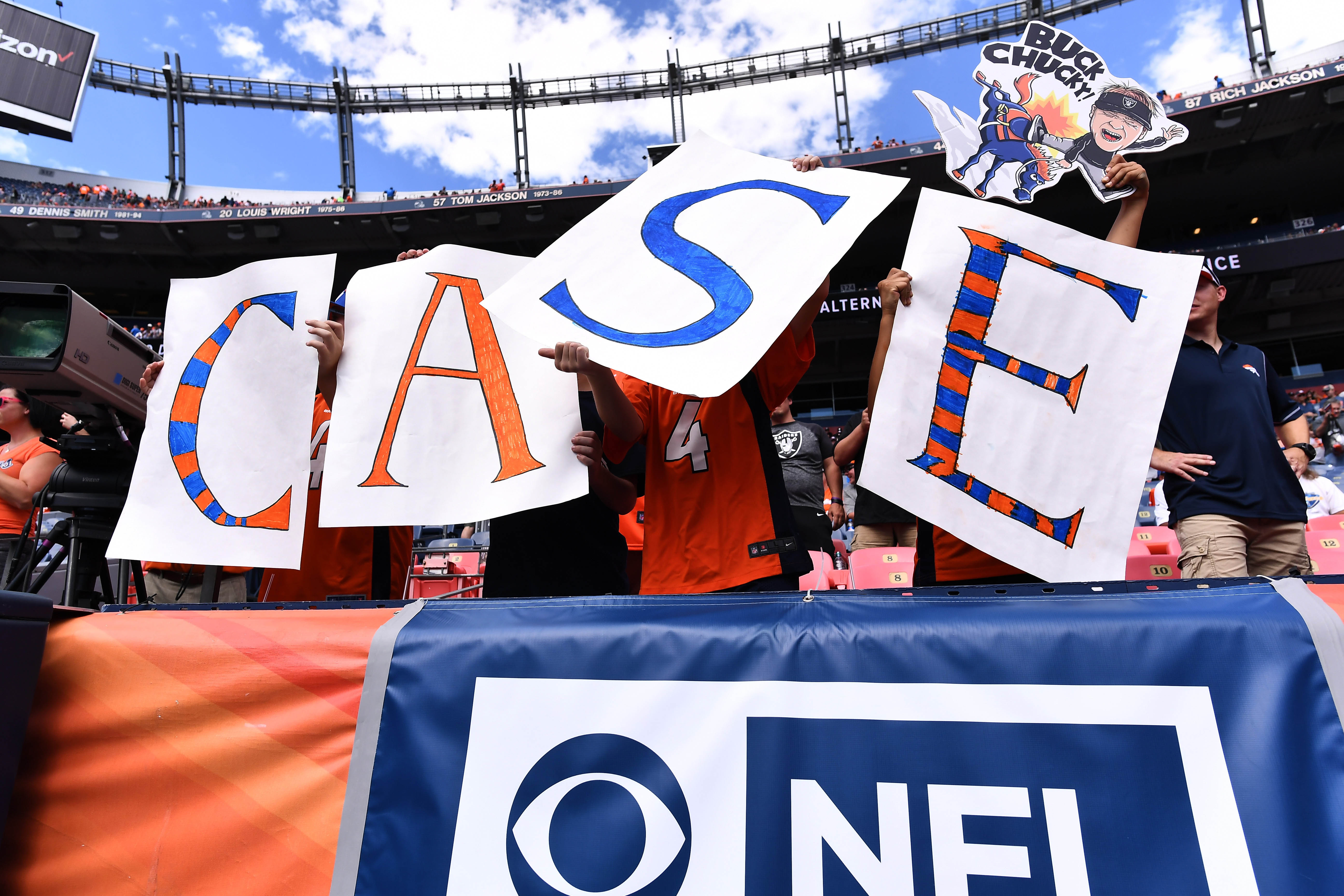 Following Denver's Week 12 win over the Steelers, the Broncos suddenly find themselves in the playoff race, facing the easiest stretch of games they've seen this season. Pair that with the fact that quarterback Case Keenum is playing the best he has all season, and it seems fair to ask: should Keenum be Denver's quarterback in 2019?
The Broncos will enter this offseason with three general options at the quarterback position. They could continue to roll with Keenum, draft a quarterback of the future early to sit behind Keenum for a year, or they could even bring in a different veteran to lead the offense.
Similarly to 2018, the 2019 free-agent class should have some good quarterback talent compared to past years; the biggest name is likely to be Joe Flacco.
Since Flacco's career year in 2012, his numbers and play have been on the decline. You could blame this on poor offensive coaching and surrounding, which is part of the equation, but Flacco's main problem may be a lack of drive. In the five years prior to Flacco's record-breaking deal, the Delaware product had just two seasons that were graded under a 73.0 by Pro Football Focus, one of which was his rookie year. In the six years since, Flacco has just one season graded above a 73.0.
Not only does it not make sense to sign Flacco due to his declining numbers, but it doesn't make sense to sign him, or any other high-end free agent quarterback, from a financial standpoint, either. According to Spotrac, the Broncos are set to pay Keenum 18 million dollars next season against the cap, and if they opt to cut him, they'd take on 10 million dollars in dead cap. This means if they signed Flacco for 20 million annually (a conservative guess) the Broncos would have the most expensive quarterback situation in the league.
So, if free agency doesn't have the answer, maybe the draft does?
Unfortunately, the answer there appears to be no, as well. In our way-too-early draft preview, the 2019 class appears to have the worst quarterback talent since the 2013 class that gave us E.J. Manuel and Geno Smith. Top prospect Justin Herbert would've been the fourth- or fifth-best prospect last season and everyone who has ties to the Oregon program says he will return to school rather than enter the 2019 draft. Behind him, it's a whole lot of nothing.
No matter the prospect, if Denver were to take a first-round quarterback in 2019, they would be reaching. A miss on a first-round quarterback can leave a team stranded in the muck for years, as witnessed with the Paxton Lynch pick. Just as Lynch wasn't worthy of a first-round pick, the Daniel Joneses, Dwayne Haskins, and Drew Locks of the world aren't worthy of one, either.
Does that mean Denver's best option at quarterback in 2019 is Case Keenum?
It certainly does look that way, but that's not necessarily a bad thing for the Broncos. For starters, Keenum is playing the best he has all season and earning his two best PFF grades over the past three games. When Keenum throws for fewer than 250 yards the Broncos, are 4-2. Given a better offensive mind at the helm and another year for the Broncos' young nucleus to develop, Keenum could be a solid (enough) quarterback in 2019.
Keenum isn't the Broncos' long-term future. He's more of a Band-Aid, and if the Broncos can wait just a little bit longer, they stand to be rewarded by a 2020 class so rich it may surpass 2018's 'year of the quarterback'.
The best things come to those who wait.