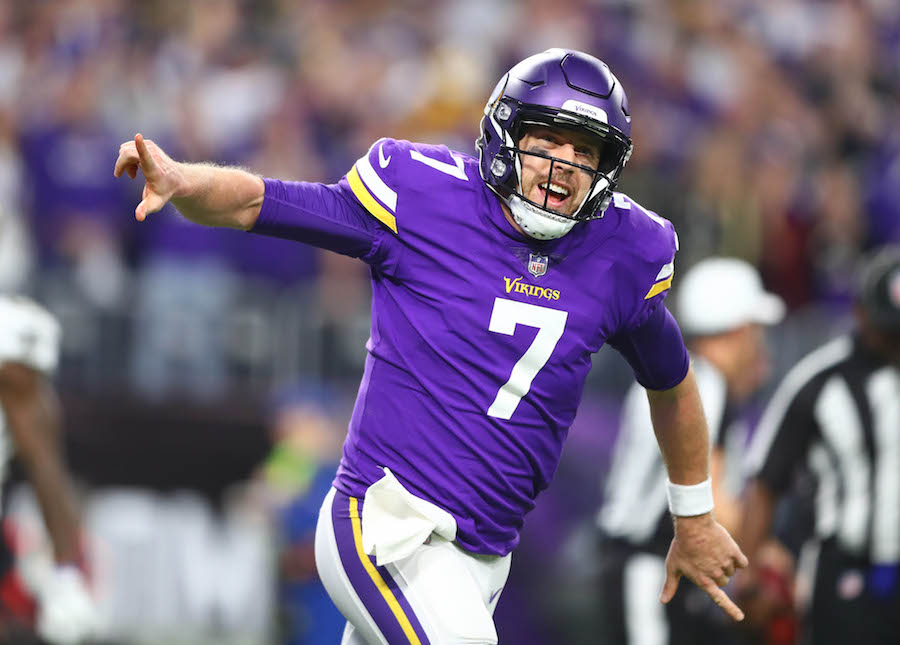 Entering his eighth season in the NFL, Case Keenum may be the most complete quarterback with the most to prove. Time and time again Keenum has been knocked down by critics who believe he is not an NFL starting quarterback. Last year, for the first time in his career, he was surrounded by an NFL team with other talented pieces and showed his capabilities by leading the Minnesota Vikings to the NFC Championship game. Yet he still faces doubts as he enters a two-year deal to lead the Denver Broncos.
Greg Coleman, former NFL punter and current Minnesota Vikings sideline reporter, joined Eric Goodman and Les Shapiro of Mile High Sports AM 1340 | FM 104.7 to share his thoughts on why he thinks the Broncos have themselves a complete quarterback.
A big knock on Keenum is that for the first six years of his career has never been the No. 1 guy. Even in Minnesota he was not supposed to be the starter, but because of injuries ended up atop the depth chart. Keenum started 14 regular-season games with the Vikings and had a fantastic season, throwing for 3,547 yards, 22 touchdowns and a modest seven interceptions, tied for third-fewest in the season by a quarterback who played 14 or more regular-season games.
To be a complete quarterback not only do you need to be a physically gifted player but a knowledgeable player.
"He has shown he has the ability to do it all," Coleman said of Keenum's ability to play calls and manage offensive schemes.
The Broncos had Peyton Manning who was one of the most talented play callers in the NFL and at the line of scrimmage had the ability to audible and read any coverage defense's threw his way. Coleman feels Keenum has those intangibles.
"This guy studies more film than Terrance Newman the 40 year old cornerback that we have," Coleman said. "Terrance, sleeps, eats, walks, breathes, even takes his iPad to the bathroom — that's how much film he watches. Case Keenum watches more than Terrance Newman."
Despite the knocks, Keenum has proven that he can succeed when surrounded with the talent and given a legitimate chance.
In Keenum's first three seasons, with the Houston Texans, he was never really given the chance to succeed. Matt Schaub was the team's Pro-Bowl quarterback and was hands-down their guy. The only time Keenum got to play was when Schaub suffered an ankle injury, forcing back up T.J. Yates into that same game. Yates almost immediately lost the job, throwing two interceptions no touchdowns for 98 yards. Keenum was a young quarterback at the time and was thrown into a scheme built for Schaub. Keenum was eventually waived by the Texans and acquired by the St. Louis Rams in 2014.
Keenum didn't get much of a chance in St. Louis either, sitting behind Nick Foles, 2018 Super Bowl MVP, until week 14 of the season. Keenum started that game and led a horrible Rams team to a 3-1 record the rest of the season. The following season St. Louis moved to Los Angeles and with the first pick in the 2016 draft selected University of California's stud quarterback, Jared Goff. Keenum was never part of the big picture in L.A., rather just someone to play while Goff adjusted to the NFL and while the Rams continued to rebuild.
The 2017 season Keenum was not the No. 1 guy once again, but when given the opportunity he was finally able to show his true abilities. For the first time in his career he was playing on a winning team that brought quality players to the field each game. Keenum by far had his best season of his career, taking the Vikings to the NFC Championship game for the first time since 2009,
"He was the straw needed to stir the drink," Coleman said.
This offseason the Vikings appeared set to replace Keenum with Kirk Cousins and like that he became an afterthought in Minnesota.
With a chip on his shoulder already being scrutinized for his skills, Keenum should have even more reason to go out and show the world what he can do with the Denver Broncos. Just like Minnesota did, the Broncos will surround Keenum with two highly talented receivers in Demaryius Thomas and Emmanuel Sanders. They also have running back C.J. Anderson, who rushed for over 1,000 yards last season, and to top it all off have one of the league's premier defenses.
Keenum in 2018 will finally enter a season as the No. 1 quarterback. Now, his skills and work ethic can help the Broncos get back on track to being a playoff contender.
Click here to listen to the full interview with Greg Coleman, or listen in the podcast below.
Catch Afternoon Drive with Goodman and Shapiro every weekday from 4p-6p on Mile High Sports AM 1340 | FM 104.7 or stream live any time for the best local coverage of Colorado sports from Denver's biggest sports talk lineup. Download the all-new free Mile High Sports Radio mobile app forApple or Android.