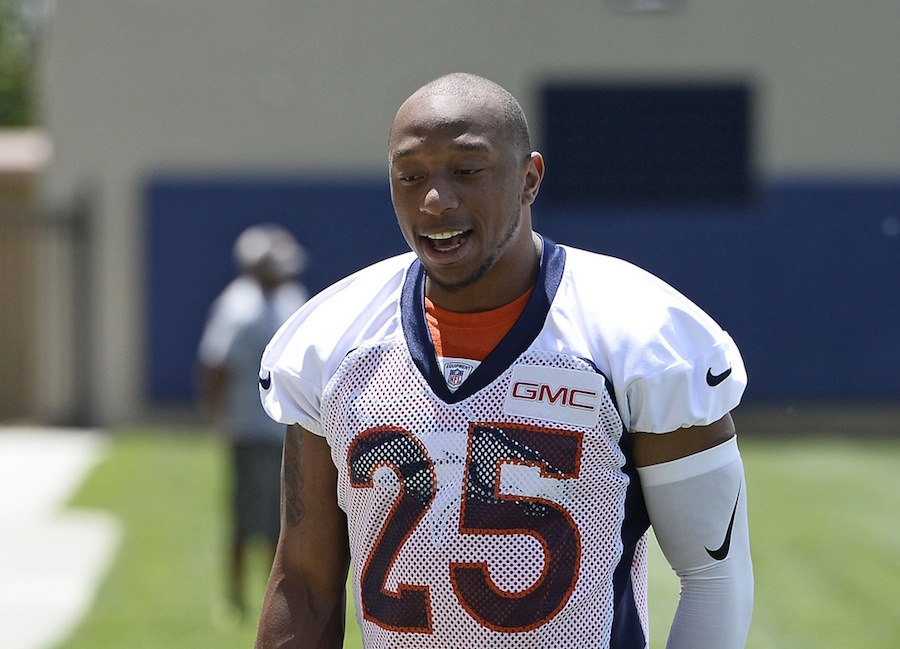 Since suffering a gunshot wound to the leg earlier in the offseason, Aqib Talib has remained relatively silent, and Broncos Country has been left wondering, what's next?
While his "No Fly Zone" partner, Chris Harris, can't shed any light on the NFL's mindset or the legal system's take on Talib's incident, he was able to give us some insight into the Pro Bowl corner's state of mind.
"He's working his tail off," Harris said on Thursday. "He's been looking great from the time I've seen him doing rehab. We've just got to continue to encourage him. He wants to be out here so bad. It hurts him, but he'll have time, and I think he'll be ready for the season."
Talib was drafted in 2008 by the Tampa Bay Buccaneers. He then spent a season in New England before jumping ship to the Broncos the next year. He is a three-time Pro Bowl player (2013-2015), and, as we're all aware, an NFL champion.
Even with Harris' optimism, it's uncertain whether Talib will be able to start the season on the field. Whether it's setbacks from the gunshot wound, a suspension from the league, or (worst case scenario) jail time, Talib's future is very much up in the air.
Until more information reveals itself, though, it's up to the rest of the secondary to step up.
"It's a great opportunity for [CB] Bradley [Roby] and [CB] Kayvon [Webster] to get a lot of reps," Harri saids. "They need to be ready to play."
Word out of camp has been that Talib isn't too far away from making his return to the practice field. Let's just hope he's all set to go in Week 1, too.