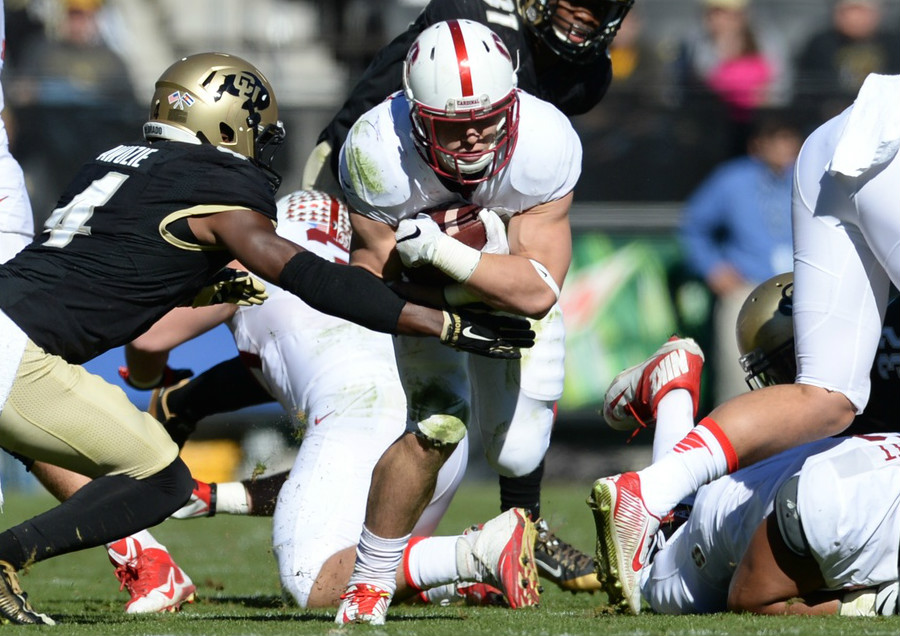 Stanford's football team is good; scratch that, they're very good. With a record of 7-0 in the Pac-12, they are leading the conference by a landslide. They slid closer to clinching the Pac-12 North with their win Saturday against the University of Colorado.
To beat a team like Stanford you have to be perfect, and the Buffs were far from it. Stanford orchestrated a dominant performance, resulting in a 42-10 win, in which the Buffs could not get much going.
The Cardinal showcased versatility on the defensive end, keeping CU to a season-low 53 offensive plays, which is a significant fall from their 82.9 average. Aided by Stanford's season-high 10 tackles for loss, it was a rough day for CU's offense, particularly in the running game.
That was not the case on Stanford's side of the ball.
Led by none other than Colorado's own Christian McCaffrey, the Cardinal offense ran up and down Folsom Field. The nation's leader in all-purpose yards was easily the player of the game.
The last time McCaffrey played a meaningful football game in Colorado was back in 2013 when he scored four touchdowns to lead Highland Ranch's Valor Christian High School to its fourth — yes, fourth — consecutive state championship. On Saturday, he finished with 147 rushing yards, 15 receiving yards, 58 return yards and (somehow) a 28-yard passing touchdown.
Modest numbers, I suppose.
Stanford's head coach, David Shaw didn't appear to be very surprised after the game when speaking on the multifaceted sophomore running back.
"Christian can really throw the ball. There aren't many positions the young man can't play; I'd say offensive and defensive line are it," Shaw said. "He can play middle linebacker, fullback, receiver, and quarterback. He's a phenomenal football player."
Yes; yes he is.
But while McCaffrey had such a great game on the field, the real story of the day was his homecoming.
"Christian did what he needed today and he is a phenomenal team player," Shaw said. "He was on his toes all week and wanted to play in front of his friends and old teammates, he loves this area."
And the support was reciprocated as the entire Valor Christian football team, in which his brother is the starting quarterback for, was front row and center, erupting in cheers whenever he would make a big play.
"It was emotional," McCaffrey said. "I wish I could stay here longer, I know it's just for a little bit of time, but like they say, there's no place like home."
Well, you're welcome back any time, Christian. I've got a feeling you'd look awfully good in a blue and orange jersey.