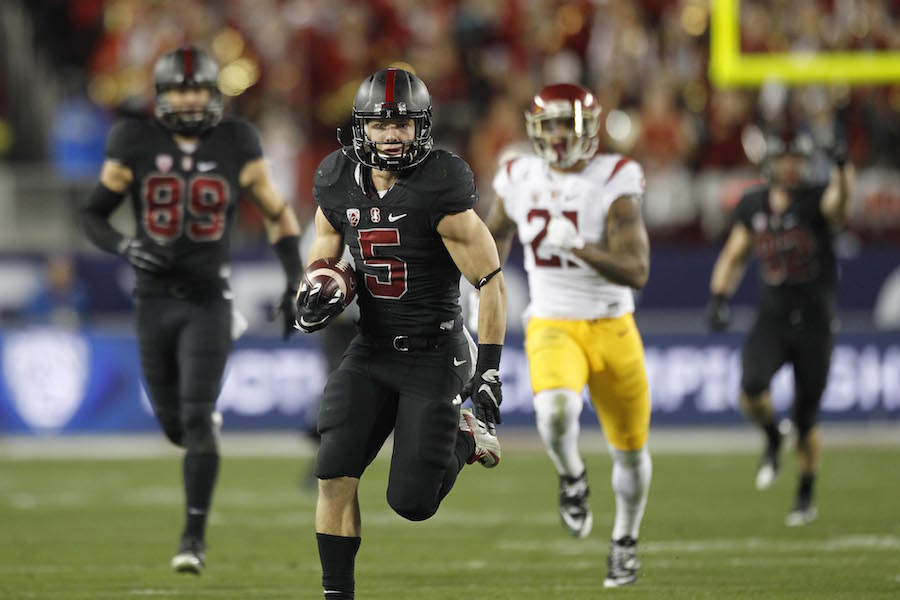 A billion dollar company calls you up and guarantees you millions of dollars to be part of their management team. Then, after the discussion of wages, a great benefits package (including dental and vision) for the whole family and an assured future, they offer to conduct an optional, meaningless job interview.
This interview is not only meaningless, but there is a one percent chance that you will spoil your chance at the guaranteed position, and possibly never be able to perform at that job ever again.
Do you take the meaningless interview, or do you pass and just take the job?
Christian McCaffrey will not be playing in the Sun Bowl. He will, instead, JUST TAKE THE JOB.
McCaffrey has elected to skip a somewhat meaningless bowl game to start his path towards being drafted by one of the 32 billion-dollar franchises that make up the NFL.
He is not going to work at Sizzler, Wal-Mart, nor Wells Fargo, but the NFL. It is truly a once-in-a-lifetime experience for less than .01 percent of athletes. Keep this in mind as well: NFL teams are amazing to work for. Nothing against Sizzler, but the NFL has a better benefits package – dental and vision and retirement included – than anyone you have worked for, myself included. After all, little boys dream about playing in the NFL, not adjusting insurance.
And as someone who watched his father play on Sundays, I am certain Christian dreamed of playing in the NFL. He has worked his tail off to make it a possibility.
Yes, he's forgoing his final college football game, but he, and his family, know and respect the power of injury.
On Sep. 10, 2011 on Monday Night Football, Ed McCaffrey, Christian's father, suffered what would be a season-ending injury, an injury he would have to overcome to be effective in his last few years as an NFL wide receiver.
We all watched as No. 87 writhed in pain, his leg moving in a very unnatural way. I can still remember cringing at the replay, as Ed's leg snapped like dry timber and flopped around like a fish trying to find its way back to water. It's a memory myself and others in Broncos Country will never forget, something I'm sure the McCaffrey family has not forgotten, either. All it takes is one play to end it all.
In 2003, following the college football season, Ohio State played the Miami Hurricanes in Tempe, Ariz. for the BCS National Championship. It was a crazy game, which ended in flags, disbelief and controversy. Ohio State, sweater-vested Jim Tressel and running back Maurice Clarett were victorious over one of the best college football teams ever built.
Ohio State's victory might not have been, though, if not for Miami Hurricanes star running back Willis McGahee being injured. On third-and-10 with 11:50 left in the fourth quarter, the Miami Hurricanes ran a simple screen pass. Ken Dorsey, under pressure, threw to McGahee with blockers in front of him. The play had first down potential until Ohio State and later Pittsburgh Steeler safety Will Allen made a spectacular, low (but legal) tackle, blowing up McGahee's knee.
Writhing in pain, with 77,502 paying customers watching at Sun Devil Stadium, and another 29.1 million people watching on ABC, McGhee's college career was officially over.
McGahee, before the bowl game, was projected to be a top-five pick in the 2003 NFL draft. Much like Christian McCaffrey, McGahee was a national name, and was highly regarded as a potential game-changer for any NFL team.
After the injury, teams were suspect if McGahee would ever play at his highest level, and his draft stock dropped. He was eventually drafted by the Buffalo Bills in the third round (ultimately costing McGahee millions on his rookie contract). McGahee spent his first year on the bench rehabbing his knee. In 2006, he was traded to the Ravens where he had decent years, but spent a lot of time on the injury report, partially due to that weak knee. His hard work in the training room did pay off, as he was later rewarded with a four-year, $9.5 million contract with the Denver Broncos. McGahee in 2013 would later be released by the Broncos after another knee injury (the other knee this time).
Christian McCaffrey knows the dangers of playing football. At 6-feet, 200 pounds (we will see how big he really is at the combine) McCaffrey is not one to shy away from contract. He does it all. He plays special teams, he plays running back, he plays in the slot, he even throws passes from time to time. (Passing Stats: 66.7 completion percentage, two TD's and 13 yards per attempt.)
McCaffrey has had a spectacular career at Stanford. He has received a Stanford education, and in return Stanford received an electric player that a lot of fans paid a lot of money to come and see. Stanford has sold his jersey and posters with his likeness; they have promoted his name to get more recognition and better athletes. On the flip side, Christian received meals, knowledge and a piece of paper proving he attended a class or two. It was a mutual relationship that both the institution and the player benefitted from. But now it's over, and there is no reason to risk anything further.
Christian has nothing to gain by playing in this meaningless bowl game and everything to lose. Remember Christian for what he did while at Stanford, because the only thing he didn't do was risk his entire future for a game no one will ever remember.
It is time for Christian McCaffrey to move on and look out for No. 1 (or No. 5 in his case). He is making a brilliant career move, possibly because of something he learned at Stanford.