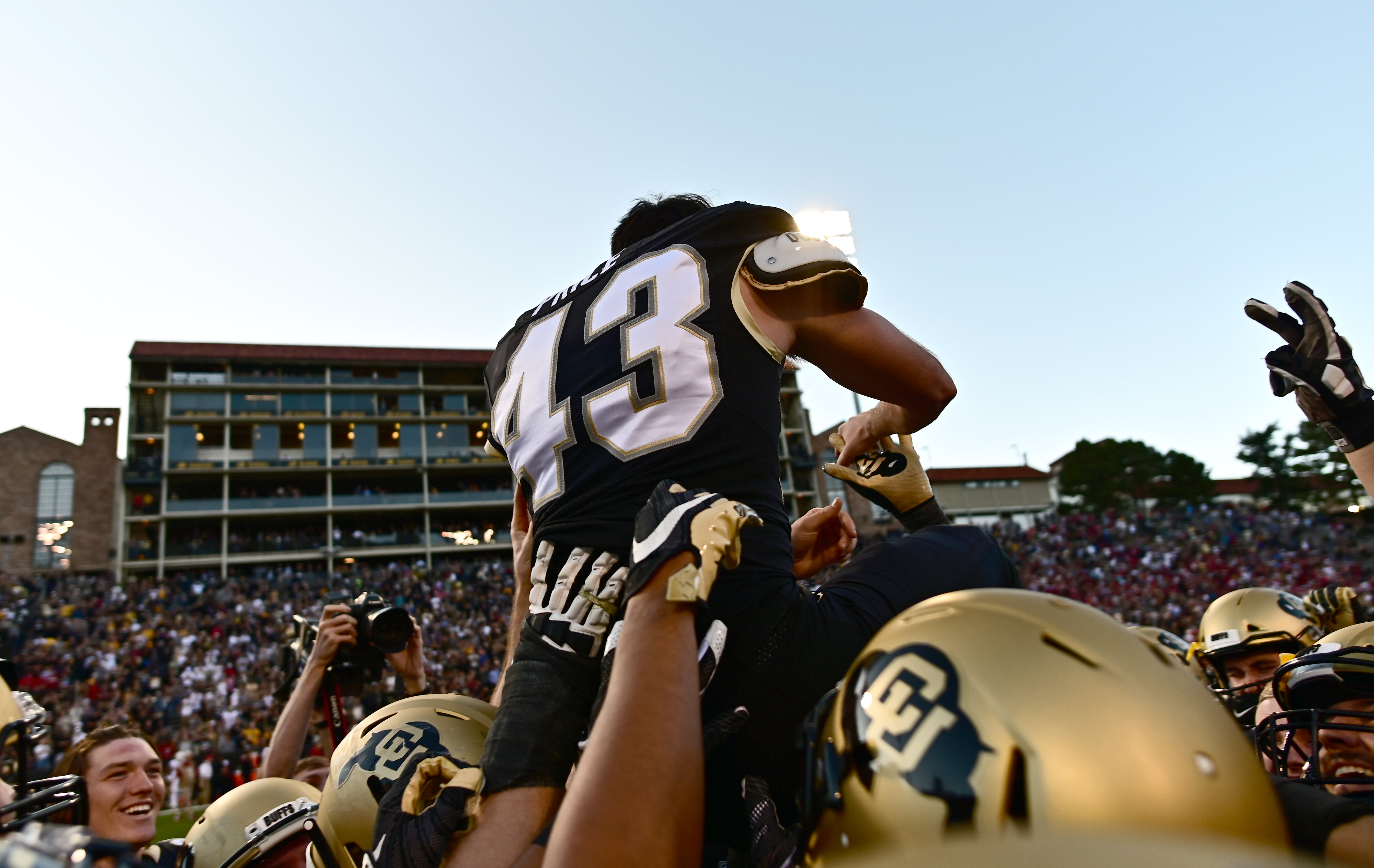 An absolutely beautiful day for football meant Mel Tucker was once again coaching in shorts. Phillip Lindsay in the house and an amped up homecoming crowd filling Folsom Field provided Colorado with energy and confidence despite losing five straight.
At last, the losing streak is over for the Buffaloes as they defeated Stanford (4-5, 3-4) with a last second field goal. Saturday's 16-13 victory was the first for Colorado (4-6, 2-5) since September.
In true Colorado fashion, not only did the game come down to the wire, but it was a rollercoaster of an affair as well.
The defense had their best game of the season by far. Davion Taylor was incredible. The senior outside linebacker ran right out of his shoe to force a punt in the third quarter just one play after recording the tackle on second down. Taylor was constantly in the right place at the right time and made good plays in coverage as well, save one pass interference in the first half.
Earlier this week, players emphasized getting back to the Buffaloes' identity on defense: creating turnovers. Colorado recovered a Stanford muffed punt inside the red zone, but the play was brought back after a penalty was called on Colorado. Only five penalties on the day for Colorado, so they are trending in the right direction there.
The Buffaloes did force a turnover when pressure on K.J. Costello led to a Derrion Rakestraw interception.
Here's a look at that interception by @Derrixn.

📺Pac-12 Network#RELENTLESS pic.twitter.com/wn734vGZKT

— Colorado Buffaloes Football (@CUBuffsFootball) November 9, 2019
The healthy Colorado defensive line impacted Costello throughout the game. Mustafa Johnson and Terrance Lang recorded back-to-back sacks on Costello in the third quarter. Another near takeaway, a dropped interception by K.J. Trujillo, occurred earlier on the same drive. Costello finished the day 18-29 for 245 yards and one touchdown.
Mel Tucker was walking up and down the sideline all afternoon and telling both offense and defense to "keep chopping." The Buffaloes defense never backed down, no matter how much Stanford could move the ball. It was certainly a bend but don't break afternoon for Colorado.
Missed tackling wasn't quite the issue it has been in recent weeks for Colorado, but they had difficulty covering tight ends, giving up 54 yards on five catches to Stanford's Colby Parkinson. Sophomore receiver Simi Fehoko also gashed the defense for 96 yards on only two catches, one of which was a 79 yard touchdown.
While the defense had their strongest performance of the season, the Buffs' offense continued to struggle. At least, they had difficulty getting the ball into the end zone.
Steven Montez ran for a touchdown after a balanced and methodical first drive of the game. The senior quarterback ran several times, taking on defenders and picking up first downs. Unfortunately, the first quarter Montez run was the only touchdown of the day for the Buffaloes.
Montez threw for 186 yards and had one interception. A large chunk of those yards, 91 of them to be exact, belonged to Laviska Shenault Jr. The dynamic receiver also had a huge fourth down run on the final Colorado drive, during which he met a Stanford defender at the line of scrimmage and put him directly into the dirt. Shenault then took on three more defenders as he gained a few extra yards and the first down.
All power 💪🏼

📺Pac-12 Network#RELENTLESS pic.twitter.com/P6jDMelZO9

— Colorado Buffaloes Football (@CUBuffsFootball) November 9, 2019
Alex Fontenot had a steady day after missing last week's game with an injury. He rushed for 95 yards on 18 carries. K.D. Nixon and Tony Brown both finished with three catches and 32 yards.
The game came down to kicking. Stanford started the second half with a missed field goal. Evan Price, from Evergreen, CO, was kicking for the Buffs after James Stefanou missed two field goals against UCLA. The freshman was perfect on the day with three field goals and one extra point. Price nailed the game-winner as time expired.
And that's the ballgame as the #BUFFSWIN behind this kick from @evxnprice.#RELENTLESS pic.twitter.com/yZN35oiiwI

— Colorado Buffaloes Football (@CUBuffsFootball) November 9, 2019
So the Buffaloes are back in the win column this week. A grind it out battle with Stanford in which only two touchdowns were scored should give Colorado some momentum as they take a week off before facing Washington.
Colorado plays Washington (6-4, 3-4) in Boulder Saturday November 23. Stanford beat Washington, and if the Buffs play the way they did today on defense and get the offense into a rhythm, there's no reason they can't win too.
But for the time being, there is finally something to celebrate in Boulder.
MOOD 🕺🕺 pic.twitter.com/mLj8thwEiN

— Colorado Buffaloes Football (@CUBuffsFootball) November 9, 2019