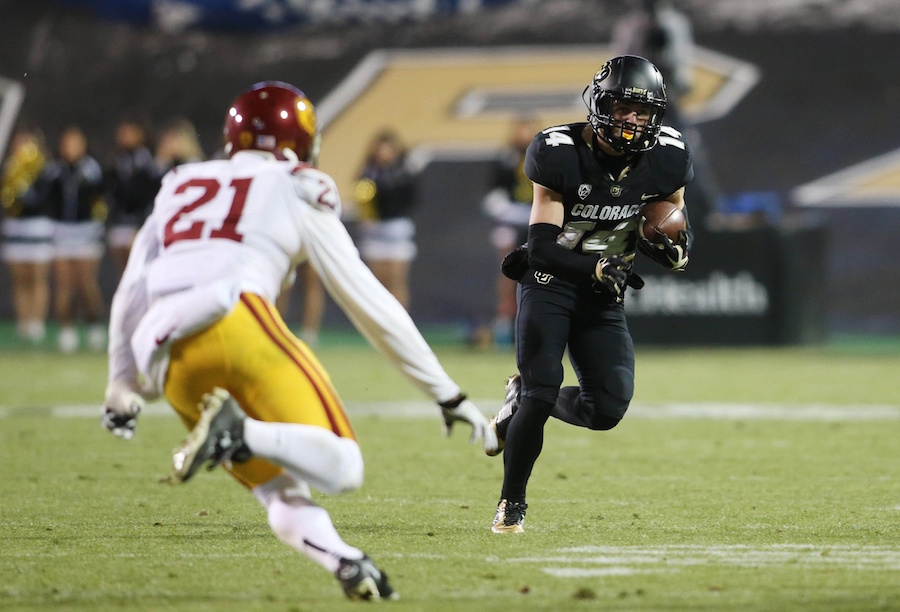 The Colorado Buffaloes are coming off a strong season, even if their record didn't show it.
The Buffs started the season 3-1 before losing to the Oregon Ducks at home, beginning a stretch of eight losses in their last nine games. They ended the year 4-9, 1-8 in the Pac-12.
While they did lose seven times out of eight tries, five of those losses came by a touchdown or less. They battled USC, only losing 24-21. They were minutes away from beating then No. 24 UCLA on the road. The team showed resilience in the last game of the season when they visited Salt Lake City, without their star quarterback, and lost to then No. 23 Utah, 20-14.
Senior quarterback Sefo Liufau – a junior at the time- fractured his left foot in the Nov. 13 loss to USC. Liufau was arguably the Buffs' most important player as they tried to make a bowl for the first time since 2007. His injury made it almost impossible for them to get to six wins – they were at four at the time of his injury- the total needed to receive an invitation to a bowl game.
The Chatter
Mile High Sports Radio hosts Joe Williams, Kent Erickson, and Benny Bash, on The Big Show, discussed the chances the Buffs had at making a bowl game this year.
"I think Mike MacIntyre and Boulder has to find a way to win six games and go to a bowl game or else," said Williams.
"I think you're right, but I hope your not," added Erickson. "I would love to look at their schedule and say there's 11 wins there, but no, if we don't we don't."
Looking at their schedule, it's not an easy one.
The Schedule
CU starts out against intrastate rival CSU in the 88th Rocky Mountain Showdown. Colorado won last year's matchup, but CSU went on to have the better season. The Rams ended 7-6 with a loss in the Arizona Bowl.
After the Showdown the Buffs have a winnable home game against FCS opponent Idaho State. Things get exponentially harder the next week when they travel to face Michigan in Ann Arbor. Unofficial preseason rankings have the Wolverines ranked as high as third in the country.
From there, Colorado begins their Pac-12 Conference slate. They open against the Oregon teams, first against the Ducks in Eugene and then hosting the Beavers. USC is next in Southern California. The Buffs return home for Arizona State, then head back to California for a date with Stanford. A home game against UCLA kicks off November. CU heads to Arizona after that. Colorado will finish the season playing Washington State and Utah at home. Three of their Pac-12 opponents finished in the top-25 last season.
"I don't see six [wins] on this schedule," Bash said.
The Attitude
Williams compared CU to a school's "homecoming game." They play hard, but usually never win, which gives teams all the confidence in the world when they see the Buffaloes on their schedule. It won't necessarily come easy, but a win, in their minds, is inevitable.
"What happens is they play these teams and these teams know they just show up to win," Williams said. "CU fights hard, I'll give 'em that, and I don't see them lie down. They go out there and try hard but they don't have enough good players. You end up getting a false read on them."
For as long as CU fans have been waiting for their team to perform at a high level and actually make some noise in the rugged Pac-12, being "close enough" won't cut it. As a fan, it's downright frustrating. It makes it hard to believe CU is getting any closer to making a difference in the Pac-12.
"It's hard to turn that corner if you don't have good enough players when you're playing in a big five power conference," Williams added.
Williams did give the Buffaloes credit for battling and being "full of emotion," but cautioned a coaching change could be coming if the Buffs can't find their way to six wins.
The Conclusion
"The last thing they need up there is more change," Erickson said. "You have to, at some point, maintain some consistency in what you're trying to do. It does take time, but I'm afraid [MacIntyre] is out of time and he's gotta win. There hasn't been enough time to decide whether he's consistent or not but he's playing with the hand he was dealt with and the best thing they could do is to keep it rolling."
Check out the rest of the podcast below…
Catch The Big Show every weekday from 2-4p on Mile High Sports AM 1340 | FM 104.7 or stream live any time for the best coverage of Colorado sports from Denver's biggest sports talk lineup.