On the brink of elimination, Boston Celtics guard Derrick White made the biggest play of Game 6 during the Eastern Conference Finals, tipping in a missed three-pointer by Marcus Smart right before the buzzer to tie up the series with the Miami Heat.
When White showed the clip to 50 of the kids attending his basketball camp in Parker, Colorado, the room erupted in cheers.
White was born in Parker and, in a sit-down with Mile High Sports, shared why the area means as much to him as it does.
"This is the gym where I played basketball all summer long and all year long, and I work out here," White shared. "My love of the game started in this building here and in the Parker Rec Center. To come back to where it all began is a full-circle moment."
White's camp, the Derrick White Basketball Academy, plays host to roughly 400 kids in the Colorado area at the Parker Fieldhouse, one of the most important buildings in the Parker area as the central hub of youth sports. Thousands of kids in the Parker area (including myself once upon a time) have called the sports facility home. From basketball and hockey to baseball and soccer to football and lacrosse, the Parker Fieldhouse was a great venue for White to return and pay homage to the town where he grew up.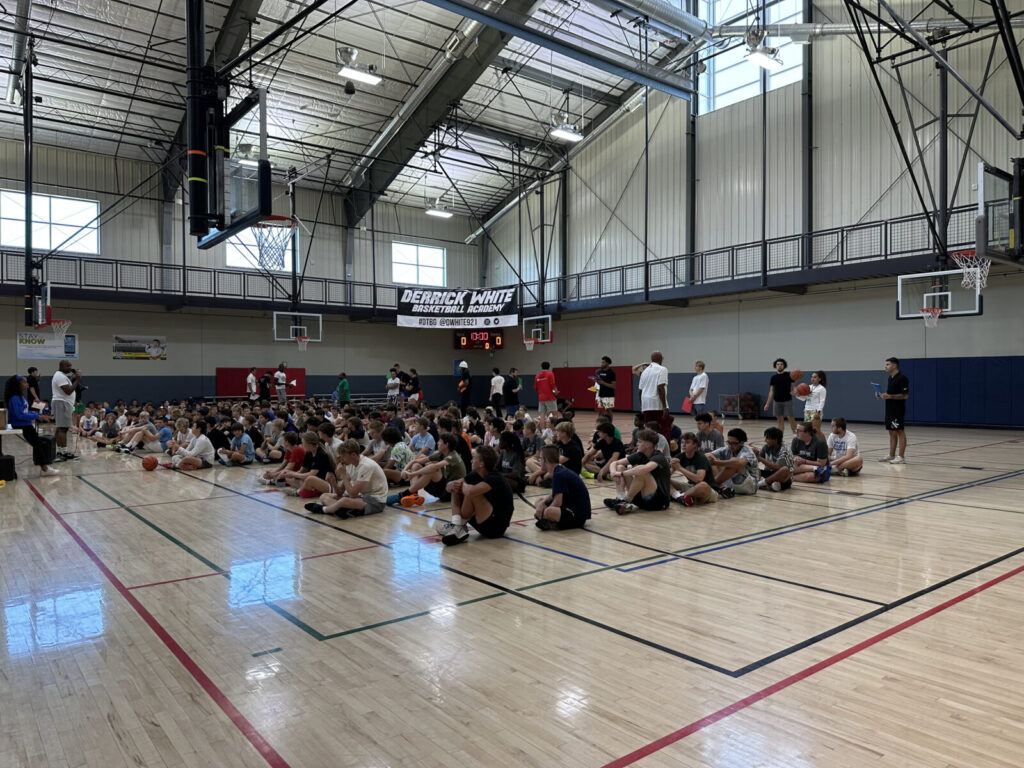 "This is my fourth camp. I didn't do it after my rookie year and in the Covid year," White shared with enthusiasm. "It's been growing each year, and I think we're just trying to make it better and better."
White takes time to sit down with each of the campers when he can. On top of showcasing dribble skills, running drills, and helping out individually, White also offered some Q&A time for each group of kids that attended. In one such session, White answered many questions about his toughest battles in the NBA, favorite moments, and even about specific players.
When one camper asked about incoming San Antonio Spurs rookie Victor Wembanyama and if White was "scared" of the imposing Frenchman, White playfully admonished the camper and said he wouldn't say scared.
Another camper piped in: "Terrified!"
It was a fun, sweet moment that White was able to share with that group. White was also asked about the hardest obstacle he faced on his way to the NBA. To White, it was feeling that he belonged in the league.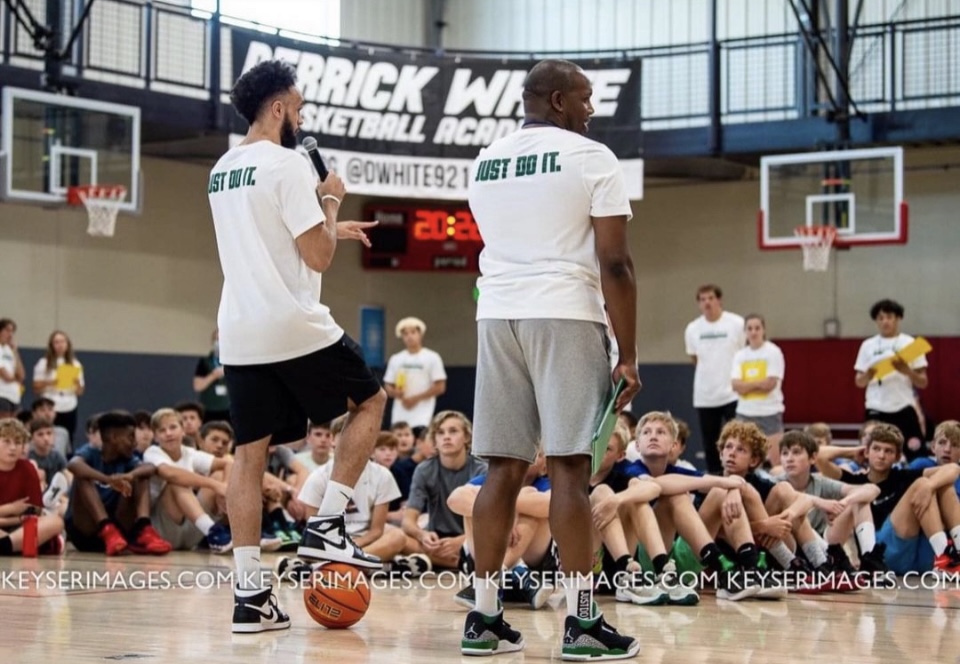 "I wasn't highly recruited. I wasn't in the top 100. I wasn't in any of those big tournaments," White reminisced. "For me, the NBA was so far out that it didn't seem possible."
White knows the road to the NBA remains a difficult path in Colorado. There have been very few NBA players to emerge from the state in recent years. White is doing what he can to give these kids an opportunity, opening them up to a new world of possibilities.
"I just wanted to be here, hang out with the kids, hope they learn something new here from this week and just let them know that it is possible," White declared. "You've just gotta put a lot of work in, gotta believe in yourself. You gotta listen to some great people, and you can do it."
For Colorado campers, Derrick White is a great example of how hard work can lead to success in the NBA. For Derrick White and for many in Colorado, the original example was Park Hill legend Chauncey Billups.
"To see [Billups] come from Colorado, play at Colorado, to have success at the highest level. He's going to be a future Hall-of-Famer here in the next couple of years. You don't really think of Colorado as a basketball state, so to see someone do it from here gives you the confidence that it's possible."
Billups played in the NBA for 17 seasons, and as White mentioned, should be elected to the Hall of Fame in the next few years. Billups is currently the head coach of the Portland Trail Blazers and is one of the premier examples of a Colorado kid making it to the NBA.
White knows what that means and how important it is for kids to believe their dreams can happen.
"For me, I'm from Colorado. I went to UCCS, I went to CU, so I've just been in Colorado my whole life, and my family still lives here. So, this means a lot to me. I'm just trying to carry the legacy that Chauncey started."
In the meantime, White's doing what he can to impart knowledge and experience while having some fun. The interactions with the kids are amazing, and White can see how impact there truly is.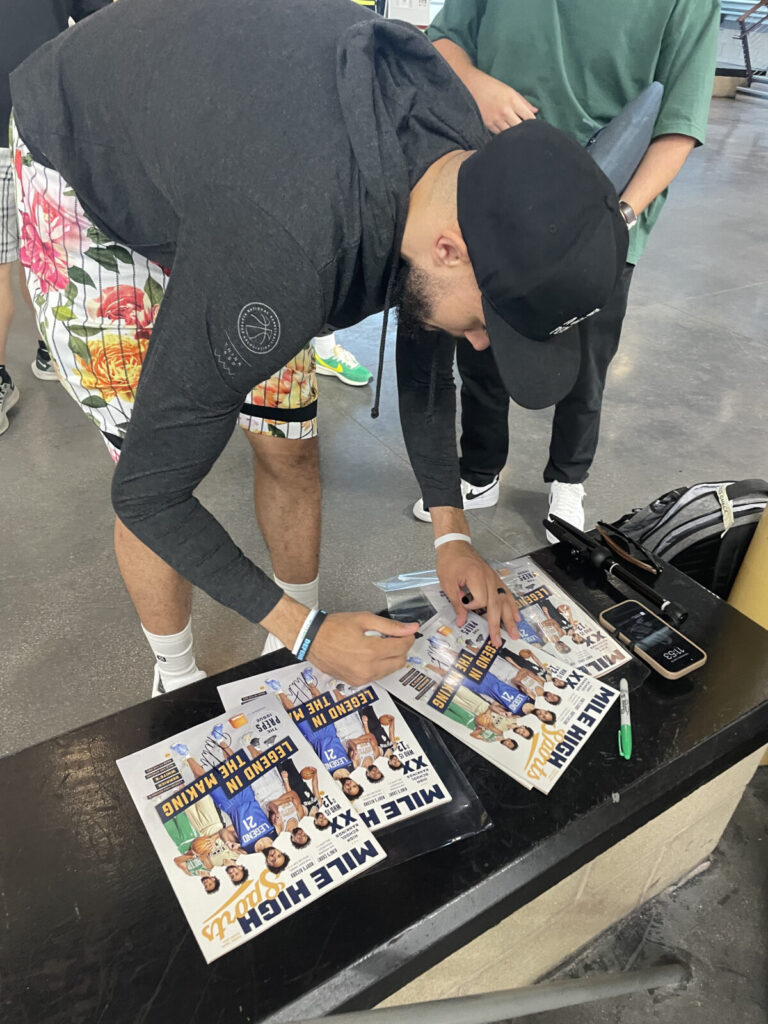 "Probably just seeing the kids' faces. Just seeing them looking up to me like that," White said about the most rewarding aspect of the camp so far. "I've seen some kids here when I was coaching camps, and now they're here [again]. Some kids have been at every single camp."
"It was just really cool to see how they've gotten better, how they've grown and everything. It's just really cool to give back."
With White in the NBA, Billups leaving his legacy, and the Denver Nuggets winning a championship, Colorado appears to be having a bit of a basketball moment. It's been a long time coming for the state, but there's momentum to be had. Nikola Jokić is one of the greatest players in NBA history in his prime playing for the Nuggets, and the state appeared to take some notice with a whopping 750,000 attending the championship parade two couple weeks ago.
White is certainly taking notice.
"Any time the NBA team wins like that is going to elevate [basketball in Colorado] because they play a fun brand to watch. You want to go to their games. You want to watch them."
White continued: "The Nuggets play the right way, and they did what they had to do to win the championship. It's probably great for the state."
White also spoke to me about the Denver Nuggets winning a championship and what it means for Colorado basketball:

"The Nuggets play the right way, and they did what they had to do to win a championship. It's probably great for the state." pic.twitter.com/WeimMRijJf

— Ryan Blackburn (@NBABlackburn) June 28, 2023
While it remains unlikely that White could return home in the near future and play for the Nuggets, that doesn't mean he can't keep elevating the game of basketball in Colorado. White plans to continue running his basketball camp in Parker for the foreseeable future, and that level of commitment to the area is exactly what's needed to find the next Derrick White success story. White wasn't an elite prospect, but he worked hard and committed to the game. White's work ethic helped elevate him to the NBA level, and he's hoping to impart that wisdom to kids in Colorado.
"I'm just trying to carry it as far as I can and trust that there will be somebody after me."