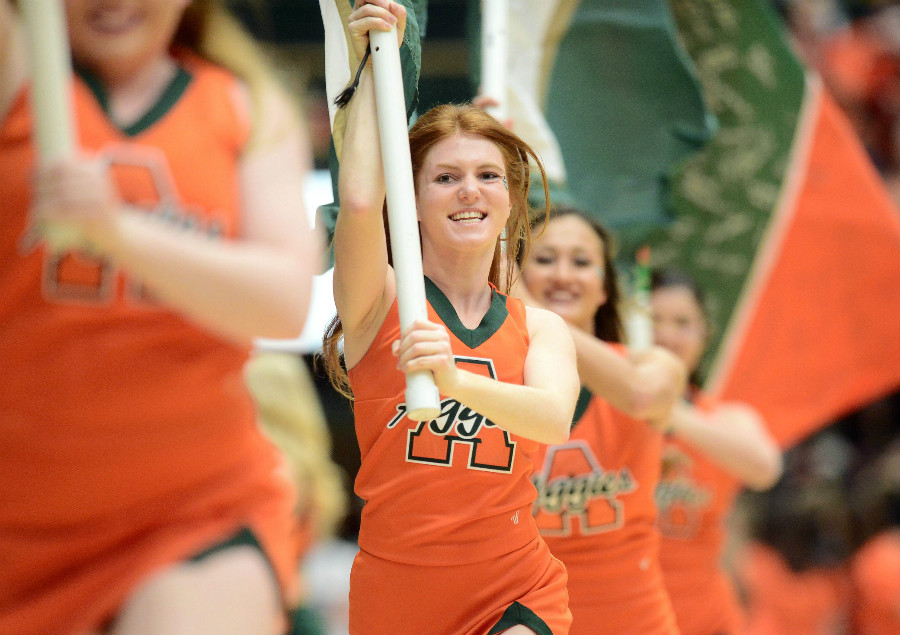 The Colorado State Rams returned from Las Vegas with a Mountain West Conference Championship trophy in hand, but that's only the beginning.
With the postseason nearing, Colorado is looking to for the CSU women's basketball team to be this year's "Cinderella Team."
The first question to think about is: What makes a good tournament team?
March Madness is known for coming down to the last play. A team that knows how to work until the last second, make free throws, limit turnovers, and be defensively sound is the type of team that can go deep in the tourney. Experience and a deep bench can go a long way, too. A player who has been around the block and is ready for the pressure of March Madness is always a valuable asset.
The Rams have proven to be all that and more this season.
CSU leads the Mountain West in almost every single statistical category. The most important, though, especially during tournament time, is scoring defense and turnover margin.
In the end, though, it's the stars that make the difference, and the Rams have plenty.
Jamie Patrick has been playing like a senior should. She is the coach on the floor; when the team is struggling, they look to Patrick to pick them back up. Even against a defense designed to shut her down, Patrick will still find her shot, and she is clutch.
Keyora Wharry can play any position. When she is on the court, she will get buckets. Off the dribble, Wharry can take on any player. With seniors playing like this, Colorado State is sure to be competitive in every game, no matter their opponent's seed. So many of the upsets we have come accustomed to seeing are because young teams lack composure, or go in too cocky against teams with something to prove. All season, these seniors have played with a fire in their hearts.
These girls know they're good, and now it's about showing the world how good.
Defensively, Ellen Nystrom is leading the team, and the conference. She has such a high basketball IQ that she knows what her opponent is going to do before they do. Defense is such an important part of basketball come tournament time, and Nystrom gives the Rams an advantage over just about anyone.
Not to mention, she embodies something very rare to basketball today: She is a true point guard. Throughout college and professional basketball, we are seeing so many scoring point guards. A scoring point guard is simply a two-guard with less size and good handles. A true point guard is a teammate who knows what the team needs, who knows her role.
Much like the great Becky Hammon, Nystrom looks to score when her team needs a bucket, but more often than not, she's looking to get someone a shot. The way Nystrom plays, it would seem as if she has eyes on the back of her head. Her court awareness is spectacular.
And with a good pointguard, teams do better in the tournament. Instead of having someone who is thirsty for their next bucket, Colorado State has someone thirsty to get her team the win. She will do what's best for the team in every situation, whether it be in the first quarter or double overtime.
As much as this time of year is about talent, though, it is even more a strong mental makeup. The Rams must keep their composure and keep their heads. March Madness is the time in which the team who makes the least amount of mental mistakes wins. All season, coach has said that the team is 1-0 after each win and that they'll be 0-0 tomorrow. It is that mentality that has led the Rams through their record-breaking season and will continue through the rest of March.
If there's anything the Rams can improve upon, though, it's their free throws. Colorado State has got to capitalize off of every opportunity they get at the line in a way they have not all season. The top 50 free throw shooters in the nation are shooting upwards of 84 percent on the year. If Colorado State could shoot a mere 75 percent through the tournament, they would be very well off.
And an improvement on the offensive glass would be huge, too. Defensively, the Ram are out rebounding teams easily, but on the offensive end, they're too often relying on their first shot to go in. If they can crash the board and get some easy second chance points, they can turn the whole tournament on its head.
When filling out your bracket this week, keep in mind the basics to a good bracket:
Take into account a program's history and their success over the years
Find the team with high percentages in the areas we discussed (freethrows, limiting turnovers, scoring defense and composure in high pressure situations)
Locate the underdog; this is often the team with the best percentages, but is under-ranked
Colorado State University is the perfect bracket buster this year, and luckily being from Colorado, many natives will have the upper hand in their brackets with this Cinderella pick.