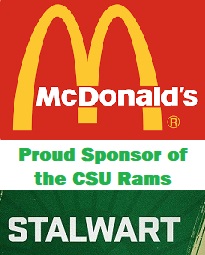 Can the Colorado State Rams make it back to a bowl game this year?
They're halfway there, with an overall record of 3-4 on the season and five games to go.
And if the Rams do, indeed make a bowl game, it would be the first time in six seasons. Mike Bobo's 2017 Rams went 7-6 on the season, including a New Mexico Bowl loss to Marshall, 31-28.
This year, Jay Norvell's Air Raid offense has really taken off. And that has a lot to do with him making the change from Clay Millen to Brayden Fowler-Nicolosi at quarterback.
The redshirt freshman Fowler-Nicolosi has been white-hot when he's on. On the year, he's thrown for 2,179 yards and 15 touchdowns, but also turned the ball over too many times, with 11 interceptions. Seven of those picks came in losses, highlighting his need to take care of the pigskin.
He's lucky to have some of the most talented receivers in the nation, though, in Tory Horton and tight end Dallin Holker. Horton's 738 receiving yards are ninth-best in the nation, while Holker leads basically every stat category for tight ends.
National Rankings Watch…@D_HOLKER (all vs. TEs)
» 𝗡𝗼. 𝟭 – Receiving Yds./Gm
» 𝗡𝗼. 𝟭 – Receptions/Gm
» 𝗡𝗼. 𝟭 – Receptions
» 𝗡𝗼. 𝟭 – Receiving Yds.
» 𝗡𝗼. 𝟭 – Majestic Hair
» 𝗡𝗼. 𝟭 – Contested Catches
» 𝗡𝗼. 𝟮 – Yds. After Catch
» 𝗡𝗼. 𝟮 – Receiving TDs pic.twitter.com/EGnqtzkD9h

— Colorado State Stats and Info (@CSUStatsInfo) October 23, 2023
Offensively, the Rams are 54th in the country at 29.9 points per game, a far cry from their 13.2 PPG last season.
Defensively, Colorado State has some growing to do. The Rams 33.6 points per game allowed are 119th in the nation. But, it should be noted that UNLV, Utah State and Colorado are all in the top-26 offensively.
And Norvell's team faces another strong offensive team in the Air Force Falcons and their triple option this week. Air Force's 34.1 PPG are 28th-best, while they're No. 1 in rushing with 306 yards per game and 24 scores.
Still, optimism is high on the Rams nationally, as multiple outlets have CSU making a bowl game this year.
Colorado State to the New Mexico Bowl?
Action Network has CSU in the New Mexico Bowl against the New Mexico State Aggies on Dec. 16 in Albuquerque.
Rams fans are no strangers to the New Mexico Bowl, playing there in 2017, the magical 2013 game with Jim McElwain as head coach, and also in 2008 under Steve Fairchild.
New Mexico State is already bowl eligible, at 6-3 on the year in Conference USA. They have a strong defense which allows a mere 21.4 points per game while their offense is about as good as CSU's (29.4 PPG). Action Network gives NMSU a -1.5 advantage in the hypothetical game.
Rams to Idaho Potato Bowl?
CBS Sports is projecting Colorado State to the Famous Idaho Potato Bowl against Bowling Green. That game is set for Dec. 23 with a 1:30 p.m. MDT kickoff.
The Bowling Green State Falcons are currently 4-4 on the year in the Mid-American Conference. Their biggest win so far has been a 38-27 victory over Georgia Tech of the ACC.
The last time CSU played in the Idaho Potato Bowl was against Idaho in 2018, a wild 61-50 loss on an ice skating rink of a field.
Colorado State to Arizona?
Or, could the Rams play in the Arizona Bowl? FOX Sports projects CSU against Miami-Ohio in the much warmer Tucson, Arizona. That game is scheduled for Dec. 30, with a 2:30 p.m. MDT kick.
The Miami-Ohio Redhawks are currently 6-2 on the season and seemingly the best potential opponent for Colorado State on this list. Their defense is 28th (19.4 PPGA) while they can put up 29.8 points offensively per contest.
Again, the Rams played in the inagural Arizona under Mike Bobo back in 2015, a narrow 28-23 loss to Nevada.
If Colorado State wants to make a bowl, they've got to win at least three more games.
This week will be really difficult, against 7-0 Air Force, even if it is State Pride jerseys weekend.
The Rams are then at Wyoming (5-2), home for San Diego State (3-5) and Nevada (1-6), and then at Hawaii (2-6) to end the year. Those last three games are certainly winnable, and in the Border War, anything can happen.