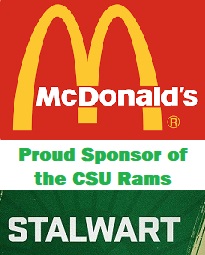 In his second season as Colorado State's head coach, Jay Norvell's Rams are starting to build high expectations.
The Rams kickoff their season this Saturday—Sept. 2, at 5 p.m. MT at Canvas Stadium—against the Washington State Cougars of the Pac-12. And some believe the Cougars should be on upset alert, but more on that below.
Colorado State has struggled through five straight losing seasons, including Norvell's first in Fort Collins, which resulted in a 3-9 record. However, momentum is building around the Rams both locally and nationally, as well as their roster, which is loaded with talent.
In fact, CSU was included in the 10 teams expected to bounce back this year on Yahoo Sports!
The review of the Rams is brutally honest but fair, and look at that final sentence about the Rocky Mountain Showdown:
Jay Norvell's first season in Fort Collins was ugly. The Rams had one of the worst offenses in college football and failed to score more than 19 points in a single game all season.

But there's a lot of reason for optimism here. Nevada was 3-9 in Norvell's first season with the Wolf Pack and made a five-game leap in year two. There could be a similar leap forward in Fort Collins. Clay Millen is back at quarterback after completing over 70% of his passes in 10 games, and the team added former North Dakota State RB Kobe Johnson in the transfer portal. Johnson rushed for nearly 2,600 yards in his career at NDSU. Tory Horton was by far CSU's best receiver in 2022 after following Norvell from Nevada and he's back too.

Just having an average offense will be a big step forward for the Rams. Getting improved offensive line play will be key. Don't be surprised if CSU hangs with Colorado in Week 2.
Simply, it's crucial to get off to a hot start in college football, where the seasons are only 12 games. Norvell's offense was awful last year, scoring 13.2 points per game, but what he did was address the struggling O-line and give Millen more playmakers, too.
Tory Horton will be the team's star on offense, but there's a possibility Kobe Johnson pushes Horton for the starring role. Then there's Dallin Holker, the pass-catching threat at tight end, and transfer receiver Dylan Goffney should help, too.
Speaking of the O-line, Norvell's praised their progress in the lead up to kickoff saying, "I think we'll be a much more physical team this year on offense. I love the guys we got up front. They're just kinda old-school, kinda dirtbag linemen. They're tough guys and they're CSU guys."
Defensively, Mo Kamara is an elite pass rusher who stacked up 8.5 sacks last year, and Jack Howell is the all-conference safety who led the nation in tackles for a defensive back in 2022.
"I think we're going to have one of the best defenses in the Mountain West Conference," Novell proclaimed on Altitude Sports Radio.
Besides Howell and Kamara, Chigoze Anuseim was a shutdown cornerback last year, allowing only 22 receptions while defending nine passes.
What's a reasonable record for the Rams in 2023?
Can the Rams go from 3-9 to 8-4 this year, a five-game leap like what Norvell did from year one to year two in Nevada? That would be a massive bounce back.
Their schedule is as follows, home in bold:
Washington State, Sept. 2, 5 p.m. MT
Bye week
At Colorado, Sept. 16, 8 p.m. MT
At Middle Tennessee, Sept. 23, 5 p.m. MT
Utah Tech (Ag Day), Sept 30, 5 p.m. MT
At Utah State, Oct. 7, 6 p.m. MT
Boise State (Homecoming), Oct. 14, TBD
At UNLV, Oct. 21, 5 p.m. MT
Air Force, Oct 28, 5 p.m. MT
At Wyoming, Nov. 3, 6 p.m. MT
SDSU, Nov. 11, 5 p.m. MT
Nevada, Nov. 18, 1 p.m. MT
At Hawaii, Nov. 25, 10 p.m. MT
After a quick glance and a complete guess, the Rams could be sitting at 6-4 with two toss-up games against Utah State and Wyoming.
That leaves 8-4 as a possibility for Colorado State, but earning that big a turnaround would likely mean just about everything would have to go right for the Rams. 6-6 is more likely, and not only would that still be a big-time bounce back for Norvell and Co. but it would mean the team's first bowl game appearance in six years.
Can Colorado State get off to a great start and upset Washington State?
Simply, every team wants to start the season off with a win, and CSU is no different.
The Rams defense will be tested, though, as WSU's multi-dimensional threats on offense all return from last year.
Quarterback Cameron Ward threw for 3,232 yards with 23 touchdowns and 9 interceptions last year, and he was the team's second-best goal line runner with five touchdown carries. Nakia Watson returns for his senior season, and he ran for a team-leading 769 yards and 9 touchdowns in 2022. He also caught balls for 296 yards and four more scores.
Finally, the Cougars' leading receiver, De'Zhuan Stribling is also back for his junior year. Last season he led the team with 602 receiving yards and 5 touchdowns through the air.
The Cougars went 7-6 last year and averaged 26.1 points per game on offense.
Defensively, Jaden Hicks and Sam Lockett III are dynamic defensive backs which combined for four interceptions last year. It'll be interesting to see which one has the job of covering Horton when the Rams are on offense. Also of note, Brennan Jackson led the team with 6.0 sacks and 12 TFLs last season, and he's back to face the Rams revamped offensive line.
Still, even with all those returning starters, Big Game Boomer has put Washington State on upset alert:
🚨Teams On Serious Upset Alert This Week🚨 pic.twitter.com/zfDLTWkM6M

— Big Game Boomer (@BigGameBoomer) August 29, 2023
Defensively, the Rams will have their hands full, but on paper, Colorado State has the advantage when WSU has the ball.
The true test will come when Norvell's Air Raid offense is on the field. Can CSU effectively move the ball and ultimately score much better this season? If not, Colorado State will be looking at a Week 1 loss heading into the bye.
Conversely, if the Rams can dramatically improve offensively from the jump, they could defeat the Cougars and feel great going into the bye with the Rocky Mountain Showdown in Boulder in Week 3.