There were no last-second heroics needed on Monday night. No extra time was necessary to secure the first-ever Kelly Cup Championship in Colorado Eagles history. By the standards of the series up that point, the Eagles 2-1 victory in Game 4 at North Charleston Coliseum might have seemed anti-climactic. Yet, it was anything but – and a Colorado kid delivered the game-winning goal.
Casey Pierro-Zabotel put the Eagles on the board first at the 17:10 mark of the opening period on a power play goal with assists from Shawn St-Amant and Matt Register. It's no surprise St-Amant and Register were in on the play, the two combined for 39 points in the Kelly Cup Playoffs. Register had two crucial goals in the Finals, the game-winner in overtime in Game 1 and a crucial game-tying goal in the final minute of regulation on Sunday in Game 3. His helper was the final point of the playoffs for the ECHL Defensive Player of the Year, 24 in total.
Pierro-Zabotel and St-Amant weren't finished. They would provide assistance on the game-winning goal in the second period.
<div class="s2nPlayer-i2C5syqL1l-306150-7121″ data-type="single"></div><script type="text/javascript" src="http://embed.sendtonews.com/player2/embedcode.php?SC=i2C5syqL1l-306150-7121&autoplay=off&sound=click" data-type="s2nScript"></script>
South Carolina wouldn't let Colorado skate away entirely with ease. Just 35 seconds after Pierro-Zabotel's goal, the Stingrays would answer with an equalizer. Derek Arnold notched his third goal of the playoffs to send the two teams to the locker room tied at intermission.
Colorado wasted little time coming out of the break. Luke Salazar, a native of Thornton, Colo. just 30 minutes south of Windsor where the Eagles call home, beat Parker Milner to give the Eagles a 2-1 lead. Pierro-Zabotel and St-Amant had assists on the goal.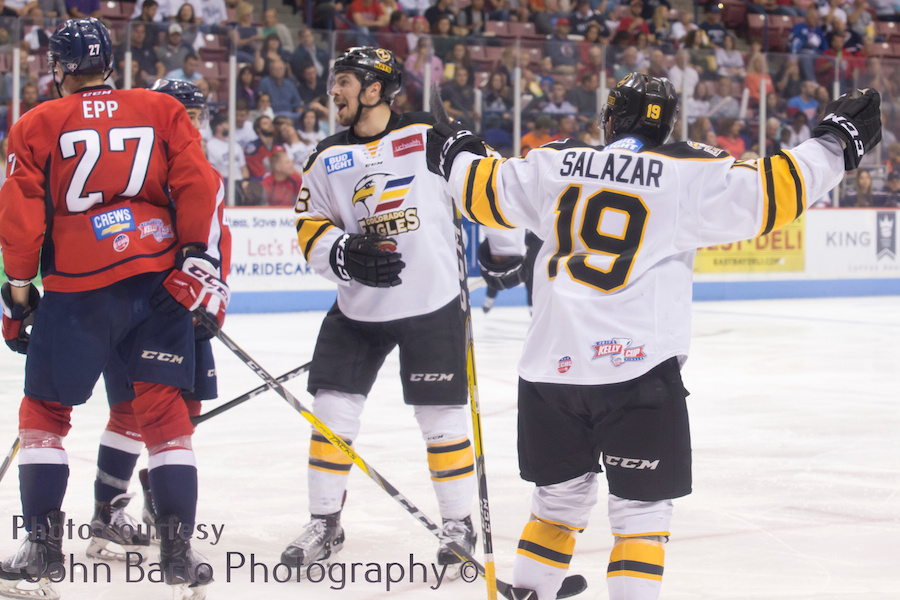 Salazar was Colorado's second-leading goal-scorer during the regular season. In his first year with the Eagles, he totaled 77 points – 30 on goals. He was a star at DU before spending four years playing abroad. While with the Pioneers, Salazar generated 88 points in 140 games, including a career-high 30 points in 42 games during his senior season.
Colorado peppered Milner with 22 shots in the first period and 44 in the game. Eagles goaltender Lukas Hafner stopped 25 to earn the victory. The Stingrays were 0-for-3 on the power play.
Featured Image Credit: Standout Imagery, Colorado Eagles