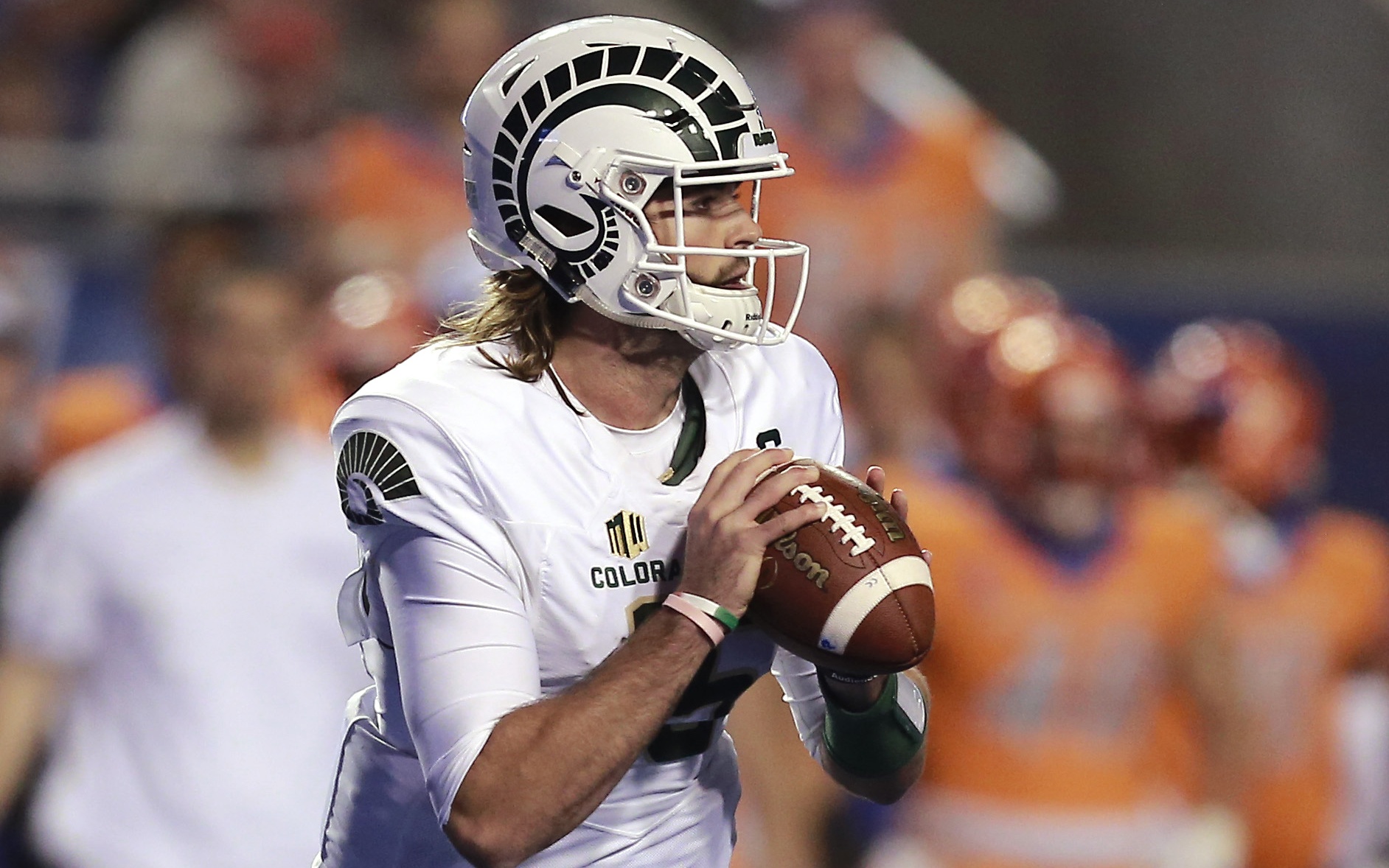 Though the Colorado State Rams have current tasks at hand — the Border War this Friday — it's time to permanently set those aside and focus on what lies ahead.
In other words, it's in the program's best interest for head coach Mike Bobo to wave the white flag and start playing for next season. As Bobo has said in recent weeks, "We're a bad team," and there's little hope they can solve enough issues to contend down the stretch.
Sure, CSU's recent back-to-back victories over Mountain West basement-dwellers San Jose State and New Mexico made it somewhat possible for the Rams to reach their sixth consecutive bowl game. At least from a mathematical standpoint.
But, let's be honest, those wins meant virtually nothing. Even if the Rams pulverized both the Spartans and Lobos, one wouldn't be able to confidently point to those games as signs of major improvements.
SJSU and UNM are bad, really bad. Despite that, each team nearly came up with a victory over CSU.
Boise State's trouncing of the Rams really puts Mike Bobo's team's regression into perspective.
The Broncos are at an elite level compared to CSU. But, is Boise State really better than it was last season? Arguably not. The Broncos finished 10-3 after notching a Las Vegas Bowl victory over Oregon in 2017. With the win over Colorado State, the Broncos improved to 4-2 this year, meaning they'd have to win-out to match last year's record.
With that being said, the Rams were just-this-close to defeating Boise State for the first time in 2017, but a devastating, late collapse got in the way.
Last season, we saw a CSU team that went toe-to-toe with Boise State before losing a 59-52 overtime shootout. This season, fans witnessed a Rams team that never had a realistic shot of beating the Broncos after the first 10 or so minutes of the game, as it became a 21-0 drubbing in the first quarter.
Getting doubled-up by the Broncos essentially put the nail in CSU's coffin. The Rams would need to win three of their final four games to become bowl eligible, which is highly unlikely.
I'm not saying CSU should roll over and mark off the days until spring football. However, it is critical to the program's future that Bobo jumps the gun on issues that will need to be resolved in 2019.
I truly feel empathetic for quarterback K.J. Carta-Samuels. By no means has the graduate transfer been great. Although, considering this is his first ever starting gig, I'd give his overall performance this season a solid C grade.
The Rams haven't been a C-level team, though, more like a D-minus. Carta-Samuels has played well enough for his team to be better than 3-5, which is why we need to cut him some slack.
Still, this 2018 season is a lost cause and Carta-Samuels will be a thing of the past when CSU finally has a clean slate again. The quarterback has every reason to be frustrated. Business is business, though.
Collin Hill is Colorado State's quarterback of the future. From here on out, he should be behind center. There is no better time for Hill to work out the kinks than in the midst of a failed season.
In order to prove that the 2018 season was a fluke, and not the beginning of a trend, Hill needs to be at his best in 2019. Fans won't want to see Hill sort things out when games actually hold meaning again, so Bobo needs to allow him to do so with meaningless football on the agenda.
During last week's loss to Boise State, Hill got to play the entire fourth quarter and looked his best all season long, going 12-14 for 135 yards and a touchdown. He's ready to play and deserves to get into a groove as this season winds down.
While he's at it, Bobo should give more snaps to all players who will be relied on to help this program in the future. Take Marcus McElroy for starters.
The sophomore accumulated 33 yards on only five carries against SJSU three weeks ago. Since then, the running back has only touched the ball twice. McElroy is currently averaging 4.4 yards per carry, which is solid, while he's proving to be a deft receiver from the backfield as well.
It's not as if Izzy Matthews is considerably more effective than McElroy either. Matthews has been hot lately, but for the most part, he's proven that he doesn't possess the necessary skill set to be a feature back.
Identical to the quarterback situation, McElroy has two full seasons remaining while Matthews will be out the door once this year is concluded.
Shifting his focus from the present to the future will be difficult for Bobo. I don't imagine the head coach will solely roll with Hill, McElroy and other future prospects against Wyoming in the Border War.
I'm sure Bobo would love to rid his reputation of constantly losing rivalry games. So, he'll probably continue to lean on Carta-Samuels, Matthews and the players who are most likely to help this team succeed right now.
It would take some guts to choose otherwise, but that doesn't mean it isn't in the wise option.
The sooner the Rams accept that the 2018 season is over and start playing for 2019, the better chance the team has of winning in 2019.