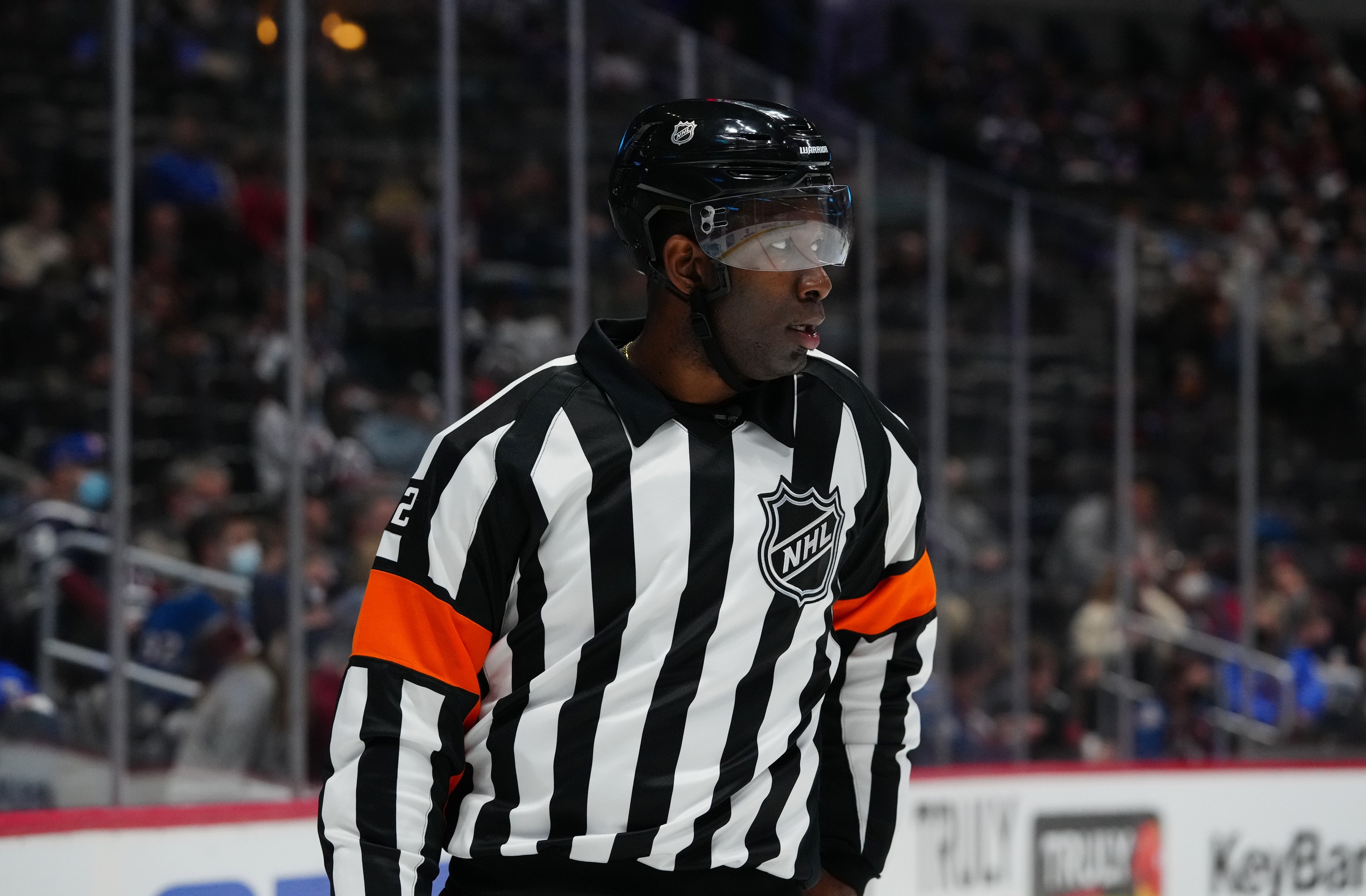 There was a new face refereeing Thursday's Avalanche preseason home opener against the Minnesota Wild. And it was easily my favorite performance of the night. And it's not even close.
The NHL and the American Hockey League announced their 2021-22 officiating roster last week and one notable name is African-American Jordan-Samuels Thomas. He was hired part-time as an AHL referee in March and received an NHL contract for this season.
Samuels-Thomas, 31, likely won't ref any regular-season games this year, but he's well on his way toward making it full-time in the NHL. Refs, like players, develop in the minors before getting called up to the big leagues. He did however officiate the Avs-Wild game — giving him more of a taste of NHL action. This was his third preseason game.
Samuels-Thomas, a native of West Hartford, Connecticut, is only two years removed from his playing career in the AHL. He played junior hockey with the United States Hockey League's Waterloo Black Hawks. After getting drafted into the NHL, he played four years of college hockey at Bowling Green and Quinnipiac. During his four years, Samuels-Thomas played 148 games, registering 50 goals and 104 points. He also had 162 penalty minutes.
Samuels-Thomas was drafted 203rd overall by the Atlanta Thrashers in 2009. He never appeared in an NHL game but he was a staple in the AHL for multiple years. Samuels-Thomas scored 28 goals and had 56 points in 195 AHL games.
Samuels-Thomas began to chase his newfound NHL dream shortly after his retirement from playing. Thursday brought him one step closer to seeing his dream come to life.
Samuels-Thomas could become the first full-time black referee in NHL history.
Jay Sharrers, a former black NHL linesman with more than a thousand games of experience, tried his hand in reffing. He wore the stripe for nearly a hundred games on a part-time basis.
The NHL also employs Shandor Alphonso, who is the only current black full-time NHL on-ice official. Like Sharrers, Alphonso is also a linesman.
Hockey needs more of these stories. Only then would hockey truly be for everyone.
Kudos, Samuels-Thomas.
Jordan Samuels-Thomas was nice enough to recreate the photo. Heck of a dude. Rooting for him in his new career. https://t.co/1K4O75k1t0 pic.twitter.com/WQZlih9lTf

— Aarif Deen (@runwriteAarif) October 1, 2021
__
Aarif Deen is our Colorado Avalanche beat reporter. He covers Avs games live from Ball Arena and attends practices, media availabilities and other events pertaining to the Avs on the daily beat. He is also a co-host of Hockey Mountain High: Your go-to Avalanche Podcast. Deen joined Mile High Sports upon completion of his bachelor's degree in journalism and master's in business administration from the University of Michigan – Dearborn. Before Mile High Sports, Deen worked for the Michigan Wolverines Athletics Department as the assistant sports information director.
Follow him on Twitter @runwriteAarif
Listen to "The One With Greg Wyshynski" on Spreaker.