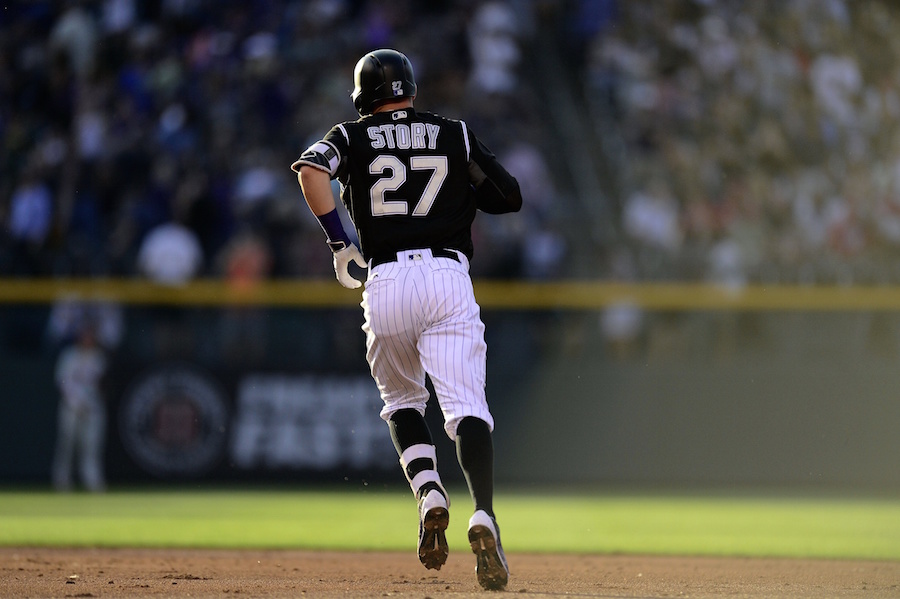 The trading away of Troy Tulowitzki in 2015 left the Colorado Rockies with some big shoes to fill at shortstop and sent the franchise into full-on rebuild mode. The five-time All-Star was on his way to Toronto and his 1,165 hits, 188 home runs, 657 RBI with the Rockies had cemented himself as a fan favorite and one of the franchises all-time greats.
OFFICIAL: The @Rockies have traded SS Troy Tulowitzki and RHP LaTroy Hawkins to the Toronto Blue Jays. pic.twitter.com/sKj0kybr1a

— Colorado Rockies (@Rockies) July 28, 2015
From 2009-2015, the Santa Clara, CA native finished fifth in MVP voting twice and averaged a 4.8 WAR while topping 6.0 twice. Tulowitzki also became a two-time Silver Slugger Award winner (2010, 2011) and a two-time Gold Glove Award winner (2010, 2011) with Colorado.
Tulo steps into the batter's box to a standing ovation, followed by a chorus of cheers. Nice moment! pic.twitter.com/FkbDAbF6Qj

— Colorado Rockies (@Rockies) June 28, 2016
The "clap-clap, clap-clap-clap Tulo!" chant once so popular at Coors Field that it now seems like a distant memory while #StoryTime has only just begun.
Rockies shortstop Trevor Story has created waves across Major League Baseball since his debut with Colorado in 2016 and has quickly become a fan favorite in the Mile High City. Both Story and Tulowitzki have enjoyed great success at the plate in Colorado and the Rockies have been left in good hands since Tulowitzki's departure.
But, to see how similar the two are is incredible. Let's take a deeper look.
Rookie Seasons:
Troy Tulowitzki (2007)
(177 H, 609 AB, 24 HR, 99 RBI, 57 BB, 130 SO, .291 BA, .359 OBP, .479 SLG, .838 OPS, Fld% .987, 6.8 WAR)
Tulowitzki led all National League rookie shortstops in home runs, RBI, hits, runs (104), walks, and doubles (33).
Trevor Story (2016)
(101 H, 372 AB, 27 HR, 72 RBI, 35 BB, 130 SO, .272 BA, .341 OBP, .567 SLG, .909 OPS, .977 Fld%, 3.2 WAR)
Story won the National League Player of the Week Award for the first week of the season. And with ten home runs in April, Story tied the MLB rookie record and won the National League Rookie of the Month Award.
First Career All-Star Game Appearances: 
Troy Tulowitzki (2010 First Half)
(72 H, 235 AB, 9 HR, 34 RBI, 25 BB, 40 SO, .306 BA, .369 OBP, .494 SLG, .863 OPS, 2.1 WAR)
Trevor Story (2018 First Half)
(107 H, 366 AB, 20 HR, 68 RBI, 31 BB, 102 SO, .292 BA, .353 OBP, .557 SLG, .910 OPS, 3.0 WAR)
⭐️ #STORYTIME: ASG EDITON ⭐️

Congratulations to Trevor Story on his 1st career All-Star honor, voted on by his fellow players! pic.twitter.com/XNmqeF30lY

— Colorado Rockies (@Rockies) July 8, 2018
Story is having a monster season for Colorado and is on pace to set career highs in home runs (33), RBI (114), and batting average (.283). The Irving, TX native was able to make an impact in the All-Star Game on Tuesday night as well, becoming just the third Rockies hitter ever to hit a home run in an All-Star Game (Matt Holliday 2008, Todd Helton 2003).
Gather 'round boys and girls, it's #StoryTime!#AllStarGame pic.twitter.com/YlI9gkQNCx

— Colorado Rockies (@Rockies) July 18, 2018
Tulowitzki is the best shortstop in franchise history of the Rockies but Story may not be far behind him. If Story continues to produce like he is in 2018, five years from now it may not be a discussion anymore on who is the best shortstop in Colorado history.