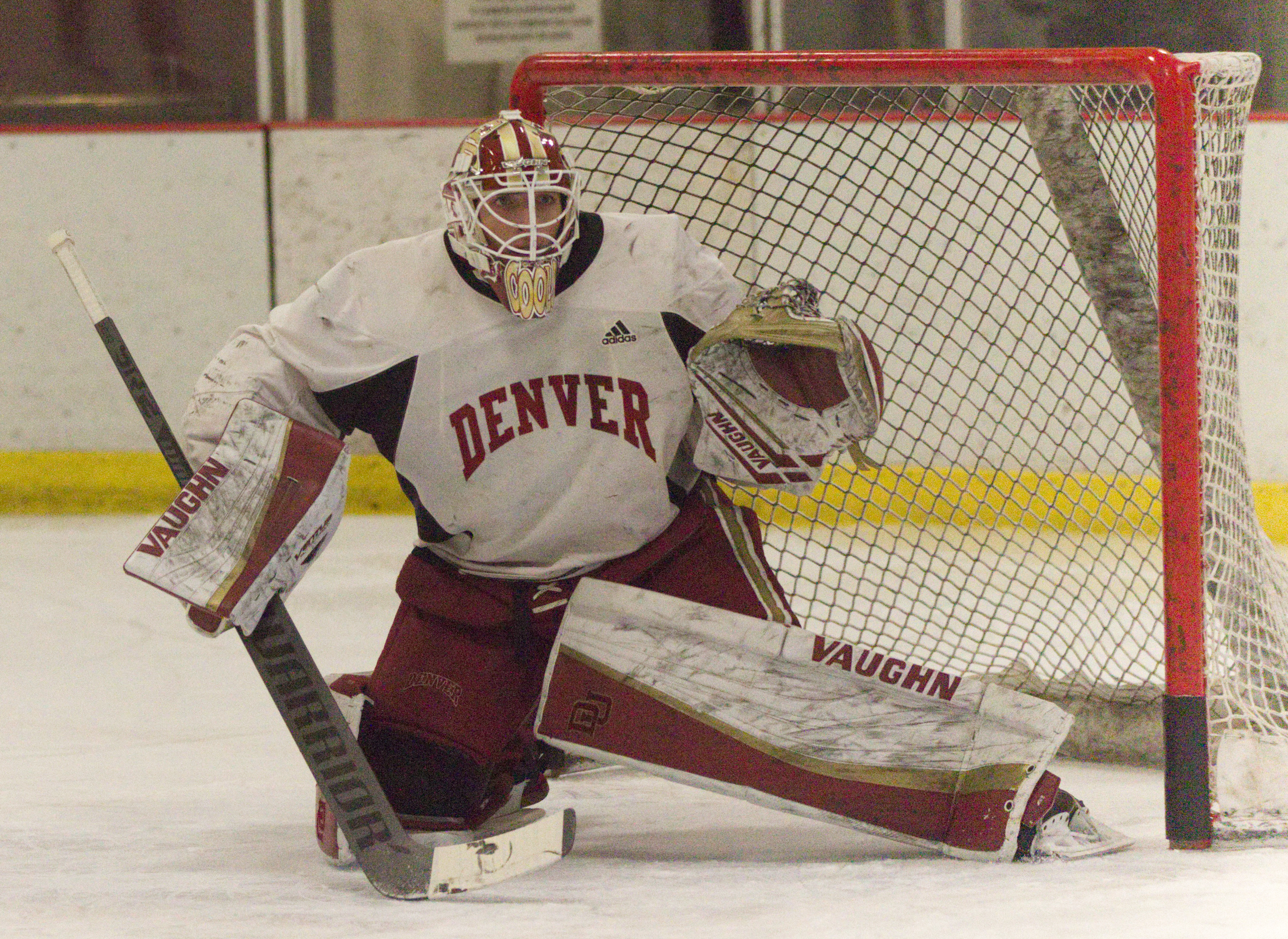 With college hockey's regular season winding down, the youthful No. 7 Denver Pioneers have been able to find a reliable goaltending play from sophomore Devin Cooley and freshman Filip Larsson.
Fresh off of being announced as the NCHC Goalie of the Week, Cooley continues to enjoy a strong season for himself. He earned that award for his performance last Saturday in the Pioneers 1-0 shutout victory over No. 4 Minnesota Duluth, and Cooley currently sit in third place in the NCAA with a .934 save percentage and is eighth in the NCAA with a 1.93 goals against average.
"Honestly for me, it's not that big of a deal," Cooley said. "We only had four teams playing so that is four out of five teams maybe, and I only played one weekend. The award doesn't mean that much. But it is a better feeling to be able to help my team come away with a win knowing that I did everything I could to make sure that we are winning because these points at this time of the year are very important."
After playing only three games in his freshman season with the Pios, Cooley has truly utilized an opportunity to prove himself this season following the departure of former DU goaltender Tanner Jaillet.
"I would stay just being a student of the game," Cooley said about his largest improvement from last season to this season. "Just knowing exactly what I am going to do in specific situations, studying the team, studying the film. Studying my old film and finding my own mistakes, whether it led to a goal or not and doing everything that I can to fix that."
"Overall, I am just feeling a lot more comfortable and confident because I know for certain plays that I am going to make the save every time," Cooley explained. "I know exactly what I need to do so I am not wasting any time thinking, but just playing the game."
Despite missing the first 11 games due to injury, Larsson has not missed a beat this season as the Detroit Red Wings prospect holds an impressive 7-3-3 record, with a .923 save percentage and 2.29 goals against average.
"I pretty much just let it run its course," Cooley said of his advice to Larsson. "I saw him come back and in the first couple of practices since he came back it seemed as if he wasn't even gone. He is that talented, and he is good. So for him I kind of just let him do his thing. I would tell him, 'Good luck,' and to stay calm and do your thing and he has done a pretty good job at that so far."
Naturally, with both goaltenders playing strong hockey, they are bound to get high praise from Pioneers head coach David Carle, who is in his first year as Denver University's head coach this season.
"Both have been phenomenal for us, and both have been able to grab the ball when the other has been hurt and been able to step right in and be really good for us to give us a chance to win every night," Carle said of his dynamic duo of goalies. "We are really proud of both of them and we feel comfortable with both of them in net."
With seven games remaining in the regular season, the Pioneers will get back to work when they host the Miami Redhawks (10-16-4) this Friday and Saturday at Magness Arena with opening faceoff scheduled for 7:07 p.m. MT.