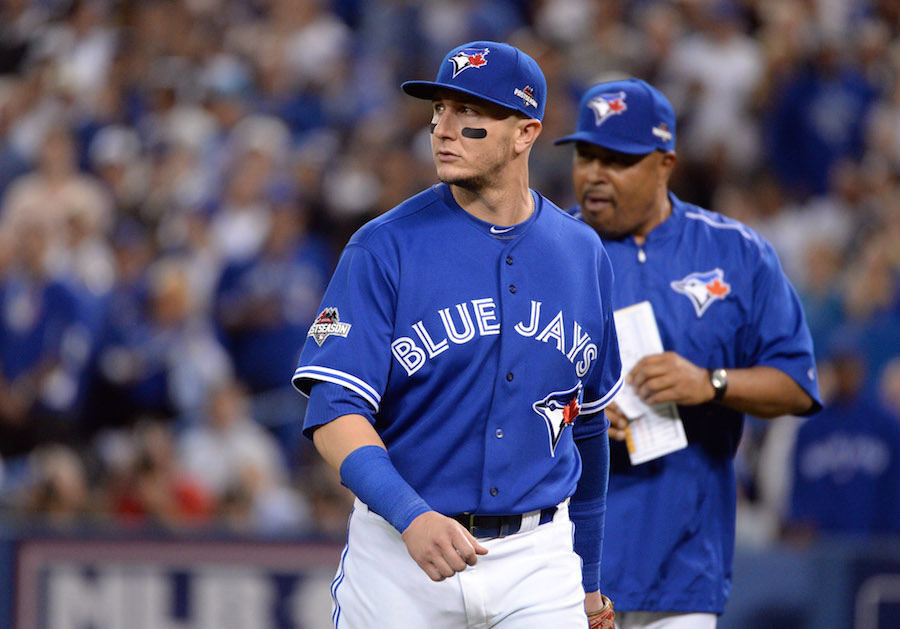 Breakups are never easy, especially with your main squeeze. For the case of Troy Tulowitzki and the Rockies nothing has changed. But it is always easier to say goodbye over time. Tulowitzki met with more than 50 reporters before the game to reminisce about his days in LoDo.
"When I got drafted here, people said these guys are terrible. They suck," Tulowitzki said. "You don't want to be a Rockie. You're just going to go there and lose. I think that immediately lit some fire in me. I wanted free agents to sign here, for it to be a place where you can win. The pitching wasn't always the problem. I think more than anything, I wanted to make it cool to be a Rockie is what I hoped I changed about the organization."
When the Rockies legend stood at the plate for the first time against his former team, the crowd erupted in cheer and he very cooly acknowledged the crowd by tipping his helmet. After the first pitch, the familiar "Tulo" chants that have echoed through LoDo for nearly a decade made Coors Field feel more familiar.
Cheers were abundant even with just an introduction video. #Tulo pic.twitter.com/xP4WlIQueb

— Ben Anthony Macaluso (@Ben_A_Macaluso) June 28, 2016
While fans showed their admiration and appreciation, Tulowitzki showed it right back.
"I think we should both enjoy it," he said about what he anticipates from fans. "I'm going to enjoy them. I never got a chance to really play here. Right? I was on the road when I got traded. It would have been great to be able to come back knowing that something was going to go down so I could take it all in. Maybe [the fans] could have that heads up, too. That's not how it played out. And vice versa, they have a great short stop to watch now, too. So I'm sure they are happy about that."
The trade still may be difficult to accept for Tulowitzki almost a year latter, but that hasn't stopped him from keeping up with his old teammates. He had Nolan Arenado and Trevor Story over to his home in the offseason. He joked that maybe mentoring them will help him for his coaching resume one day.
"It's the first time where I'm on the other end to see guys where I took them under my wing like Todd [Helton] and Matt Holiday did with me," he said. "They're getting better and to see them have success makes it that much more special."
His former coach, Walt Weiss, said it wouldn't be weird to see him playing opposite of his team. He compared Tulo and Story in that they are both big shortstops with tremendous range and good hands.
Before taking the field for the first time as the Rockies opponent, the All-Star shortstop said he will think of the moment he played first there after he got drafted. That day he was taking ground balls and he thought to himself there was no way the organization was going to send him down to the minor leagues, and he thought to himself, "I belong here."
Even in a Blue Jays uniform, Troy Tulowitzki will somehow will always belong here.