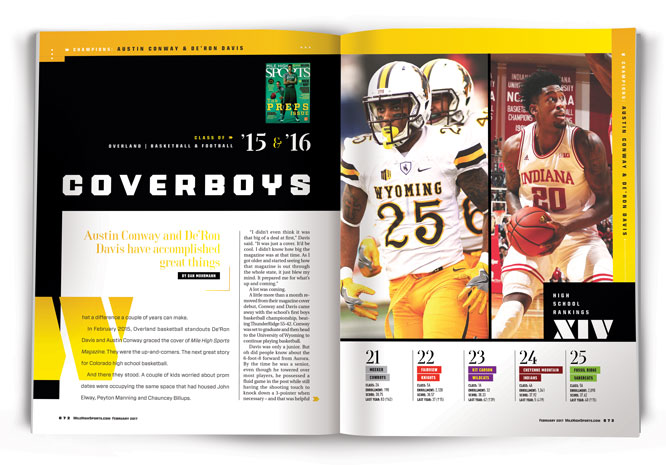 This story originally appeared in Mile High Sports Magazine. Read the full digital edition.
What a difference a couple of years can make.
In February 2015, Overland basketball standouts De'Ron Davis and Austin Conway graced the cover of Mile High Sports Magazine. They were the up-and-comers. The next great story for Colorado high school basketball.
And there they stood. A couple of kids worried about prom dates were occupying the same space that had housed John Elway, Peyton Manning and Chauncey Billups.
"I didn't even think it was that big of a deal at first," Davis said. "It was just a cover. It'd be cool. I didn't know how big the magazine was at that time. As I got older and started seeing how that magazine is out through the whole state, it just blew my mind. It prepared me for what's up and coming."
A lot was coming.
A little more than a month removed from their magazine cover debut, Conway and Davis came away with the school's first boys basketball championship, beating ThunderRidge 55-42. Conway was set to graduate and then head to the University of Wyoming to continue playing basketball.
Davis was only a junior. But oh did people know about the 6-foot-8 forward from Aurora. By the time he was a senior, even though he towered over most players, he possessed a fluid game in the post while still having the shooting touch to knock down a 3-pointer when necessary – and that was helpful since he was routinely double- and triple-teamed on the block. Division I coaches were lining up at the chance to get Davis signed to their roster.
Indiana's Tom Crean was the winner.
A couple months after choosing to become a Hoosier, Davis and Overland won a second state championship.
Countless hours in the gym – from the time they were just little kids – and all of those club team games and practices ultimately resulted in back-to-back state titles for Overland. But it's quite possible that the public first learned of Conway and Davis with a simple magazine cover. The landscape of high school athletics can be tough to judge at times, but Mile High Sports opted to roll the dice on a dynamic duo that seemed poised for big things. And the gamble paid off – there was no "cover jinx" here.
"I thought for both us, for sure that was pretty cool," Conway said. "But the timing had to be even better. We had gotten word that we were going to be on the cover of a magazine before we had even played in the state title game."
But that's all in the past. Both players are off doing their thing in college. After one season of sitting the bench for the Cowboys, Conway decided that he needed a change. He began to question if basketball was indeed his true love.
He came to the conclusion that although his greatest high school success came on the hardwood, his college success should be measured on the gridiron.
He left the basketball team and strapped on shoulder pads in the fall of 2016.
"That plan changed for me at the end of my basketball season," Conway said. "After going a whole year of sticking with it I just realized that I didn't want to play basketball anymore. I wanted to play football again. It was what I felt like I loved more and would have more fun doing."
The decision came as no surprise to Davis. He knew that Conway was too much of a competitor to idly sit on a bench. He had to be in the action.
"I could tell he wasn't really feeling that," Davis said. "When he turned it around and switched sports, I knew that he was going to take off. I try to catch some of games so I can see him doing big things. That's a cool thing to see."
That decision has paid off so far. In what would become his freshman season, Conway caught 11 passes for 103 yards. He rushed the ball 17 times for 110 yards and a touchdown. He also netted a special teams touchdown, returning a punt 60 yards against UNLV. The former quarterback also threw a touchdown pass.
He was a two-sport star in high school and knows that if he continues to put in the work at the collegiate level he can be every bit as successful on the gridiron for the Cowboys as he was for Overland.
"It's been an amazing experience, just moving on from high school to college and knowing that I can perform at a high level," Conway said. "I can perform at that collegiate level like I did in high school. That's fun. That's what I look for. That's what any athlete will look for, to continue to have success on each platform of competition that you're on."
The same can be said for Davis, who did not redshirt this year.
There is little to no doubt that he is going to be a success with the Hoosiers. Through the end of January he was averaging close to 13 minutes per game. In those minutes he's been able to muster a scoring average of six points per game.
He's grateful for every minute of action that he has seen in his basketball career. It's led him to places that sometimes seem unreachable in his neck of the woods.
"It's been an up-and-down journey," Davis said. "Being that young and being on a cover like that is an honor, but it gave me the drive to keep working and keep playing. Not a lot of people, especially where I'm from, get to go to college or even a prestigious school like IU, so it's been a blessing. I just take everything I get and I'm having fun with it."
It keeps it him grounded. It's a good reminder for both Conway and Davis of where they came from and the journey that they have shared, even if they've ended up in different places.
"I can't speak for De'Ron, but I guarantee you he has the same feeling I have," Conway said. "Our hard work is being rewarded. I know for sure that he'll give a lot of credit to the people who helped him get there and I'll do the same. There's a lot of people who helped me and De'Ron to where we are, and we're really thankful for their help. The lift is so big for both of us. We both went through the same grind, so I guarantee you we have a lot of similar people on the same list."
The two remain friends to this day. Conway says he tries to make sure they talk at least once every two weeks. The conversation has just shifted from being teammates and talking about what needs to be done in order to achieve a mutual goal to one of friendship. Now they provide advice and support to each other. And, if needed, they'll remind each other that in order to compete at the level they want to reach they can't afford to not give it their all.
"We talk a lot. I actually talked to him a couple days ago," Davis said. "We still keep in touch and we still update each other. He's active, but if he doesn't feel like playing – if he's playing soft – I'll let him know. We're not teammates anymore so it's more friend-level talk. Every now and then when he's not on his game or I'm not on my game we let each other know."
Time can certainly take its toll on anyone. For these two, they still get to revel in the prime of their athletic careers, but they also have a concrete reminder of a time that was much simpler.
Even with serious demeanors on their faces, one look back at that Feb. 2015 magazine cover, and it's not hard to see a couple of kids just having fun with a rare opportunity. And if there's any doubt that what readers saw in the issue was anything other than Davis and Conway's true relationship, take it from the horse's mouth.
"The funny thing is on the magazine cover, the picture pretty much looks the way that me and De'Ron's relationship is," Conway said. "He's the big guy and I'm the little guy, but we're so close to each other. Our pictures in that magazine say a lot more than a lot of people would expect of us. That's just our relationship."
The experience is something they'll never forget. They can't. They're too close to each other and it was the start of something special that happened at Overland. Something they helped create.
Conway makes sure he keeps an issue close by because of how special it became, especially considering what was accomplished afterwards.
"It just meant everything," he said. "For that whole section before, knowing we were going to get interviewed, knowing that we were going to be on the cover of a magazine and then having a cover of a magazine after you win a state championship … I mean I still have the magazine in my room."
Davis has one on display back at his room in Aurora. His life has been filled with accomplishments on a field or a basketball court. Each of those accomplishments has their own special place and that issue of Mile High Sports Magazine is no different.
"My room [at home] is kind of like a museum," he said. "I have all my pictures on the wall, trophies from little league football, baseball. That's all up in my room. The magazine is up in my room, too."
It should stay with the rest of his pictures and awards. It belongs with the best of them. But unlike everything else in Davis' room, it's not a memento of something accomplished. It's a memento of something that foretold.
Going back two years, Conway and Davis can always point at that magazine cover, knowing that those involved believed that they could accomplish great things.
They did. And still do.