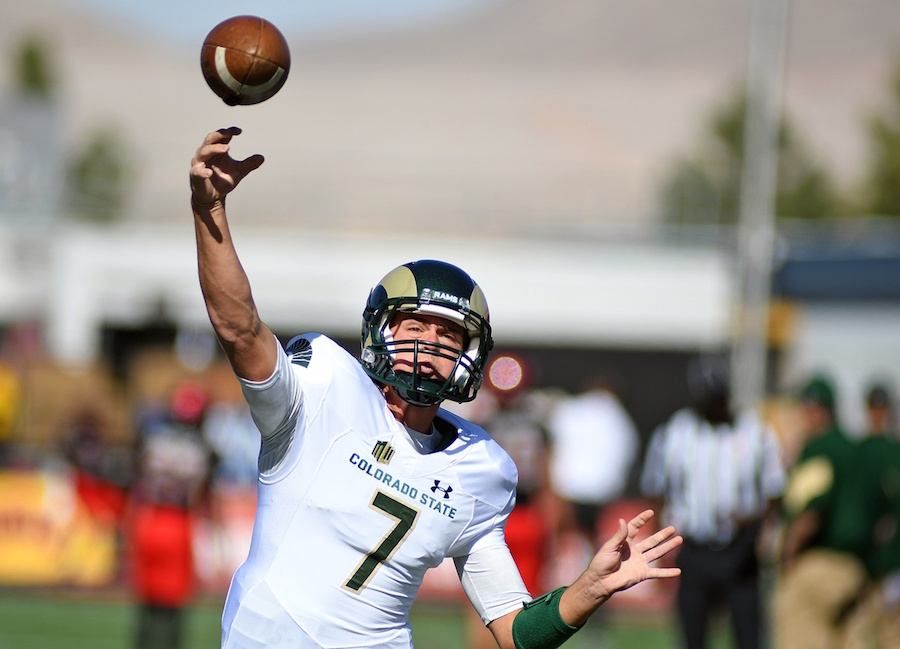 David versus Goliath is the original underdog story. David, the small but efficiently accurate Israelite, versus the giant Goliath, a Philistine warrior. Not only was Goliath a literal giant, but the Philistine also was more skilled in the art of combat, had robust armor, and was battle-tested and far more proven than the young shepherd boy.
David, later to be named King David, had his hands full… full of stones that is!
We all know how the story ends. David uses his sling to knock the giant down. Then, with the giant's own sword, he finishes the job by removing his head. The little guy shocks the world, and the Israelites rush the field in jubilation.
On Saturday, two Colorado Group of Five teams, the Colorado State Rams and the Air Force Falcons, will have David versus Goliath matchups of their own.
Air Force versus Michigan
The Air Force Falcons face the No. 7 Michigan Wolverines. Go Big Blue, the Big Ten powerhouse, in the Big House. It is a big deal.
Air Force coach Troy Calhoun was paid $885,000.00 in 2016 and led his men, those fly boys and future leaders of this great nation, to a 10-3 record. Air Force was fierce in 2016, taking home the Commander and Chief's Trophy, as well as beating rivals Boise State 27-20 and Colorado State 49-46. But last season is not this season.
Air Force in their first game, played the role of the Giant, defeating the Virginia Military Institute 62-0, despite losing 10 starters on defense and loads of production on offense, including wide receiver standout Jalen Robinette. Michigan is not VMI.
Michigan Wolverines coach Jim Harbaugh made $9,004,000 from the University of Michigan alone, not counting giant endorsements and packed speaking engagements. That giant seven-digit salery also excluded the $750,000-plus trip to Rome, where the university sent the entire team this summer. All roads leads to the College Football Playoff (after the bank).
The Wolverines are a monster – a powerhouse. But Air Force is ornery and Michigan will be forced to play a game to which they are not accustomed.
The airmen, who run an option offense, are also disciplined and will force Michigan to play mistake-free football. Any slip up from Michigan and this game could get really interesting. Michigan will have limited opportunities to score, as Air Force will play keep away and keep the clock moving. If you are looking for a quick game to watch, look no further than this one.
Colorado State versus 'Bama
If you are looking for a giant who everyone likes to see fall in fall ball, look no further than the Alabama Crimson Tide.
Colorado State rolls into Alabama this Saturday at 5 p.m. MDT. (Listen live on Mile High Sports AM 1340 | FM 104.7.)
Alabama is coached by college football's Bill Belichick, Nick Saban. After this season, Saban will be getting a colossal check, worth $11.125 million. That is for one season. Over the extent of his new contract Saban will receive $65 million dollars not including possible annual bonuses of $700,000. Bringing the total of Nick Saban's possible contract to $70.6 million over 8 years. Roll Tide? More like bank roll Tide.
Coach Mike Bobo on the flip side is one of, if not the highest paid head coach in the Mountain West Conference. Bobo is set to be paid $1.45 million and can make up to $400,000 in bonuses. If you ask a Rams fan, he is worth every penny.
Colorado State rolls into Bryant Denny stadium against all odds. Bryant Denny holds over 101,000 fans who will all be yelling for and not spelling for their beloved Crimson Tide. The atmosphere will be the least of the Rams' problems as Alabama has a Goliath at every position, but Bama's Goliaths also run 4.4 in the 40-yard dash.
Take running back for example. CSU is no slouch in the RB department as they are deep and talented at the position. Dalyn Dawkins, the Purdue transfer who is showing to be a real weapon, comes in at 5-foot-9 and 185 pounds. Dawkins plays bigger than he is and is a great option for the Rams, no matter the down or distance.
Alabama running back Bo Scarbrough rushed for just 812 yards last season as a sophomore, but it only took him 125 carries. He averaged 6.5 yards per carry, ransacking linbackers and defensive backs alike. Bo Scarbrough is "listed" at 6-foot-2, 228 pounds. The NFL combine will most likely say otherwise.
Colorado State will have more than giant tailbacks to worry about.
The Alabama offensive line has a combined "listed" weight of 1,554 pounds. For a point of reference, a 2015 Mitsubishi Mirage weights approximately 2,018 pounds depending on trim and options.
But do not count out CSU, not this year. The Rams, for the first time in several years, has size of their own (averaging 297 pounds) on the offensive line, and the ability to keep pace with Power Five teams by way of their offense. CSU, like the Israelites had in David, have a leader who can sling the rock. Nick Stevens through three games has 980 yards passing, averaging 7.78 yards per attempt.
If there is a weak link for Alabama it is the passing game, where quarterback Jalen Hurts is more of a runner than a passer. Hurts through two games has only 224 yards passing and two touchdowns. In comparison, Nick Stevens averages 326.7 yards per game through the air. Do the math. That is 102.7 yards more than Hurts has thrown all year.
Both Colorado State and Air Force have their hands full on Saturday and you may ask why they even play these games.
Coach Troy Calhoun on Wednesday said it best when asked why play Michigan, knowing you might lose?
"No matter what game you play or if you win or lose, you will derive a valuable lesson."
Colorado State and Air Force might not come out with wins on Saturday, but they will learn from this experience. Other college football teams should take note, because there is not much to gain by playing it safe and beating up on the little guy.